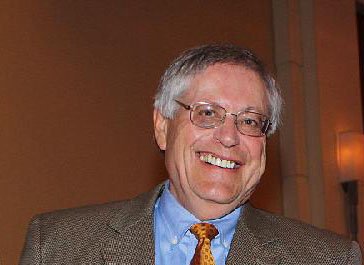 Jim Argue Jr. is shown in this file photo.
Jim Argue Jr., revered for his leadership on education changes during his 18 years with the Arkansas Legislature, died Thursday afternoon in Little Rock after recently being diagnosed with kidney cancer.
Argue, 66, and a 6-foot-7-inch native Texan, served in the state House and the Senate as a Democrat from Little Rock and was chosen the Senate's president pro tempore in 2005. He was also president of the United Methodist Foundation of Arkansas, a position he had held since 1981.
Argue, as chairman of the Senate Education Committee, headed the state's effort to change school standards, funding and consolidation requirements, regarded as the high point in his legislative career. That followed the state Supreme Court's 2002 ruling in a lawsuit by the Lake View School District that the state didn't provide an adequately funded school system and directed the state to make changes.
"He's been well-recognized as one of the key architects on the state's response to the Lake View Supreme Court decision," said Stacy Sells, a Little Rock public relations executive and a longtime close friend of Argue. "Jim and a handful of other committed colleagues made sure that major reforms and educational improvements were their legacy in the state's public education system."
Argue earned many prestigious awards for his legislative service and his work for better education. In 2007, he was presented with a National Humanitarian Award by Just Communities of Central Arkansas, the Lifetime Legislative Achievement Award by the Arkansas Kids Count Coalition and, in the same year, Leadership Little Rock renamed its Distinguished Leadership Award in honor of Argue.
Among his other honors, Argue received the Lincoln Humanitarian Award from the Arkansas Rice Depot, the Father Joseph Biltz Award from the National Conference for Community and Justice, and the Friend of Children Award from Arkansas Advocates for Children and Families.
A 1973 graduate of Hendrix College, with a history and political science degree, the college named Argue recipient of its Ethel K. Millar Award for Religious and Social Awareness and also its Distinguished Alumni Award.
Outside of the Legislature, Argue -- whose late father, the Rev. Jim Argue Sr., was a longtime pastor at Pulaski Heights Methodist Church after moving his family to Little Rock in 1964 -- was asked to become president of the United Methodist Foundation of Arkansas in 1981 when the foundation's assets were $67,000, according to a foundation statement Thursday afternoon.
Under his leadership, the foundation's assets have accumulated to more than $164 million, it said. First United Methodist Church Senior Pastor David Freeman said Thursday that the foundation became "one of the largest foundations for United Methodist churches around the country." It is now responsible for more than 800 funds supporting United Methodist ministries, the foundation said.
"Our church's endowments are held at the foundation, and he's worked very closely with our congregation and with our leaders throughout the years to grow our endowments and to manage them and perpetuate our church well into the future and give us financial security," Freeman said. "We own him a great debt of gratitude for the work he's done.
"We consider him one of those giants whose shoulders we stand on," Freeman said. "We will absolutely miss him. He had been not only influential to our church, but a personal friend and a mentor to me."
Argue's Methodist beliefs instilled in him his concerns for the state's children and their educational opportunities, Sells said. And he cared deeply for his wife, Elise, and their daughters, Sarah and Emily.
"Jim brought his Wesleyan love to the Legislature, most especially in his care and concern for children," she said. "He really loved all the opportunities that being in the state House and Senate gave him to improve life for children in Arkansas. Whether it was education or health care or a variety of other issues, he certainly lived the lesson of love the children."
Argue's health deteriorated quickly in the past month, Sells and Bill Mann, another longtime close friend of Argue's, said Thursday. It was shortly after Argue and Mann, Little Rock's chief deputy city attorney, had taken in opening day for the St. Louis Cardinals baseball team in St. Louis in early April that Argue's health began declining, Mann said. Argue was diagnosed with kidney cancer shortly afterward, he said.
"It went so quickly," Mann said.
He and Argue met at Pulaski Heights Methodist Church "as young married couples."
"We were best friends for almost 40 years," Mann said. "One of our best memories was playing for the church softball teams. We raised kids together, went on beach trips together, we went to see the Cardinals together. He was always a guy who was there for me my whole life. He was generous to a fault, I can say that."
Mann closely watched his friend's legislative career and knew his priorities, he said.
"His focus in the Legislature was education, first, second, third and last," Mann said. "That was his baby. His goal was for kids in all parts of the state to have the same opportunities for a better education as everybody else. That was his goal as a legislator."
Sells recalled that when Argue first decided to enter politics, he insisted on her being involved as well.
"He used to complain about everything going on in state government, and one day I said to quit complaining and step up and run," Sells recalled.
When Argue finally made the decision, she said, he called her to say he would only do it if she would manage his campaign.
"I said, 'I've never done that before,' and he said, 'I've never run for office before, so we're a perfect pair,'" Sells said, laughing at the memory. "Thank goodness we had [political consultant] Sheila Bronfman to tell us what to do.
"We were just chums," she added. "He was family."
Metro on 05/04/2018