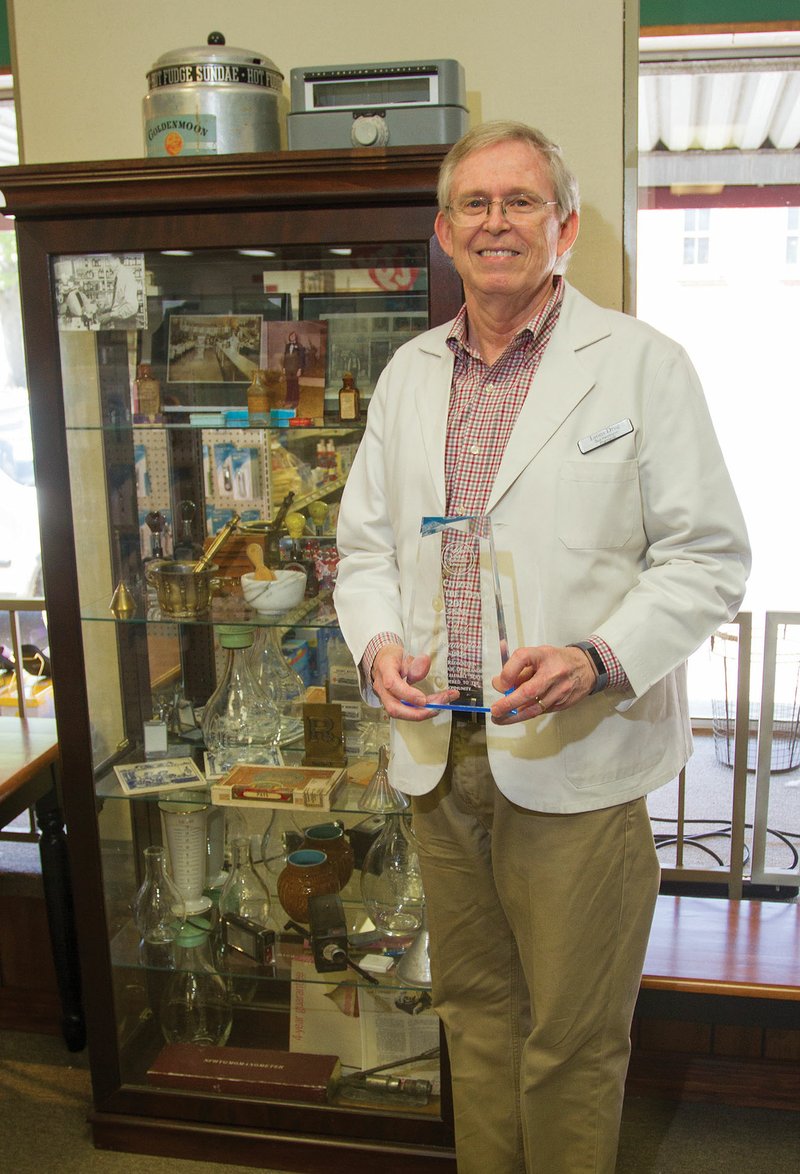 Rick Pennington of Lonoke stands next to a display of pharmacy collectibles while holding his award for being named the Lonoke Area Chamber of Commerce Citizen of the Year. Pennington has been a pharmacist at Lyons Drug Store for close to 44 years, and purchased the store 13 years ago. ( Mark Buffalo)
Rick Pennington had no idea he was about to be honored by the Lonoke Area Chamber of Commerce during its annual appreciation banquet on April 21 at the Gina Cox Center.
Pennington, 65, who has worked as a pharmacist at Lyons Drug for more than 40 years, received the Citizen of the Year Award.
"I was shocked. … I had no idea," Pennington said. "I had actually received that award a few years ago. I really didn't think they ever gave it to anybody twice."
Pennington said even his wife, Tannya, did not know about the honor.
"Faye [Baty] and Susan [Eoff] were about to panic because they were down there eating, and we hadn't shown up," Pennington said, referring to two of his employees. "It was my weekend off, and I'm able to take off and go somewhere."
Pennington said the award means a lot to him.
"It comes from my peers, the people I do business with," he said. "I don't know who made the nomination. It just comes from the people I deal with every day. It was just a really big honor, totally unexpected."
Pennington was born and raised in Garner, a small town in White County. He graduated from Beebe High School in 1970. He attended Arkansas State University-Beebe for two years, then went to pharmacy school at the University of Arkansas for Medical Sciences in Little Rock, earning his degree in 1974. At that point, he started looking for a job and interviewed with Hazel Lyons at Lyons Drug.
"I came to Lonoke in 1974, and except for about nine months total, I've been here ever since," Pennington said. "It was a job opening. I played baseball and Little League in Lonoke a time or two. Other than that, I had never really been to Lonoke. … I called and came down and interviewed with Mrs. Lyons. I came here, and I thought I'd work awhile; then I'd move on. Forty-four years later, I'm still here."
Pennington said there are good people in Lonoke.
"I tried to leave twice and came back twice," he said. "I went to Searcy once and Fort Smith once."
Pennington worked as a pharmacist in Searcy for a bit in 1977. Then when he was married to his first wife, they were going to move to Fort Smith.
"I actually worked for Walmart for about six months," he said. "Things didn't work out there, so Mrs. Lyons had an opening. I didn't burn any bridges. She called, and it worked out."
Pennington said he and Lyons talked several times over the years about him purchasing the store.
"But she didn't really want to let go of it," he said. "It worked out."
In late 2004, Lyons and Pennington were working on getting the paperwork signed for the sale. After Lyons had signed the deal, Pennington said, he was going to sign it Jan. 4, 2005. Lyons died Jan. 2, 2005.
"She died before I signed the papers, but she had already signed them," he said. "I took over Jan. 4, 2005."
Pennington said he has a great staff working for him.
"You have the typical challenges with any business," he said. "The staff is always a big challenge in any business because you have to have people you trust and people who will do the job. I'll be the first person to tell you; I'm not a very good manager, and I'm not a very good business person.
"I've been very fortunate to have good help. That's a big part of it. I sorta shoot from the hip. That's where Tannya comes in. She makes me dot every I and cross every T and do things the way they are supposed to be done."
Pennington said he thinks there are two reasons why he was honored.
First, Lyons Drug recently added a Hallmark section with cards and gifts, as part of the Lonoke 2022, a five-year strategic action plan for creating a more visible, attractive and connected community, and secondly, Pennington has been instrumental in fighting the drug and insurance companies over reimbursement for prescriptions.
"I don't have to tell you about downtown anywhere in eastern Arkansas these days," Pennington said. "There are some younger people getting involved who have different ideas. One of them is the farmers market. It's a good start. They are getting some of the older people involved. I just thought that it would be good for my business [to add Hallmark]. It adds another income stream to the store. To be truthful with you, when I get ready to sell, it's just another selling point."
Pennington has worked with the Arkansas Pharmacy Association and pharmacists across the state to get legislation passed to regulate how claims are filed through third-party pharmacy benefit managers to see that locally owned pharmacies see equitable reimbursements from insurance and drug companies.
These reasons and others are why Lonoke Area Chamber of Commerce past president Gary Elmore said Pennington is deserving of the Citizen of the Year award.
"I think it's pretty self-explanatory," Elmore said. "He's such a hands-on person as far as work goes. He's recommitted to the community by putting in the Hallmark part of his store. He's very generous. He's contributed to a lot of different organizations, but I think the main thing is, everybody who uses him as a pharmacist just trusts him. He's so good to communicate between the doctor and the patient.
"I think it's a lot of combinations of things that caused him to be well deserving of that award."
Pennington said he still enjoys working and isn't ready to call it a career yet.
"I've added Trisha Smith part time as a pharmacist," Pennington said, adding to himself and Angela Sumner as pharmacists. "When all the stuff came up with the pharmacy benefit managers where I was doing a lot of other stuff, I was working less. When I get ready to go, I leave. I don't worry about it.
"Between Angela, Brian [Hirscheider] and Trisha, they can handle it. They don't need me here. All I have to do is punch a button on my computer, and they get paid. I don't write checks anymore.
"Realistically, I'm not ready to hang it up. But you're not going to see me behind the counter 10 hours a day like you have for the past 20 years. I'm not ready to get out if my health holds out."
Healthwise, Pennington had a scare a few years back.
"I was diagnosed with amyloidosis in July 2012," he said. "I was already a patient at the UAMS Myeloma Institute because I have some of the markers for multiple myeloma.
"I didn't have a clue what that [amyloidosis diagnosis] meant. They treat it like they do multiple myeloma. It's an abnormal protein that my bone marrow produces. It collects in certain organs. It's usually the heart and kidneys. But in my case, it was the lungs and the diaphragm, and there is some in the GI tract."
Pennington said he was sitting in his truck outside the store when he coughed, and there was blood all over his shirt. He went to the doctor's office and was told to go to the emergency room because a scan showed something in his lungs.
"Long story short, I went up there, and they drained some fluid. … It wasn't blood," he said. "The blood was an act of God. That had nothing to do with my illness. I guess it was just some irritation that caused me to cough that up, but it got me to the hospital. They drained some more fluid off, and they made me an appointment with the lung doctor to go back in a few weeks."
The fluid returned, Pennington said, but he did not have any type of cancer, according to the doctor.
Pennington did a round of high-dosage chemotherapy, then 18 months of maintenance chemotherapy. He also had a stem-cell transplant after he had stem cells harvested a few years back.
"We did that back in 2014," he said. "I haven't had any chemo or anything since then," Pennington said. "I get labs every month. The director stretched me out where I don't have a bone-marrow procedure but once a year. I still have fatigue and shortness of breath. That fluid still builds up, but I'm still going strong. I guess God has me here for a reason."
Staff writer Mark Buffalo can be reached at (501) 399-3676 or mbuffalo@arkansasonline.com.
Sponsor Content