Imagine life as a child born into the religious cult run by Tony Alamo.
While other children play soccer, watch TV, go to movies and hang out with their friends, you are put to work for no pay while Alamo keeps the profits from his myriad businesses. You are told that he is God's prophet, that he speaks with the Lord, that he can read your mind. You watch as girls, your sister perhaps, are called to live with him and be his "wives."
For the slightest transgression you are beaten with fists, a wooden paddle or a board. You are made to fast for days on end. Your family is separated according to Alamo's whims.
You likely have no birth certificate, no Social Security number, no record of your existence.
Imagine this is all you have ever known, a life spent under the thumb of a man who would be sentenced in Texarkana in 2009 to 175 years in prison on 10 counts of taking underage girls across state lines for sex.
The story of Alamo, the church he started in California with his wife, Susan, and the children who got away from him is told in Debby Schriver's riveting new book Whispering in the Daylight (University of Tennessee Press, $29.95).
Schriver has crafted her book almost like a collage. There is her own reporting, told mostly in short, punchy chapters. There is a transcription of her interview with Alamo along with a transcription of Alamo's deposition with Texarkana attorney David Carter, who represented former followers in civil lawsuits against the preacher. Pages set apart in gray are used to list the timeline of Alamo's life and what was happening outside the cult.
Most poignant are the essays, written under pseudonyms, from five of the now-grown children who left the cult. They are harrowing, but also hopeful.
"In one moment, all that I knew was gone," writes "Irene" about the day Alamo was sentenced. "He was a false prophet. If he was a false prophet, everything he told me was a lie. If everything he told me was a lie, then where was God? ... What about the wives? What about the beatings? With one thought came another and then another, an avalanche of thoughts mixed with incredulity, fear, and grief."
. . .
Schriver, who lives in Knoxville, Tenn., is a retired associate dean of student conduct and orientation at the University of Tennessee. She is the author of In the Footsteps of Champions: The University of Tennessee Lady Volunteers, The First Three Decades; Ice 'n' Go: Score in Sports and Life (with Jenny Moshak) and To Read My Heart: The Journal of Rachel Van Dyke, 1810-1811.
She didn't want to write this book at first.
Her husband, Rob, met a foster parent to some of the children of the Alamo cult, and the idea of Schriver writing about them was suggested.
"I said, 'Wow, that's unbelievable,' but I'm not the one to do it," Schriver recalls replying after first hearing the story from her husband.
Still, she met with the Arkansas-based foster parents at a Panera Bread in Knoxville in 2014 and came away determined to tell the story.
"I couldn't say no," she says during an interview in Little Rock last month. "I felt compelled to do it, so I started to learn as much as I could about cults. I had so much to learn. I was getting academic, sociological and psychological definitions, and then I was getting first-person narratives from people."
. . .
Alamo was born Bernie Lazar Hoffman on Sept. 30, 1934, in Joplin, Mo. His parents were Romanian and Jewish, though not religiously observant. The Hoffmans left Missouri for Montana, and Bernie eventually made his way to Los Angeles, where he started calling himself Tony Alamo and worked on the fringes of the music business.
It was in California in the mid-'60s that he met Alma native Edith Opal, who had changed her name to Susan Fleetwood. With her young daughter in tow, the blonde, charismatic Fleetwood would scam churches by pretending to be a missionary, pocketing the cash she collected after speaking during services.
They divorced their spouses in 1966, married in a Las Vegas ceremony, changed their names to Tony and Susan Alamo and opened a small ministry out of Susan's Los Angeles apartment, recruiting young, wayward believers into the fold, requiring them to give all their money to the church.
The Alamos eventually bought land at Saugus, Calif., and opened a church there, where followers lived in squalid conditions in dorm-like structures, according to the book, which is subtitled The Children of Tony Alamo Christian Ministries and Their Journey to Freedom.
By the late 1970s and early 1980s, the Alamos were hosting their own gospel-theme TV shows.
Schriver says Susan Alamo, who died of cancer in 1982, was the more magnetic of the pair.
"Tony hated women, and Susan was the first woman he didn't hate. She was the preacher. Tony viewed himself as a promoter and he basically promoted Susan. When she died, I had a first-person witness who was in that room who said that [Susan] told Tony, 'You're going to have to break up the church, or you will wreck it.'"
In the later years, according to the book, he didn't even bother to show up for church services, taping his sermons instead.
"I do think he loved her on some level," Schriver says, "but I also think he was terrified because he knew he couldn't do what she did."
. . .
The Alamos moved part of their ministry from California to Northwest Arkansas in the mid-'70s. They owned a restaurant, clothing store, a general store, a gas station, a discount store, a garage and other small businesses in Alma, with church members working for them. Followers, often children, were also sewing the airbrushed and bedazzled jean jackets Alamo sold that were worn by celebrities such as Brooke Shields, Mike Tyson, Reba McEntire, Bono, Larry Hagman and others.
"There is no evidence that he ever paid his employees," Schriver writes. "Even church members who worked outside the church gave their paychecks to Alamo. In return they were given housing, food, and 'bucks' for small allowances from time to time."
Another income stream, according to the book, came from selling and distributing goods that were donated to the church. Children worked in warehouses, scraping price tags off items and preparing them to be shipped on Alamo-owned trucks across the country.
In 1994, Alamo was sentenced to six years in federal prison for income tax evasion. Because the trial was limited to the tax charges, the jury did not hear testimony on alleged violations of sex and polygamy laws. He continued to run his cult while in prison, Schriver writes.
. . .
Some of the most difficult passages are descriptions of beatings given to children who broke rules or disobeyed Alamo. One 12-year-old girl, after being beaten with 2-by-4, went back to work applying rhinestones to denim jackets.
But some escaped. One boy, 17-year-old "Frank," began plotting his getaway in 2007 after enduring one too many beatings. He and another boy, "Brady," made their escape while on their 4-6 a.m. guard shift at the cult's compound in Fouke. Former cult members had arranged for a Fouke couple to pick them up on the highway.
In a scene almost straight out of a movie, Schriver describes how the boys were taken to what is now the Bill and Hillary Clinton National Airport in Little Rock, where Frank was able to board a plane to Washington to meet his brother. Brady, meanwhile, had a problem with his ticket and had to be driven to Memphis, where he boarded a bus bound for Virginia to be reunited with his family, all former cult members.
The same couple from Fouke, "Wilma" and "Drucker," just happened to be shopping at the Dollar General near the compound when they saw two girls, "Paige" and "Pamela," loitering near the parking lot. Suspecting they were from the church, the couple told the girls they would like to help them. The girls, who were running away from the church, agreed to leave with them, and were driven to freedom.
. . .
Even behind bars after the raids in 2009, Alamo continued to run his cult. He was often moved to different prisons after building a following among inmates, Schriver says. He died May 2, 2017, in a prison hospital in Butner, N.C. At its height, his church had about 800 followers, Schriver says, adding that there are still an estimated 300 active members.
Reading about the atrocities and violations members told Schriver they experienced, the question is inevitable: Why would anyone stay?
"People don't leave because they're terrified to leave," Schriver says. "In the beginning it looked like a loving, happy community. That's what they were looking for and that's what was presented to them. As they became trained and mentored and separated from one another, they were absolutely brainwashed, controlled. They believed that was the only community of people that was going to be saved.
"Cult leaders that are successful, for them it's about greed, money and power. Tony was a sociopath and narcissistic, but he was very smart. He could pinpoint someone's vulnerability just like that." He sowed seeds of mistrust among his flock, encouraging them to report anytime someone broke a rule.
The cult was based on "lies, cheating, backstabbing, and tattling," writes "Ian," who was 12 when the group was raided.
Randall Harris became the FBI's lead case agent on the Alamo investigation in 2006. He retired from the FBI not long after the case was concluded. An essay by him about the case is featured in the book.
"There were a lot of people in that group that were second and third generation [members]," Harris says in an interview last month when asked why he thought people stayed in the cult. "They were being provided their basic necessities. You have to think about how fearful those people would have been about how to survive on the outside. And that's aside from the brainwashing done by Alamo. He threatened people with eternal damnation if they left."
David Carter is the Texarkana lawyer whose civil lawsuits have resulted in $66 million for punitive damages for two of the boys who escaped Alamo and $525 million to seven "child brides." In all, judgments against Alamo and the church total just over $1.2 billion.
"He had a dangerous mix of charisma, Biblical knowledge and narcissism," Carter says during an interview from his Texarkana office. "That's the same thing we saw in [cult leaders] Jim Jones, David Koresh ... they play from the same playbook. You convince your flock you're a prophet and you control them with that."
. . .
There were about 40 kids who were either freed or fled the cult, Schriver says. The five featured in her book are young adults now.
"I could have gone in so many directions, but I kept saying that this is about the kids," she says.
Carter sees Schriver's book as one of hope for other cult members:
"It's a story that holds a lot of promise for others who may be in, or have been in, similar high-control groups and can see there's a way out. In my view, the book does a really good job of chronicling what they went through, found their way out of the church and ultimately found new lives."
Proceeds from the book, Schriver says, will be used to establish a foundation to help survivors of cults.
"We need to keep stepping toward this and not stepping away," she says of cults. "These are our children, and it's important to know that this exists. And we need to figure out ways that we can help survivors."
Concluding her essay, "Irene" acknowledges the scars she carries but isn't afraid to confront her past.
"I can't imagine all the psychological issues we are experiencing without even realizing it. I feel we only know a fraction of what happened and how it affected our lives. I suppose I will spend the rest of my life decoding those formative years so that I may truly understand, and that will be my journey."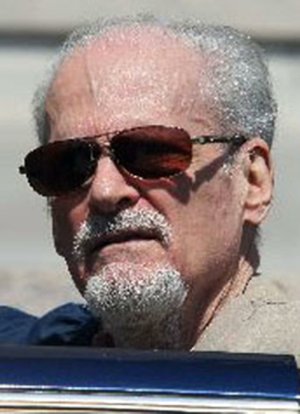 Photo by Democrat-Gazette file photo
Tony Alamo was on trial in 2009 at the federal courthouse in Texarkana.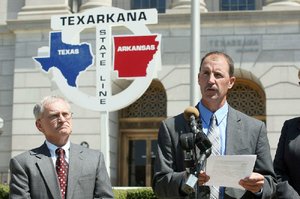 Photo by Democrat-Gazette file photo
FBI agents Randall Harris (left) and Thomas Browne stand outside the federal courthouse in Texarkana in July 2009 after evangelist Tony Alamo was convicted on 10 counts of taking underage girls across state lines for sex.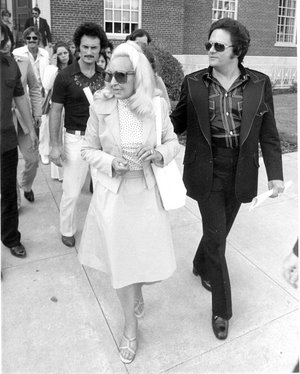 Photo by Democrat-Gazette file photo
Tony and Susan Alamo started their church in 1969 in California. The church eventually had locations in Northwest Arkansas and Fouke.
Style on 05/06/2018