U.S. Rep. Steve Womack is facing a Republican challenger in the May 22 primary election.
It's the first time the 3rd District congressman has been opposed from within his own party since 2010, when he beat seven Republicans in the primary, then won the general election by a landslide with 72 percent of the vote.
But Womack questions whether his challenger, the Rev. Robb Ryerse of Springdale, is really a Republican.
"I haven't engaged this guy much because there's really no point," said Womack, who has about $1.2 million for his re-election campaigns this year. "I'm a conservative and a legitimate Republican. It's a bit of a mystery to me why somebody would file, pay the filing fee, and go through an election process who does not espouse the beliefs and values of the party that they filed under."
Womack cited Ryerse's support of "Medicare for all" and an increase in the minimum wage.
Ryerse said a poll released in March indicated that 64 percent of Republicans support Medicare as a public option and 36 percent support Medicare for all Americans.
"Just because there are some in Republican leadership that don't support it doesn't mean support for Medicare for all is not growing within the Republican Party, because it is," said Ryerse.
He said the idea should be "more than welcome under the big tent of the Republican Party."
"When more than one in three Republicans support it, it should be more than welcome," said Ryerse.
Ryerse said the national minimum wage should be increased from the current $7.25 an hour to about $15 an hour.
"There are working families, single moms, single parents that aren't surviving it, aren't making it, working multiple minimum-wage jobs," said Ryerse.
Womack got 76 percent of the vote in the 2012 general election to defeat Libertarian and Green Party candidates. In 2014, he got 79 percent of the vote in the general election to defeat his sole challenger, a Libertarian.
The outcome was similar in 2016, which Womack received 77 percent of the vote to beat another Libertarian.
The 3rd District seat has been held by Republicans since 1967.
This year, the winner of the May 22 primary will face four opponents in the Nov. 6 general election: Josh Mahony, a Democrat from Fayetteville; Michael J. Kalagias, a Libertarian from Rogers; Josh Moody, an independent from Fayetteville; and Jason Tate, a write-in candidate from Fayetteville.
Ryerse said he's been a lifelong Republican.
"I voted in the Republican primary in the presidential election and in the general election, I voted third party," said Ryerse, referring to the 2016 election.
Ryerse said he and his family moved to Northwest Arkansas 13 years ago to establish Vintage Fellowship, a non-denominational church in Fayetteville.
Ryerse said he became interested in politics after hearing about Brand New Congress, which recruits "extraordinary, ordinary Americans to challenge the establishments of both parties in primary races across the country," according to its website, brandnewcongress.org.
The organization believes "both major parties have chosen big donors and special interests over the needs and interests of the American people."
"I'm not a career politician," said Ryerse. "It's not anything I had planned on doing. But like a lot of people, I've become pretty concerned about the direction the country is going."
Ryerse said the Republican Party has drifted from its roots.
"I would love to see the Republican Party return to some of its historic values," he said. "My party used to be known for who it was for, not who it was against. Big corporations buy and pay for our politicians. Right now, if you ask the average person what the Republican Party is about, you're going to hear anti-immigration, charges of racism, opposition to refugees and those of the Muslim faith. The party now is defined by who it's against. I think the party should be about liberty and opportunity for all people.
"There is a growing movement in the Republican Party to take it back to its historic roots, and I'm happy to be a part of that."
Ryerse said he knows Womack will be difficult to beat.
"We don't have any delusions about how steep of a hill it is to climb, but those challenges actually motivate me," said Ryerse. "That's a reason to be involved, not shy away."
Womack said he doesn't have much time for campaigning in the primary election because of his busy schedule in the U.S. House of Representatives. He's co-chairman of the Joint Select Committee on Budget Process Reform.
Womack said he's been working on important issues in Congress, including budgets, national security and infrastructure improvements.
In the 3rd District, there needs to be more federal funding for highway improvements, including an Interstate 49 bridge over the Arkansas River in Fort Smith, Womack said.
Womack said he supports President Donald Trump.
"He's working on issues that people in my district care about," said Womack, citing taxes, regulations and national security. "He's wildly popular in my district."
Womack said Trump has been "handicapped by the noise, the media beating up on him."
"Democrats feel like they've got a little wind at their backs right now," said Womack. "We'll see about that."
The 3rd Congressional District in Northwest Arkansas consists of Benton, Boone, Carroll, Marion, Pope and Washington counties as well as portions of Crawford, Newton, Searcy, and Sebastian counties.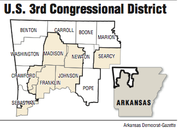 Metro on 05/06/2018