Two signs posted prominently on the doors of the Pulaski County Election Commission warned on the first day of early voting Monday that identification was required to cast a ballot.
The Arkansas Supreme Court last week knocked down challenges to Act 633 of 2017 and ruled that election officials could enforce the state's disputed voter-ID law in this month's primary and judicial elections.
By early afternoon, Pulaski County Election Commission's Chief Judge Patsy Thompson said none of the nearly 250 early voters so far for the May 22 primary and nonpartisan judicial election had balked at the identification requirement.
"Everybody just handed over their ID," Thompson said.
After casting his ballot, Kevin Tennal of Little Rock said he didn't mind showing his driver's license but has qualms about requiring it of those who have difficulty procuring identification documents.
"I think that they ought to take care of it even if they have to go to the people's houses who can't get out much. I support the ID, but the right to vote trumps that," Tennal said, then paused and laughed. "I sure don't like that word any more."
Second District congressional candidate Clarke Tucker of Little Rock -- who arrived at the Pulaski County Election Commission's office just after 3 p.m. and stood at the edge of the parking lot waiting for his wife and two children to arrive -- expressed his disappointment in the court ruling.
"It's a solution without a problem. I think it's going to prevent people from voting," said Tucker, a Democratic state representative. "Any time you prevent an American citizen from lawfully voting, it's one of the worst things we can do against democracy."
It was only Tucker's second time to vote early in an election. He's a traditionalist, he said, and prefers to vote on election day.
"The other time was when I was on the ballot," he said. "I'm going to be working on election day. I want to get my vote in and make sure it gets counted."
Chris Powell, a spokesman for Arkansas Secretary of State Mark Martin, said no official projection on early voting turnout will be made this time around.
"Primary turnout tends to vary rather inconsistently from cycle to cycle, so it's hard to know," Powell said. "Some counties may have heated primary contests that will decide races, and in others, the real campaign will be geared toward November. It just depends. November elections are more consistent. Typically, we see around 50 percent turnout in an off-year, and around 65 percent in a presidential year."
The state has about 1.7 million voters, he said.
Powell sent an email at the end of the day with a very preliminary total of 4,107 votes cast, but he cautioned that the list shouldn't be considered complete because counties have up to 24 hours to report votes. For example, it didn't include White County votes and had only three from Saline County. Pulaski County, meanwhile, reported 996 votes were cast.
Powell said the state has yet to receive the $4,475,015 granted to the state from the federal Election Assistance Commission to buttress cybersecurity of voting systems. That money, combined with the required 5 percent match from the state, would bring the amount to $4,698,766, which will be used to purchase new voting equipment for various counties, Powell said.
By 8:30 a.m. Monday at the White County Courthouse in Searcy, more than 25 people had wound through the polling station to cast their early ballots, and more were in line.
Registered voters responded promptly to poll workers' requests for identification, pulling their driver's license out of wallets or back pockets.
Brenda and Dorcie Tash of Bald Knob were among the first through the voting station Monday morning.
"We've always voted early," Dorcie Tash said. "It's less crowded and you get through quicker."
"It's easier and you get in and out in no time," Brenda Tash said.
White County Clerk Carla Ervin said the county's elections typically go off without a hitch and none had cropped up on the first day of early voting.
Reducing lines and preventing problems at the polls are priorities for the county, Ervin said.
There are about 42,000 registered voters in White County, and about 14,000 usually turn out at the polls, said Tara McKnight, White County election coordinator.
This year, the county opened a second site -- the Carmichael Center on South Elm Street -- to give early voters another option and to keep crowds down at the courthouse.
"Our voters should not have to wait in lines," Ervin said.
Terry Benham of Benton, who is a partner in the Impact Management Group lobbying and political consulting firm, was the first person in line to vote at 8 a.m. in Saline County.
".@AsaforAR started the day with a lead in Saline County," Benham tweeted a few hours later, referring to Republican Gov. Asa Hutchinson of Rogers.
"He's a great governor and I'm proud to call him a friend."
But Robert Pfeiffer of Benton, who is retired, said he voted for Republican gubernatorial candidate Jan Morgan of Hot Springs because "I think she is more of a conservative than Asa Hutchinson."
He said Hutchinson "has gone against the grain of conservatism" by continuing with the state's version of Medicaid expansion that provides health insurance to about 280,000 low-income Arkansans.
The program was initially authorized by the Republican-controlled Legislature and Democratic Gov. Mike Beebe in 2013 and was called the private option.
Under Hutchinson's leadership, the program has changed and is now called Arkansas Works. President Donald Trump's administration approved a waiver for the state to begin requiring many of the enrollees in the program to work, attend school or job training or volunteer at least 80 hours a month.
Pulaski County Election Commission Director Bryan Poe said the first day of early voting always starts out a little bumpy, but "it all gets worked out." Monday was no different.
"This is their [poll workers'] first time to work in a year and a half," Poe said. "They tend to make more mistakes on the first day."
Poe said there were about 92,000 early voters in Pulaski County in the 2016 presidential primaries, but projects this primary will be much closer to the 2014 turnout of about 41,000.
[FULL LIST: All candidates for major state offices]
"It always varies," Poe said.
[FULL LIST: Statewide contested races in May 22 primary]
Voters can cast ballots from 8 a.m. to 6 p.m. Monday-Friday and 10 a.m. to 4 p.m. on Saturday through May 21.
Information about where to vote is available by contacting county clerks or county boards of election commissioners.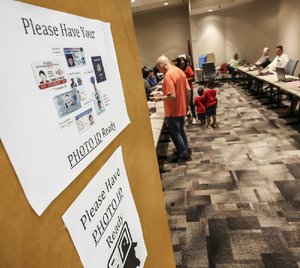 Photo by John Sykes Jr.
Signs on the door of a polling location at the Pulaski County Regional Building in downtown Little Rock warn voters to have photo identification ready. Early voting began Monday for the May 22 primary and judicial elections.
Lee County candidates
Lee County has the following contested races for county offices on its ballot in the May 22 primary election. All candidates are running in the Democratic primary. Incumbents are denoted with an asterisk (*). These races were omitted from a list published Sunday. Early voting started Monday statewide.
SHERIFF/COLLECTOR
Sheriff Ocie Banks* James Guynes
COUNTY CLERK
Lynsey Russell* Pam Webb Tiffany Davis
CIRCUIT CLERK
Mary Ann Wilkinson* Diane Bowman
JUSTICE OF THE PEACE
PRECINCT 1 J.N. Bickerstaff* Lonibeth Schwede Vondran
PRECINCT 2 Matt Oxner Junious Pruett Victoria Perry
CONSTABLE
PRECINCT 1 James Stacks Patrick Fowler J. Harvey Shaw
PRECINCT 2 Kyle Morris Charlie Thompson
Metro on 05/08/2018