Alexis Brown used to think that having a disability meant her life had to look a certain way, that she wouldn't have choices when she grew up.
The 19-year-old doesn't believe that anymore.
She wants to be a cosmetologist. She also likes working with little kids, so maybe she'll get a job in child care or at a school. Or she could go to college, major in criminology and then build a career in the justice system. So many choices.
Alexis is no longer the young girl who tried to hide her intellectual and hearing disabilities from people.
"It was hard to fit in," she said. "People would talk to me like I was slow, like I didn't matter. I felt alone."
Almost three years ago, the J.A. Fair High School graduate joined Arkansas Promise, a research project that helps students with disabilities find meaningful career paths. Counselors taught her to expand her social skills and linked her to employers who gave her short-term job experiences, which let her see what it was like working in various fields.
[INTERACTIVE MAP: See state's 42 sheltered workshops and how many people with disabilities work there for pay below the minimum wage]
"They teach us at our pace, and they take their time with us," Alexis said. "I gained my independence because of them."
Research shows that programs like Arkansas Promise that work with young people with disabilities while they're still in school lead to better jobs.
Advocates for people with disabilities consider such projects positive alternatives to the use of U.S. Department of Labor certificates that allow employers to hire people with disabilities at less than the federal minimum wage.
Attempts to phase out the certificate program have been made in Congress, and a group of senators has asked the Labor Department to take that action on its own.
But other lawmakers and providers say that eliminating the certificates would take away opportunities for Arkansans with disabilities.
And Arkansas Promise's federal funding ends in September. The demonstration program, which enrolled 2,000 students, has operated with a $35.7 million, five-year grant from the U.S. Department of Education and U.S. Social Security Administration.
At least 3,100 Arkansans work under the Section 14(c) certificates, a Depression-era provision in the Fair Labor Standards Act of 1938 that allows employers to pay less than the minimum wage to people with disabilities. More than 150,000 workers are covered through these certificates in the United States.
People with disabilities who work under the 14(c) certificates often are employed in places called sheltered workshops, which are operated through nonprofit entities known as community rehabilitation programs.
About 40 workshops are scattered throughout Arkansas. In them, employees perform rote tasks, often irrespective of individual skills or capabilities. That equates to a lot of recycling, shredding, sorting and packaging. Many earn just pennies an hour.
The certificate program "further stigmatizes" employees with disabilities and perpetuates the idea that they can't hold regular jobs, said Caroline Boch of Disability Rights Arkansas, a nonprofit advocacy organization.
"We need to move from a focus on limitation to a focus on abilities and capabilities and opportunities for people to make choices about what they want to do with their life," Boch said.
The federally empowered watchdog group released a report earlier this year asserting that state agencies fell short in efforts to help people with disabilities move from segregated employment, such as the shops, to more integrated workplaces, where they can work alongside people without disabilities.
The report found, for instance, that Arkansas Rehabilitation Services, a division of the state's Department of Career Education, didn't spend the required amount of federal grant money on pre-employment transition services that help workers with disabilities find better jobs.
Rehabilitation programs are supposed to provide vocational rehabilitative services that help workers maximize their employability. Arkansas Rehabilitation Services funds community-based employment services through these programs.
The Department of Human Services also funds adult day habilitation services on-site. Habilitation aims to promote independent living and good health through activities that focus on community integration, building relationships, social and communication skills, and recreational experiences.
But Disability Rights Arkansas' report on the workshops claims that the vast majority of workers with disabilities aren't using these extra services.
The state relies too much on the workshops, and state agencies need to do more to help people with disabilities find better jobs, the Disability Rights Arkansas report concluded.
Those who want to keep the shops open say that many people don't have the capacity to work in integrated environments or prefer the workshops.
Closing the workshops would rob certain adults with disabilities of any meaningful prospects, essentially reducing them to couch potatoes able only to collect disability checks from the government, said some caregivers and providers.
"It's not one size fits all," said Karen Kight, director of Abilities Unlimited of Hot Springs.
"We support individuals being free to make informed choices. Arkansas needs to protect the funding that will allow individuals to be a part of the community. ... These programs are a very vital part of their community."
Her nonprofit, she said, offers a "full array of employment options," not just sheltered workshops.
The program also gives adults with disabilities the chance to participate in career development programs and "supported employment," in which a job coach serves as a mentor by assisting them with their job searches, placements and interviews, as well as training of job duties at work sites.
SUCCESSFUL OUTCOMES
People with disabilities face segregation in schools and work opportunities, Disability Rights Arkansas found in its February report.
"It's time for Arkansas to do better," wrote Boch, who authored the report. "We must remove the obstacles that still exist."
Between 2016 and 2017, inspectors with Disability Rights Arkansas visited dozens of sheltered workshops, and spoke with employees and providers to compile the report. They set out to evaluate the status of the shops, workers' access to competitive employment and the needs for services or training for people with disabilities.
Disability Rights believes that, if workers with disabilities had more support, they'd be significantly less likely to work in the sheltered shops. The group wants to see more people with disabilities in integrated settings -- meaning jobs where they interact with community members and that grant them more financial autonomy.
The report found that the state's Rehabilitation Services agency didn't dedicate enough federal funds to pre-employment transition services, which help young adults with disabilities learn more skills so they can get competitive jobs, instead of staying at the segregated shops. Services can include career counseling, internships and workplace readiness training.
For instance, the division was supposed to spend nearly $6 million -- at least 15 percent of its vocational rehabilitation money -- in federal fiscal 2015, which ran from Oct. 1, 2014, to Sept. 30, 2015. Instead, it allocated about $1.2 million, just 3 percent. The unspent funds went back to the federal government.
Alan McClain, the agency's commissioner, said there weren't enough pre-employment programs available, so there weren't viable ways to spend the expected 15 percent. Also, agency staff members wanted to be deliberate in how they directed the funds, he said.
"We took our time to develop really good, sound programs, focusing on career exploration and work-based learning, that have intended outcomes," he said.
In federal fiscal 2016, the agency spent 8.5 percent of vocational rehabilitation grant funding for these services. The division is on track to meet its 15 percent requirement this year.
The agency continues to do better, said Joe Baxter, deputy commissioner.
Arkansas Rehabilitation Services ceased making referrals to the sheltered workshops in July 2016 and boosted referrals for supported employment services.
Staffing levels have also improved. In 2016, there were 93 vocational rehabilitation counselor positions, 18 of which were vacant. Those positions are now filled, Baxter said.
Staff shortages and counselors' heavy caseloads had contributed to a lack of enough support for many workers with disabilities, according to the 2017 report that is required by the state's Workforce Innovation and Opportunity Act. The 2014 law aimed to help ensure competitive employment for the at-risk or most vulnerable, including people with disabilities.
Too many people with disabilities served by Rehabilitation Services don't have positive employment outcomes because of large caseloads, delays in services and the limited time the counselor spends with each worker, the report stated.
A 2016 report by the Arkansas Workforce Development Board cited time spent by counselors on paperwork and "the consumer's need for employment-related assistance" as likely impediments to Arkansas Rehabilitation Services' "ability to adequately serve its consumers and retain qualified counselors."
Rehabilitation Services has since placed counselors at each 14(c) sheltered workshop in the state to meet with workers more often than before.
"Caseload on average is leveling out," Baxter said. "There is a learning curve with newer counselors. ... We were down 10 or 20 counselors at one point. That has corrected itself in the last year."
Baxter hopes that, with more counseling, workers will take advantage of available services at the shops, which could steer them to better jobs.
But even available services go mostly unused, according to Disability Rights' February report. Only about 2 percent of sheltered-shop employees take advantage of offered vocational rehabilitation services, it said.
Nearly 70 percent have worked at the shops for more than a decade without moving on to better-paying jobs.
Services are scarce in rural areas of the state, particularly eastern Arkansas -- leaving many workers without access to training needed to reach their vocational goals, the report stated.
Dale Turrentine, Arkansas Rehabilitation Services' community program development manager, said the agency met with every sheltered workshop provider to discuss bringing in additional services.
These providers, however, don't have enough money to pay for extra services, such as supported employment, according to a 2015 state needs assessment, a report required by the Workforce Innovation and Opportunity Act.
Agency chief McClain said his staff is brainstorming other ways to better support people with disabilities, including strengthening relationships and outreach at local school districts.
People with disabilities get better jobs when they receive pre-employment support during their high school years, research shows. But some schools don't want vocational rehabilitation counselors on campus, which limits transition services, according to the 2015 needs assessment.
"Being placed at the workshop is not considered a 'successful employment outcome' for us," McClain said. "We know there's a need for this service, but we want people with disabilities to have more choices, which in turn allows them greater dignity, a greater quality of life."
MIXED RESULTS
Some policymakers say that advocates trying to end the use of 14(c) certificates too often disregard the population that's severely disabled, people who can't go anywhere but the shops.
Closing the workshops isn't economically feasible in Arkansas, said Kate McSweeney, vice president of ACCSES, a national advocacy group representing more than 1,200 organizations that provide services to people with disabilities.
"More often than not, the community rehabilitation program is the only place in town," she said. "We have to have practical policies. ... It's counterintuitive to close the shops. We need to keep people attached to the workforce."
ACCSES' main goals are to maximize employment and independent living opportunities for those with disabilities.
Some states -- including Alaska, New Hampshire, Maine and Vermont -- have already curbed or eliminated use of 14(c) certificates. Because of limited research, it's not always clear what happens when state governments phase out workshops. Known results vary.
In Oklahoma, when segregated employment declined, integrated employment didn't increase, according to a March 2017 article in the Social Innovations Journal. Instead, more people with disabilities became jobless.
Maine's results were similar -- fewer shops meant that people with disabilities spent more time doing non-work activities, a 2015 study conducted by George Washington University found.
Yet in Vermont, the first state to phase out 14(c), employees with disabilities moved to integrated workplaces after the last sheltered shop closed in 2005. About 38 percent of Vermont workers with disabilities were employed at integrated settings in 2015, compared with the nationwide average of nearly 19 percent at the same time, concluded University of Massachusetts researchers.
Vermont's success was rooted in decades-old policy changes. The University of Vermont received grants, starting in the 1980s, to fund integrated employment programs for disabled residents. The university worked with the state's disability agencies in this effort.
Arkansas differs from these other states. They are more affluent, are winter and summer tourist destinations and have higher populations, all conditions that make it possible for people with disabilities to find work outside of 14(c), McSweeney said.
The rhetoric surrounding this debate is appalling, she added -- "as if working with other people with disabilities is inferior than working with people without disabilities."
Federal lawmakers unsuccessfully pushed legislation to phase out the program in 2011 and last year. Now, seven U.S. senators are petitioning the federal Department of Labor to make such changes.
In a letter sent April 23, the senators requested that Labor Secretary Alexander Acosta stop the use of certificates because they "unjustifiably set low expectations for workers" and are "inherently discriminatory."
Acosta had described the issue of sub-minimum wages as "a very difficult balance that I'm happy to have a further discussion about" during his confirmation hearing last year.
"I think this is a very difficult issue because you don't want to disrespect individuals in any way," he said then. "The very phrase 'sub-minimum wage' is a disrespectful phrase. Yet, you want to provide incentives or systems to ensure that individuals that might not otherwise have a job, have access to a job and are trained into a job."
The department did not answer the newspaper's requests for an interview. Acosta's office hasn't publicly responded to the senators' letter.
Senators also cited concern about "past abuses of the program" and asked for more information on how the federal agency actively prevents the mistreatment and discrimination of workers.
Goodwill of the Columbia Willamette paid workers with disabilities as low as $1.40 an hour, using the certificate program in 2011, while its executives were compensated more than $50 million, for instance. In other cases, law-enforcement agencies raided sheltered workshops that had conditions akin to sweatshops.
And a 2014 USA Today investigation found that federal officials approved sub-minimum wages even when a worker's disability didn't have any connection to the task at hand.
The letter also criticized the Labor Department's lack of data, asking for more information about: how many were hired through 14(c); the program's annual inspections; and earned wages.
On April 23, the same day of the senators' letter, the Labor Department declared in a news release its commitment "to protecting Americans with disabilities from exploitation in the workplace."
The prepared statement didn't touch on the overall 14(c) program. Instead, the department announced it had revoked the certificate of an Illinois-based nonprofit called Rock River Valley Self Help Enterprises for failing to properly track workers' timecards and compensate them, at times paying them with gift cards.
Brian Colas, general counsel for U.S. Sen. Tom Cotton, R-Ark., said that in meetings with Acosta, Cotton has advocated keeping the shops open. Talks are underway for the secretary to tour Arkansas workshops with Cotton sometime this summer, Colas said.
After an April visit to Mid-Arkansas River Valley Abilities, a Russellville-based sheltered workshop, Cotton said he'd continue to protect such programs "from any effort to close them down."
Disability Rights Arkansas doesn't seek to phase out the shops without a plan.
The state should draft alternatives for people with disabilities that aren't these segregated settings, the group recommended. Suggestions in the nonprofit's report include creating tax incentives for businesses to hire people with disabilities at or above the minimum wage and boosting funding for supported employment so that people with disabilities can get help from trained counselors on the job site.
"The goal should be to get the community to want to be a part of this," said Tom Masseau, Disability Rights director. "It has to become part of their business philosophy or model."
'LIKE FAMILY'
Marcus Leonard tried working at a "regular" job before. But he often felt rushed, and sometimes he didn't understand what was expected of him, he said.
It seemed like his boss didn't want to explain things twice. One day, unsure of what was being asked of him, he cried on the job.
"Shut up. I don't work with cry babies," was his manager's reaction.
Marcus -- who describes himself as mentally challenged, not disabled -- can hold down a regular job with minimal accommodations. But the 24-year-old felt more alone in this integrated setting than anywhere else.
He left that job and stayed at home for a while. Finding work at traditional places was still tough.
"I pretty much would sit in front of the TV all day," he said. "Let me tell you this, it's boring."
Later, Marcus began working at the Abilities Unlimited shelter in Hot Springs. He's on the production line, piecing together parts of oil tanks and other products for Husqvarna Group , a Swedish outdoor power equipment manufacturer with an Arkansas plant in Nashville. The work is repetitive, but he can go at his own pace. He also participates in a daily 45-minute exercise class on-site.
"I love working here," he said. "They treat me like family."
Marcus fears that if the workshops closed, he'd be back at home, back on that dreaded couch.
"Taking this away from people would be the worst thing possible," he said.
La Vonda Hughes, Marcus' mother, thinks her son would suffer if Abilities Unlimited shut down.
"This is the best option for us," Hughes said. "My son realizes there are other options. ... I had rather my child get up, have a purpose in life and be happy."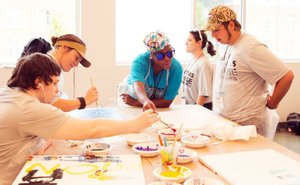 Photo by Special to the Democrat-Gazette
Art instructor Adrianne Toney (center) provides guidance to Austin Miller Burns (right) during a class at Arkansas Promise, a project aimed at helping teenagers with disabilities prepare for careers. Others taking part include (from left) Nolan Smith and his mother, Samantha Armbruster. Nurse Alicia Wimberly passes by in background.
SundayMonday on 05/13/2018