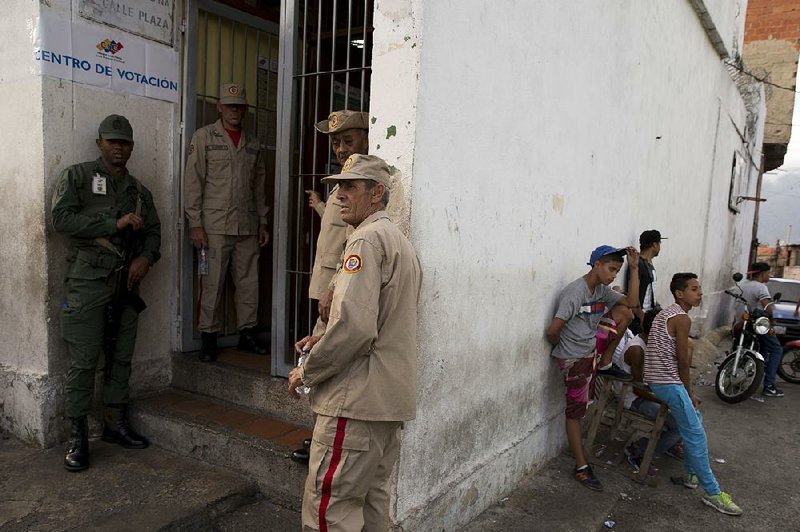 A soldier and members of the Bolivian militia stand guard at the entrance to a polling station during the presidential election in Caracas, Venezuela, on Sunday.
CARACAS, Venezuela -- Election officials say socialist leader Nicolas Maduro has won a second six-year term as Venezuela's president, while his main rivals are disputing the legitimacy of the vote and calling for a new election.
The National Election Council announced that with almost 93 percent of polling stations reporting, Maduro won nearly 68 percent of the votes in Sunday's election, beating his nearest challenger, Henri Falcon, by almost 40 points.
Falcon, though, called for a new presidential election even before the results were released, saying that Sunday's presidential vote was marred by irregularities. He said his campaign collected thousands of complaints indicating that ruling-party activists set up "Red Points" intended to pressure the poor to vote for Maduro at 86 percent of voting centers across Venezuela.
At those sites, volunteers scanned new government-issued "Fatherland Cards," verifying that people had voted. Maduro promised during the campaign that the 16.5 million cardholders will be rewarded for their vote. Some of those cardholders, suffering from food shortages and hyperinflation, said they hoped their vote would bring them a cash bonus or even a free apartment.
Falcon -- a former acolyte of the late President Hugo Chavez, who implemented Venezuela's socialist administration -- also criticized Venezuela's main opposition coalition, saying its call to boycott the election played into the government's hands. Maduro's opponents distrust the nation's electoral council, which is controlled by government loyalists, and have said the election would lack legitimacy without voters' support. Observers said many polling stations were largely empty, and internal opposition estimates put turnout at around 40 percent.
However, electoral authorities said turnout was projected to reach 48 percent. Some polling stations in Venezuela also stayed open hours after the official 6 p.m. closing time Sunday in what critics said was an attempt to inflate the vote for Maduro.
The United States, European Union and many Latin American countries have already said they would not recognize the results as several of Maduro's key rivals were barred from running.
Maduro is highly unpopular in Venezuela, and the socialists' increasing authoritarian rule and mismanagement of the state-run oil industry have caused a deepening economic crisis, putting Venezuela on the brink of collapse. But many Venezuelans said they feared they or their relatives would lose government jobs if they failed to support Maduro. Even more were worried about losing access to subsided government food boxes -- known as CLAP boxes -- that have become the main source of sustenance for millions. Almost 75 percent of households said they received government-issued food boxes in the past three months.
"I already voted, and I'm now going to register for benefits, because that's what they're telling us to do," said Andrea Hernandez, a 19-year-old holding her 3-month-old daughter, referring to the registries for government benefits set up at many polling stations. "The bonuses, the CLAP boxes. If I don't vote for the government, they might stop giving me these benefits."
Maduro, setting an example for government supporters whom he called on to vote early, cast his ballot in Caracas shortly after fireworks and loudspeakers blasting a military hymn roused Venezuelans from sleep around 5 a.m.
State TV showed Maduro as he cast his vote.
"We are an example of democracy to the whole world," he tweeted.
Information for this article was contributed by Scott Smith and Joshua Goodman of The Associated Press; and by Anthony Faiola, Rachelle Krygier and Mariana Zuniga of The Washington Post.
A Section on 05/21/2018
Print Headline: Maduro claims victory in Venezuelan election
Sponsor Content