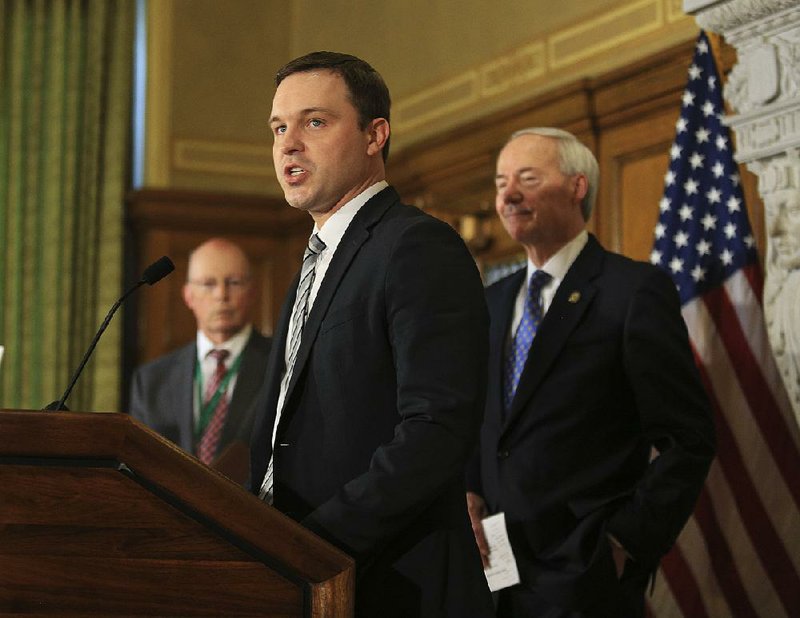 Jared Henderson, then the executive director of Teach for America in Arkansas, (center) is shown with Gov. Asa Hutchinson (right) and Little Rock School District Superintendent Baker Kurrus in this file photo. ( Staton Breidenthal)
Former Teach for America executive Jared Henderson has won the Democratic nomination for governor.
The Associated Press called the race at 9:21 p.m. At that time, unofficial results showed Henderson with 36,742 votes and Leticia Sanders with 21,079 votes. About 42 percent of the vote was said to be in.
Henderson, who worked as the state director for four years at Teach for America, said Arkansas needs to work to become "the best place to be a public school teacher" within 10 years.
Sanders is a hair braider from Maumelle who said during her campaign that she wanted to legalize marijuana for Arkansans 21 years and older.
Henderson will face Gov. Asa Hutchinson, who secured the Republican nomination for governor earlier on Tuesday night.
Read Wednesday's Arkansas Democrat-Gazette for full details.
Sponsor Content