While some county clerks around the state reported lower-than-normal early voter turnout as they prepared for today's judicial and party primary elections, the final state numbers surpassed those of the last similar primary, in 2014.
Early voting began May 7 and ended at 5 p.m. Monday. Today, the polls will be open from 7:30 a.m. to 7:30 p.m. Among the ballot choices are races for governor, Congress and the Arkansas Supreme Court. There are also races for the Legislature, other judicial positions and some local government offices. Some counties also have school elections.
In some races, the nominees selected in primaries will face opponents in the Nov. 6 general election. In others, the winner faces no opposition later.
An unofficial, preliminary count showed that about 109,426 Arkansans -- or 6.4 percent of the state's 1.7 million registered voters -- cast early or absentee votes, according to data from Brandon Newell, department supervisor in the Elections Division of Republican Secretary of State Mark Martin's office.
[ELECTIONS COVERAGE: Find previous stories about today's races]
Early and absentee totals showed that Republican votes of 69,033 -- or 63 percent of the total early votes -- surpassed the Democrat vote of 38,681 (35.5 percent) and 1,712 (1.5 percent) "other" votes, or those cast in only the nonpartisan judicial general election. People can choose to vote only in the judicial election and skip the party primaries.
By comparison, the 2014 preferential primary and judicial general elections had about 100,793 early and absentee voters -- or 6.2 percent of the 1,624,187 registered voters in that election.
This year's preliminary, unofficial early voting total is an increase of 8,633, or 8.5 percent, compared with 2014's spring elections.
Voting is heavier in presidential election years. In the 2016 primaries, 220,151 early and absentee votes were cast, or about 13 percent of the 1.6 million registered voters at the time.
Chris Powell, a spokesman for Martin, declined to make a statewide projection of how many will make it to the polls this year. Primary turnout seems to be inconsistent from one cycle to another, Powell said, and depends heavily on whether there are local races.
"Turnout so far seems to be pretty low, but not uncommon for a midterm primary election," Powell said.
There was very little push-back on the voter identification requirement in this early voting period, according to a sampling of county clerks around the state.
The Arkansas Supreme Court recently reversed a circuit court injunction blocking Act 633 of 2017 and ruled that election officials could enforce the state's disputed voter-ID law.
"We have not really had any questions or complaints regarding voter ID," Powell said.
Pulaski County Election Commission Director Bryan Poe said there were only a few voters who declined to show their identification to poll workers and had to submit provisional ballots.
Boone County Clerk Crystal Graddy said there were a handful of jesters pretending like they weren't going to comply, but who pulled out their driver's licenses anyway.
In Chicot County, voters went to the polls with identification out of their wallets and standing at the ready, said County Clerk Pam Donaldson.
Poe said early voting was going "fairly smoothly." Pulaski County ended the early voting period with about 13,127 early and absentee votes. That's 4,905 more than the 2014 total of 8,222.
Poe said the early vote was a little higher than he expected in this election. The only problems at the polls were power failures at a couple of locations, he added.
"We have paper ballots and just allowed people to use those," Poe said.
Washington County Clerk Becky Lewallen said there were no equipment problems but that early and absentee voter turnout was "pretty low."
"I don't see it being crazy tomorrow either," Lewallen said.
By the close of the polls Monday, Washington County had 4,550 early and absentee votes. That's higher than in the 2014 primary when 2,817 early and absentee ballots were cast, but much lower compared with the 2016 presidential primary, in which more than 12,000 early votes were cast.
Early and absentee voters arrived at a steady pace in Boone County, Graddy said.
A couple of local races drew 1,742 early and absentee voters by the close of the polls Monday, Graddy said. The numbers are low compared with the 2014 primary, in which 2,210 Boone County voters headed to the polls early.
She credits new voting machines and the Boone County voting center on Central Avenue in Harrison for a carefree election. The stand-alone center is easier to navigate than the usual aging and narrow county courthouses and is a one-stop shop for voters, Graddy said.
"It's been phenomenal," Graddy said. "It makes all the difference in the world. There was never a line over 15 minutes long in the presidential election. We were the first in the state to report the results and be out of the building by 9:30 that night."
Overall, county clerks around the state said the turnout seemed lower than usual.
Clark County Clerk Rhonda Cole said only about 747 people voted early or by absentee ballot as of Monday afternoon, a number that rose to 808 by the close of voting Monday. In the 2014 election, Clark County had about 1,472 early and absentee votes.
"It's not typical," Cole said. "We usually have a much better turnout. We only have a couple of countywide races on our ballot. They're just not getting out to vote."
Cole said Clark County had not seen too many problems throughout the early voting season, except for a voting machine bursting into flames during routine logic and accuracy tests prior to opening the early voting polls.
"We just hurriedly unplugged it," Cole said. "It was not pretty."
The equipment is about 12 years old, she said. Martin, the secretary of state, will be standing beside her at the next Clark County Quorum Court meeting to plead for funding -- about $90,000 -- to purchase new machines, Cole said.
"The equipment is just so old," Cole said. "We have so many machines that we just cannot use any longer."
Donaldson, the Chicot County clerk, said early and absentee voting was a trickle compared with previous elections.
There were 286 early and absentee votes cast by Chicot County voters as of Monday evening. In 2014, Chicot County voters had cast 646 early and absentee ballots. In the 2016 presidential primary, there were 907 early/absentee votes.
"I don't know if people are waiting until tomorrow or what," Donaldson said.
Union County Clerk Shannon Phillips took the "incredibly low" turnout personally.
"I've never seen such a low turnout in a primary," Phillips said, adding that she contacted newspapers and radio stations and posted on social media to try to get more voters to the early polls.
By the close of early voting, Union County voters had cast 1,394 ballots. That's 1,064 fewer votes than in the 2014 primary, in which 2,458 cast early and absentee ballots. In the 2016 presidential primary, there were 8,438 early/absentee votes.
This primary election decides a three-way Republican primary in the El Dorado mayoral race as well as a city alderman contest.
"This is so sad to me," Phillips said. "All we can do is pray that it will be on their heart to participate in this. This is very important to our city."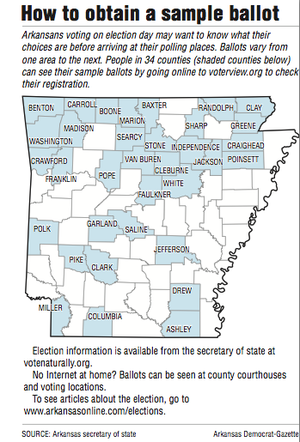 Photo by SOURCE: Arkansas secretary of state / Arkansas Democrat-Gazette
How to obtain a sample ballot
Election day
Polling places are open today from 7:30 a.m. to 7:30 p.m.
Need help? Call the secretary of state's Elections Division at (800) 482-1127 or go to the division's website, votenaturally.org.
Help also is available from county election commissions and county clerk's offices.
A Section on 05/22/2018