"You ought to have seen what I saw on my way
To the village, through Mortenson's pasture to-day:
Blueberries as big as the end of your thumb,
Real sky-blue, and heavy, and ready to drum
In the cavernous pail of the first one to come!
And all ripe together, not some of them green
And some of them ripe! You ought to have seen!"
-- From the poem of "Blueberries" by Robert Frost
Blueberries, or star berries as they were once called because of the star-shaped calyx on their blossom ends, are one of only a handful of fruits indigenous to North America.
While hundreds of varieties exist, most consumers will only encounter three:
Northern highbush blueberries, the most common kind available in supermarkets, are the result of Frederick Coville and Elizabeth White's work in the early 20th-century in New Jersey. The pair crossbred several varieties of wild blueberries to create easy-to-pick berries that grow well in a range of conditions.
Southern rabbiteye, a relative of the Northern highbush, which thrives in the South and gets its name from its rabbit-eye shaped calyx.
Lowbush, also called wild blueberries, which are hardy and grow throughout Maine and eastern Canada. The plants, though cared for and harvested by farmers, are not planted in a traditional sense, but spread through underground runners. They grow 1 to 2 feet high and produce smaller, sweet-tangy fruit. Fresh wild blueberries are rarely, if ever, available this far south, but most supermarkets carry frozen wild blueberries.
Regardless the variety, they all have one thing in common -- their intense color.
Frost said it best: "The blue's but a mist from the breath of the wind" of the blueberry's bluish-black skin and its frosted haze.
The color and its resulting staining capabilities is from high concentrations of anthocyanin, a water soluble pigment found in flowers and plants. Anthocyanin can be red, blue or purple depending on the acidity of the food. In the case of blueberries, although the skin of the berry is blue, when the anthocyanin is extracted from the fruit, it turns red. Anthocyanins are antioxidants and are believed to have anti-inflammatory properties and help reduce the risk of cardiovascular disease, cognitive decline and cancer, according to Today's Dietitian.
And that hazy coating? It's technically known as bloom and acts as a natural sunscreen.
North America blueberries are in season from mid-April through September, peaking in June and July.
The berries pair well with a variety of foods, but are especially flavorful when combined with lemon, cinnamon, cream, oats, nutmeg and maple syrup; as well as other berries, melons and peaches and nectarines.
Cinnamon, a warm spice most of us associate with fall and winter, accentuates and deepens the blueberry flavor in this refreshing drink. A bit of vanilla adds another layer of flavor.
Adults may wish to turn this cooler into a cocktail by adding 1/2 ounce of St. Germain.
Blueberry Lemonade
1/2 cup granulated sugar, or more to taste
3 cups water, divided use
1 1/2 cups fresh blueberries
2-inch piece cinnamon stick
1/4 vanilla bean
Juice of 3 to 4 lemons
Sparking water, for serving
In a medium saucepan, combine the 1/2 cup sugar and 1 cup of the water; bring to a boil over medium heat. Add the blueberries, cinnamon stick and vanilla bean. Boil 5 minutes, mashing the blueberries with the back of a spoon to break up. Remove and discard cinnamon stick and vanilla bean. Strain mixture through a fine-mesh sieve. (Don't toss the blueberries; they're wonderful slathered on toasted English muffins, over pancakes or simply eaten straight off a spoon.)
In a 1 1/2 quart or larger pitcher, combine the blueberry syrup, lemon juice and 2 cups water. Taste and adjust sugar and lemon juice as necessary. Serve over ice diluted to desired strength with sparkling water. Garnish with fresh blueberries and a lemon wedge.
Makes about 6 servings.
Blueberry Banana Bread
2 tablespoons vegetable oil
1 1/4 cups butter, softened
1 1/3 cups lightly packed light brown sugar
1/4 cup honey
4 eggs, at room temperature
3 1/2 cups all-purpose flour
4 3/4 teaspoons baking powder
2 teaspoons baking soda
1/2 teaspoon salt
2 teaspoons ground cinnamon
1/4 to 1/2 teaspoon freshly grated nutmeg
1 teaspoon ground ginger
1/2 teaspoon ground cloves
4 medium overripe bananas
2 tablespoons sour cream, plain yogurt OR creme fraiche
1 1/2 cups blueberries
Heat oven to 350 degrees. Grease and line the bottom of 2 (9-inch) loaf pans with parchment paper, or line 24 muffin cups with paper liners.
In a large mixing bowl, beat vegetable oil, butter, brown sugar, honey and eggs until creamy.
In a separate bowl, mix together the flour, baking powder, baking soda, salt and spices. Sift the flour mixture into the butter-egg mixture and mix until combined.
In a third bowl, mash the banana with the sour cream. Add mashed banana to batter and mix well. Fold in blueberries. Spoon batter into the prepared pans.
For loaves: Bake 20 minutes, then tent with foil and continue baking until a wooden pick inserted near the center comes out clean, approximately 20 minutes more.
For muffins: Bake 20 to 25 minutes or until a wooden pick inserted near the center comes out clean.
Makes 2 loaves or 24 muffins.
Blueberry Cream Cheese Scones
2 3/4 cups all-purpose flour, plus more for dusting
1 tablespoon baking powder
1 teaspoon baking soda
2 tablespoons granulated sugar
1/2 teaspoon salt
1/8 teaspoon cinnamon, optional
4 ounces cream cheese, cut into chunks, chilled
1/2 cup butter, cut into pieces, chilled
1 1/4 cups buttermilk
2/3 cup blueberries
1 tablespoon half-and-half
Coarse sugar, for sprinkling
Heat oven to 425 degrees. Line a baking sheet with parchment paper or a nonstick baking mat.
In a large bowl, combine flour, baking powder, baking soda, sugar, salt and cinnamon. Using a pastry cutter or your fingers, cut or rub cream cheese and butter into flour mixture, working it in until the largest pieces of butter are the size of small peas. The mixture should resemble coarse meal and almost hold together when pressed.
Make a well in the center and pour in the buttermilk. Using a rubber spatula or your hands, mix until flour is moistened. Gently stir in blueberries. Dough will be wet and shaggy.
Sprinkle a work surface with flour and turn dough out onto work surface. Very lightly dust top of dough with flour. Using your hands, pat dough into a 1 to 1 1/2 inch tall square or round. Cut into pieces, either with a chef's knife or a biscuit cutter. Transfer dough to the prepared baking sheet. Brush tops with half-and-half and sprinkle with sugar. Bake 10 to 12 minutes or until golden brown.
Makes about 9 large or 16 small scones.
Recipe adapted from The Pretty Dish by Jessica Merchant
Serve this blueberry compote over pancakes, swirled into yogurt or oatmeal.
Blueberry Compote
2 cups fresh blueberries
1 1/2 cups granulated sugar
Juice from 1 lemon
Combine blueberries, sugar and lemon juice in a medium saucepan. Bring to a boil, then reduce heat and simmer, stirring occasionally, for 10 to 15 minutes. Remove from heat and let cool. Mixture will thicken as it cools.
Makes about 3 cups.
This easy ice cream dessert does not require an ice-cream maker. Simply soften store-bought ice cream, swirl in some homemade blueberry compote or purchased jam, spread into a loaf pan and freeze until scoopable. The results are striking and flavorful.
Blueberry Ripple Ice Cream
1 quart vanilla ice cream, softened (see note)
1/2 cup blueberry compote (see recipe) OR blueberry jam
Place softened ice cream in a large bowl. Fold in compote, mixing just until streaks form. Spoon mixture into a loaf pan, smooth top with a rubber spatula and press a sheet of plastic wrap to the surface. Freeze until firm and scoopable, at least 3 hours.
Makes about 8 servings.
Note: Place ice cream in its original container in the refrigerator for 30 to 45 minutes or on the counter for 15 to 30 minutes to soften.
Recipe adapted from Bon Appetit
This dressing is particularly good on a spinach or arugula salad with candied almonds, red onion, feta or goat cheese.
Balsamic Blueberry Vinaigrette
1 cup fresh blueberries
1/4 cup balsamic vinegar
2 tablespoons honey
Juice of 1 lemon
1 teaspoon Dijon-style mustard
Salt and ground black pepper
1/4 cup olive oil
1/4 cup water
In a blender or food processor, combine blueberries, vinegar, honey, lemon juice, mustard and a pinch salt and pepper. Puree until smooth. Add the olive oil and water and blend until emulsified. Taste and adjust for sweetness, tartness as desired.
Vinaigrette will keep in an airtight container in the refrigerator for about 2 weeks.
Makes about 2 cups.
The texture of this no-bake dessert is similar to chiffon pie, but without the eggs. Lightly flavored gelatin is combined with whipped evaporated milk for a fluffy, aerated filling with a slight jiggle. We used a pan with a removable bottom for easy serving, but a pie plate or even a large baking dish would work well too.
Blueberries on Air
1 (12-ounce) can evaporated milk
2 envelopes unflavored gelatin (see note)
1 cup PLUS 7 tablespoons granulated sugar
1 1/3 cups boiling water
1/4 cup lemon juice
1/4 teaspoon lemon extract
1 1/2 cups graham cracker crumbs
5 tablespoons butter
2 cups blueberries, plus more for decorating
Pour evaporated milk into a medium metal or glass bowl -- the bowl should be large enough to hold the milk once it is whipped. Cover and refrigerate until well chilled, 4 to 12 hours.
In a large bowl, whisk together the unflavored gelatin and sugar. Add the boiling water, whisking until sugar and gelatin are dissolved. Whisk in lemon juice and extract. Refrigerate 1 1/2 hours or until thick and syrupy.
In a third bowl, combine graham cracker crumbs and melted butter. Press mixture into the bottom of an 8- or 9-inch springform pan.
Using an electric mixer, beat evaporated milk to soft peaks. Beat gelatin until thick and full of bubbles. Using a rubber spatula, fold the evaporated milk into the gelatin, mixing gently but thoroughly. Stir in blueberries. Spoon mixture into the prepared pan. Cover and refrigerate until set, at least 4 hours.
Garnish top with additional blueberries, if desired.
Makes 8 to 12 servings.
Note: For a stronger lemon flavor, use lemon-flavored gelatin, but reduce sugar to 1 cup and omit lemon extract.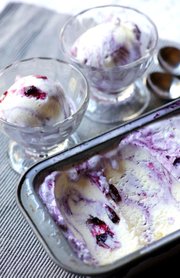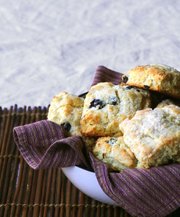 Food on 05/23/2018