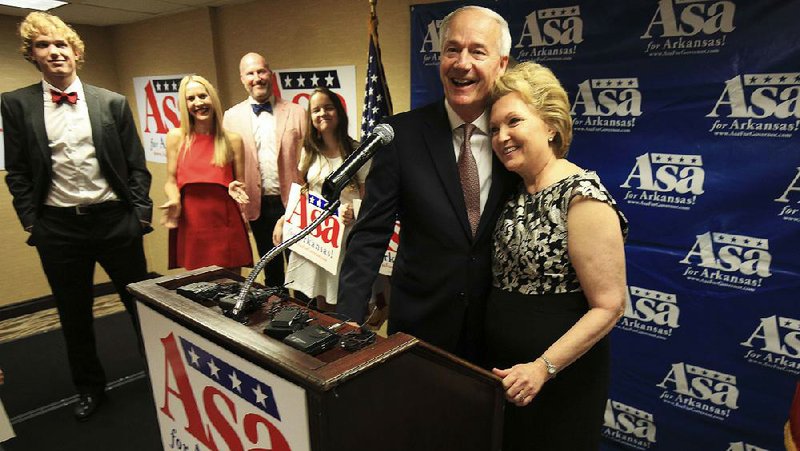 Gov. Asa Hutchinson celebrates Tuesday night with his wife, Susan Hutchinson, and family members at a watch party in Little Rock. ( Arkansas Democrat-Gazette / Staton Breidenthal)
Republican Gov. Asa Hutchinson and Democrat Jared Henderson each won his party's gubernatorial nomination Tuesday and will face each other in the Nov. 6 general election.
Hutchinson of Rogers handily defeated gun range owner Jan Morgan of Hot Springs, while Henderson of Little Rock, who has an education background, was the victor over hair braider Leticia Sanders of Maumelle.
Libertarian Mark West of Batesville also will be on the general election ballot.
With 2,694 of 2,749 precincts reporting, incomplete, unofficial returns in the Republican primary were:
Hutchinson 141,604
Morgan 61,317
"I think voters chose optimism and hope for the future, and I'm glad they did because it gave us a resounding victory," Hutchinson said.
The governor said he expects a vigorous general election campaign that provides voters a clear choice between him and Henderson.
Morgan collected about the same share of votes in the primary as Hutchinson's foe did four years ago, the governor said.
Morgan said she called Hutchinson to concede the primary election to him, but she doesn't plan to endorse him in the general election.
She said she would have liked to garner more votes than she did, but that she and her supporters were "victorious" in rallying the conservative base of the Republican Party and awakening people to "big government" in the state.
"We are beginning to build a foundation of a liberty machine," Morgan said.
In the Democratic primary, with 2,690 of 2,749 precincts reporting, incomplete, unofficial returns were:
Henderson 67,135
Sanders 38,640
Henderson said his victory is the result of his incredible campaign team and his message that Arkansans can expect more for the state in education, small business and health care.
"We are grateful for all the support," he said.
Henderson said he believes his campaign has a strong message that will resonate throughout the state in the general election campaign.
Meanwhile, Sanders said she would "just wait for the end" to see the election results.
Hutchinson is seeking re-election to his second four-year term as governor. He won the endorsement of Republican President Donald Trump on Monday.
In 2014, Hutchinson beat businessman Curtis Coleman for the Republican gubernatorial nomination by a margin of 73 percent to 27 percent. In the subsequent general election, he defeated former Democratic Rep. Mike Ross of Little Rock and others. In 2006, he lost his first bid for governor to Democrat Mike Beebe.
Hutchinson is a former federal homeland security undersecretary, U.S. Drug Enforcement Administration director, U.S. attorney and 3rd District congressman.
Morgan was making her first bid for elected office. She is the owner of the Gun Cave shooting range in Hot Springs and is a former television reporter and news anchor.
In 2014, Morgan drew national media attention by declaring her gun range a "Muslim Free Zone," saying she was concerned about the safety of other customers if Muslims patronized her business.
[ELECTIONS COVERAGE: Find all results + stories]
In 2017, she was an opponent of a law signed by Hutchinson to allow concealed-weapons permit holders who have up to eight hours of extra training to carry their guns on college campuses and some other public places.
Hutchinson formally announced his re-election bid a year ago; Morgan announced her campaign on New Year's Eve.
A few weeks before Morgan launched her campaign, Hutchinson sent a letter to the Arkansas State Police and prosecutors that stated he believes a much-debated 2013 state law allows the open carry of handguns as long as there is no intent to unlawfully use the handgun. In response, Morgan said she believes the state and U.S. constitutions allow gun owners to carry weapons, either openly or by concealing them, without having to get any permits.
The fundraising difference between the candidates was substantial.
Hutchinson reported raising nearly $3.9 million and spending $1.56 million.
Morgan reported raising $144,027 and spending $116,031. She relied on Facebook and other social media to spread her message.
Morgan often branded Hutchinson as "a big government, tax-and-spend, establishment progressive." He called that description "rather comical."
He touted what he described as his conservative record of signing individual income tax rate cuts totaling about $150 million a year, signing anti-abortion legislation, reducing the number of state employees that report to agencies under his control by 1,000, and creating 60,000 jobs.
Hutchinson said he wants the 2019 Legislature to reduce the state's top income tax rate from 6.9 percent to 6 percent, which would reduce revenue by about $180 million a year, and cut the number of agencies reporting to him from 42 to fewer than 20.
Morgan said her top priorities would include "dramatic large-scale tax reform" without repealing tax exemptions and cutting spending to help finance tax cuts.
She didn't release a detailed tax plan.
Hutchinson and Morgan disagreed over Arkansas' version of Medicaid expansion, which is now called Arkansas Works with changes made under Hutchinson's watch. The program uses Medicaid funds to provide private health insurance to about 280,000 Arkansans.
The state pays for 6 percent of the cost of the program this year, and its share increases to 7 percent in 2019 and then 10 percent in 2020 under existing federal law. The state's share is projected to be about $135 million in fiscal 2019, starting July 1, and the federal government's share is forecast to be about $1.95 billion.
Morgan said the state should end the program because it's financially unsustainable.
But Hutchinson said he wants to continue changing the program with measures that emphasize personal responsibility and cost-saving measures, but also meet the needs of those struggling to get better jobs.
He said his top priorities include expanding on his nationally recognized plan to provide computer science education in each high school and focusing on a reading initiative to ensure that students read at grade level in the third grade with an emphasis on phonics.
Other priorities include developing a long-term highway program for needs of roughly $400 million, but he prefers that any tax increase be referred to voters. He also wants to see high-speed broadband in each community in Arkansas, he said. He said he also wants to build on the progress of giving each high school student options for a career path and an opportunity to succeed no matter whether the student wants to enter a trade, a profession or a college.
Henderson announced his bid for governor in mid-December. Sanders filed March 1, the last day of the filing period, to give Henderson an unexpected challenge for the Democratic nomination.
Both candidates were making their first stab at seeking elected office.
Henderson and his wife, Melanie Prince, own a medical practice. He recruited college graduates and professionals to teach in low-income areas as Teach for America's executive director in Arkansas for four years until June.
He was the group's vice president of regional operations for the previous two years.
Sanders is a hair braider who also has worked for various companies, including Western Staffing and Nevada Railroad.
Henderson reported raising $220,221 in total contributions, lending his campaign $100,000, and spending $179,011 through May 12, leaving a campaign treasury of about $141,210. In contrast, Sanders reported raising $2,575 in contributions, lending her campaign $9,900 and spending $10,394 through May 12.
Henderson said he plans to hold teacher town hall-style meetings to gather specific ideas for changes, including developing a plan to dramatically boost their salaries to make the state the best place to be an educator in 10 years.
He said he wants to reduce barriers to the creation of small businesses, particularly in rural areas, and make it easier for entrepreneurs to get seed capital and get affordable health insurance. He said he also would seek to have high schools and community colleges provide some business training.
Henderson said he also would like to try to reduce the state's high rate of teenage pregnancies by consulting with local officials to determine which measures used by other states would work in their respective localities.
Both Henderson and Sanders said they support Arkansas' version of Medicaid expansion.
They also oppose Hutchinson's plan to cut the top individual income tax rate. They also said they are against the 2017 law on enhanced concealed carry permits.
Sanders pitched her plan to legalize recreational marijuana for people 21 years or older, not just those with specific medical conditions.
A Section on 05/23/2018
Print Headline: Governor takes GOP contest; Henderson gets nod for Democrats' nomination
Sponsor Content