Arkansas' fastest-growing cities are largely suburbs, and smaller cities that aren't near an urban center are mostly shrinking, according to data released Thursday by the U.S. Census Bureau.
Of Arkansas' 501 cities, 327 shrank from 2010 to 2017. Of that 327, all but 10 had 10,000 or fewer people, and all but 23 had 5,000 or fewer people.
"The story really of this decade is the metropolitan areas are growing at the expense of the more rural, non-metropolitan areas," said Michael Pakko, chief economist at the Arkansas Economic Development Institute at the University of Arkansas at Little Rock.
Housing data released Thursday also showed housing growth is faster in Arkansas' urban and suburban counties.
While the state of the suburbs is mostly good, growth in their larger urban cores ranges from middling to thriving, depending on the metropolitan area, the data show. In other parts of the United States, major cities with suburban growth often are growing fast as well, although some, like St. Louis and Chicago, aren't.
With so much suburban growth, community leaders need to ensure that areas with employment growth also have housing development that keeps pace, to avoid a housing scarcity that drives prices higher than the areas' wages can afford, economists say.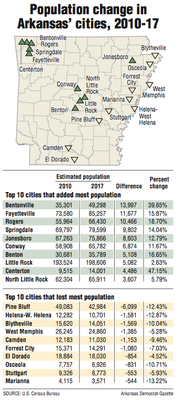 Census estimates for cities and towns show continued population growth in the southern and western United States. In the past year, seven of the 15 fastest-growing cities of 50,000 or more were in Texas.
Arkansas has two of the top 100 fastest-growing cities in the nation since 2010, according to Pam Willrodt, a demographer at the Economic Development Institute. Rogers was the 33rd fastest-growing city (18.7 percent) and Fayetteville was 63rd (15.9 percent), she said.
Five other larger cities -- Jonesboro in northeast Arkansas, Benton and Conway in central Arkansas, and Bentonville and Springdale in Northwest Arkansas -- exceeded 11 percent growth from 2010 to 2017, according to the data.
Arkansas has 14 cities of 30,000 or more people. Other than the seven that surpassed 11 percent growth over that seven-year period, none of the other cities experienced more growth than North Little Rock's 5.8 percent. Those cities with populations of 30,000 or more include Hot Springs, Texarkana and Pine Bluff. Pine Bluff was the only city among the group to shrink, and it has done so by an estimated 12.4 percent.
Smaller growth rates have minimal impact on some cities and a negative impact on others.
Middling growth in Fort Smith, the state's second-largest city, has been coupled with a decline in sales-tax revenue from 2016 to 2017 and a faster population increase since 2010 in the nearby towns of Alma, Barling, Greenwood and Lavaca.
Fort Smith's metropolitan area has relied mostly on its birthrate and some international immigration to grow, according to census data released in March.
City Administrator Carl Geffken said growth higher than 2.1 percent since 2010 would be better, but he said steady growth was still good. He said Fort Smith residents are willing to invest in the city, as evidenced by the approval Tuesday of a 5.558-mill increase in property taxes for the Fort Smith School District. It was the first such millage increase in 31 years.
"Fort Smith has always had the history of slow and steady growth," Geffken said. "And we're looking to change that."
After growing by 4,279 residents from 2010 to 2014, North Little Rock's population has declined since then by 672 people, according to census estimates. Sales-tax revenue in North Little Rock was down in 2016 and 2017 compared with 2015, according to tax data from the Arkansas Department of Finance and Administration.
City spokesman Nathan Hamilton said he thought the 2014 figure was probably too high. The city hasn't seen any declines in sanitation customers or users of other city services, he said.
"We really don't put much stock in the year-to-year numbers," Hamilton said. "We look at the long-term trends."
Sales-tax collections declined from 2015 in Texarkana but rose in Little Rock, Hot Springs, Sherwood and even Pine Bluff.
In the suburbs, fast growth can be exciting but intense.
The population of Cave Springs in Northwest Arkansas has jumped 156.3 percent since 2010, from 1,729 to 4,432, and the city doesn't even have a planning director, Mayor Travis Lee said.
At any given time, the Benton County city has about 180 to 200 active building permits, Lee said. A couple of days ago, it was 181.
Most building is residential because most residents work in Bentonville and Fayetteville, he said.
The streets budget has more than quintupled since Lee took office in 2015, the city added a police office last year, and Cave Springs faces challenges related to expanding its utility services.
"Our biggest issue, I think, is water and sewer," Lee said. "Our sewer capacity is getting close to becoming full. We're going to have to be very choosy on who gets sewer."
People move to Cave Springs because it's removed from city life but only 15 minutes away from business and entertainment venues in Northwest Arkansas.
The increase in suburban population in Northwest Arkansas is related to a dearth of mixed-use zoning in the region that could allow people to live closer to where they work, said Mervin Jebaraj, director of the Center for Business and Economic Research at the University of Arkansas, Fayetteville.
Housing prices are on the rise in the area, Jebaraj said. Average home prices in Benton and Washington counties are already tens of thousands of dollars higher than anywhere else in the state, including Pulaski County, Jebaraj said.
Prices aren't so high that the big cities aren't growing, but rising housing prices eventually will hinder population growth if the cities don't adopt more mixed-use zoning, he said.
That kind of zoning, which would allow residential and commercial construction to exist side by side, is not typical of most of the United States, as it is in other countries. But younger residents favor it, Jebaraj said. They want to to live closer to city amenities, such as arts districts and other entertainment.
Bentonville, Rogers, Siloam Springs and Springdale have adopted downtown master plans to allow for mixed-use development, Jebaraj said. Fayetteville has done that and has plans to include a major commercial thoroughfare, he said.
Metro on 05/25/2018