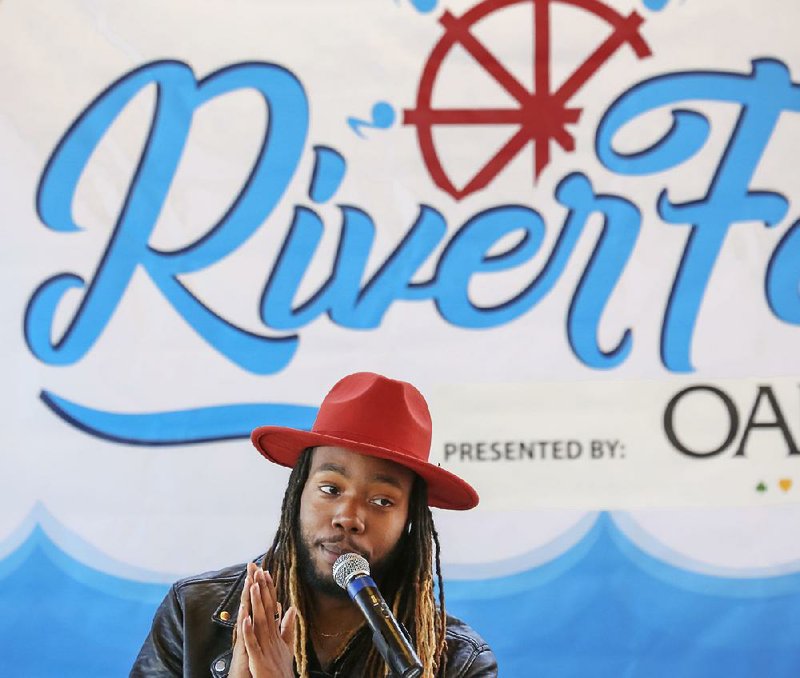 Arkansas Democrat-Gazette/JOHN SYKES JR. -  RiverFest organizers held a press conference on Wednesday and announced the lineup of musicians for the festival, also touching upon changes to the festival and ticket prices. Little Rock resident Levelle Davison, a contestant on The Voice television program and himself a performer at the festival, introduced the musical lineup.  The press conference was held at the RiverFest Pavilion in downtown Little Rock.
The director of Little Rock's revived RiverFest says the latest iteration didn't live up to crowd forecasts and the company needs to regroup before making a decision on the event's future.
"It was not what we expected," event director Jack Daniels said Tuesday of the three-day festival, which was held Friday through Sunday along the Arkansas River. "We're really grateful for the folks that did come out."
Memphis-based Universal Fairs had hoped that as many as 10,000 people would turn out each day, but the crowd fell short of that projection, Daniels said.
"We were somewhat close to that but didn't hit the mark," he said, adding that official figures hadn't been tallied.
Daniels said the future of RiverFest will be determined once Universal Fairs regroups to "see what makes sense."
"From a nuts and bolts standpoint … I think for us to really continue to have [RiverFest], we need more engagement and involvement from the community," Daniels said.
He attributed the lower turnout — to a degree — to having a shorter time frame to book musicians. Organizers announced the festival's return in February after buying rights to the brand, giving them only a few months to secure acts for Memorial Day weekend.
"Things like this usually require 12 months of people working it, working deals," he said.
Still, Daniels said he was "extremely pleased" with Saturday night's lineup of musical acts — including Young Thug, Highly Suspect, LANY and Kip Moore — and crowd turnout.
Gallery: RiverFest 2018
The event director also pointed to a Sunday night performance from headliner Peter Frampton, who was added to the lineup in late April, as a high point of this year's event.
"We presented a really good show. The patrons that came out really liked our new theme of RiverFest and how we approached [the event]," Daniels said.
New to RiverFest this year was the creation of a Ford Family Fun Zone as well as a reduction of the festival's "footprint," allowing for more commerce to flow through downtown Little Rock's River Market District.
Gretchen Hall, president and CEO for the city's Convention and Visitors Bureau, said the organization was "very pleased" with the festival's new management and the adjustments made to help local businesses.
"I think [organizers] are committed to growing the new 'RiverFest' brand and we look forward to working with them again next year," her statement reads.
Little Rock Mayor Mark Stodola said that while organizers were dealt with a "very short amount of time to prepare," he understood "the importance of not letting a year pass since the announcement that Riverfest would be closing."
"As a first effort under new management, I think it was a success that gives plenty of room to grow relative to attendance," Stodola said.
Daniels did not give a time estimate for when the company will make a decision on whether to continue the event. The firm is requesting input from the community in an effort to "provide the kind of show that Little Rock and surrounding areas are looking for," he said.
Libby Doss Lloyd, communications manager for the Convention and Visitors Bureau, noted that the group hasn't heard anything about Universal Fairs "contemplating a return."
In 2017, the three-day 40th anniversary event — then held the first weekend in June — brought in 125,000 people, according to attendance estimates. The festival's turnout reached 140,000 attendees in 2016.
After posting a $300,000 net loss, Riverfest Inc.'s board of directors voted in July to dissolve the nonprofit organization and appoint a committee to wind down operations of the initial festival.
Mark Lovell, CEO of Universal Fairs, bought the brand and its online presence in December. The new organizers planned to spend around $2 million operationally in the Little Rock area this year.
Read Wednesday's Arkansas Democrat-Gazette for full details.
Sponsor Content