As of Tuesday, Ira's Restaurant, 311 Main St., Little Rock, has "transition[ed] to a new name, Allsopp & Chapple Restaurant + Bar," and has a new executive chef, Bonner Cameron, former co-owner of the recently closed Bistro Catering & Gourmet Take Away in Bryant.
From a news release: "Allsopp & Chapple Bookstore was once the premier bookseller in Arkansas, occupying the Rose Building shortly after it was constructed in 1900, and was a mainstay in downtown Little Rock for over five decades." (So, we're told, books may eventually be a part of the decor, though not right away.) The bookstore, established by James Chapple and journalist Fred W. Allsopp, originally occupied the storefronts at 307-309 Main. Allsopp's legacy, among other things, survives in the name of Allsopp Park in Little Rock's Hillcrest neighborhood.
Cameron's menu, posted on the Facebook page, facebook.com/AllsoppAndChapple, lists appetizers including (lunch and dinner) Maryland crab cakes, portobello frites, carpaccio and bruschetta and (dinner only) citrus herb shrimp and a charcuterie board; specialties include the Allsopp Burger (Angus beef, bacon, Canadian bacon, Cheddar, pepper jack and vegetables on a brioche bun); an $89 tomahawk rib-eye; Romano-crusted trout; and a double-bone pork chop. Continuing Ira's plans to be a cocktail destination, bar manager Michael Hollis has a list of 10 elaborate concoctions; they'll have Flyway Brewery products on tap plus a list of a dozen international brews and are promising "an extensive wine list." They also promise to honor all existing reservations and gift cards.
Hours are 11 a.m.-10 p.m. Monday-Friday, 4-10 p.m. Saturday. Sunday brunch is a possibility, we're told, after the first of the year; that's something that is lacking on a block that has become a major restaurant destination (neighbors include Samantha's Wood Fired Grill, Bruno's Little Italy, Brewski's Pub & Grub, Soul Fish, Donuts & Deli and, pending and in progress next door, the downtown branch of A.W. Lin's). They've kept the same phone number, (501) 902-4911. The website, allsoppandchapple.com, was still under construction Tuesday morning.
Ira Mittelman opened his eponymous restaurant in July after more than a yearlong series of delays and after departing a restaurant space on North Little Rock's Park Hill. We don't yet know what has become of him; the Allsopp & Chapple folks won't comment except to confirm he is no longer on the premises or involved in the restaurant's operation.
...
Dos Rocas Beer & Tacos is edging closer to opening, possibly as early as this week, or next at 1220 Main St., Little Rock, three blocks from The Root, the other establishment owned by Jack and Corri Sundell. They've partnered with Paraguay native Cesar Bordon-Avalos, who has been The Root's lunch kitchen manager since 2012; native Honduran Luis Vasquez, currently the breakfast chef at The Root, will manage the kitchen and the pan-Latin American menu, which includes street food (including tacos, empanadas, pupusas) "made with fresh, locally farmed ingredients." The phone number is listed as (501) 313-5413; as of our deadline, the website (dosrocasbeerandtacos.com) still lists hours and phone number as "TBD." We're told to expect to eventually find a firm opening date via the Facebook page, facebook.com/dosrocasbeerandtacos.
Meanwhile, next door, 1224 Main St., Little Rock, early December is the target for the opening of Atlas Bar and Small Plates, which proprietor and former travel agent Tony Poe describes as "the best new old bar in Little Rock," in the mold of the traditional American watering holes of the 20th century, in a space previously occupied by a piano store. He cites as his inspirations the restaurant-bar experiences he has encountered in his world-wide travels -- "the kind of places I like to hang out in, and there aren't such places in Little Rock," he says. In particular, as opposed to the general run of drinking establishments hereabouts, mostly restaurants with bars, "I want to flip that on its head, to be a good fit in this neighborhood" -- South Main, known as SoMA -- "to be a cosy neighborhood living room, a good place to have a drink that also has good food, where folks can nosh and sample different cuisines from around the world."
His tapas-style menu focuses on international street food, including Thai (chicken satay), Turkish (pide, pizza-like, oval-shaped, thin-crust flatbreads topped with vegetables or meat), American (house-made Pigs in a Blanket), Italian (charcuterie plate), the Pacific Islands (Spam Musubi, grilled Spam on sticky rice wrapped in seaweed), South African ("Bunny Chow," a hollowed out loaf of bread loaded with rich curry), Indonesian (Nasi Goreng, spicy stir-fried rice, served vegan or with chicken), French (Baguette Jambon Buerre, classic ham and butter on a baguette, "found in rail stations across France"), Japanese (Okonomiyaki, savory "pancakes" loaded with vegetables and served with sweet plum sauce) and German (Laugenbretzel, a giant Bavarian-style pretzel served with an assortment of German mustards).
The bar will feature beer, wine and "high quality spirits from around the world," Poe says. For the primarily art deco decor, he has been mining artifacts, maps and relics not only of his own travels but those of his father, the late Fred Poe, founder of Poe Travel. Hours will tentatively be 3-11 p.m. or midnight. The phone number is (501) 712-4713; the website, atlassoma.com; and the Facebook page, facebook.com/Atlas-Bar-843061702557660.
...
Former Henderson State/NFL linebacker K.D. Williams says he's still about a month out from opening The Capital's Seafood House, 1706 W. Third St., Little Rock, in a former service station catti-cornered from the state Capitol. We've observed workers busy on the exterior and unloading things into the interior this past week and Williams says he's in the midst of employment interviews. Williams says the restaurant will serve a full lunch and dinner menu of "real authentic Caribbean seafood taste," the same as the one at K&D Crustaceans, the Tampa, Fla., restaurant he operates with his wife, Erika Carter (check it out at kdcrustaceans.com). Hours will be 10 a.m.-midnight Monday-Saturday, and will have a full menu smorgasbord-buffet brunch (with mimosas included in the price) the first Sunday of each month. And now it has a phone number: (501) 214-1441.
Exterior signs on the eastside anchor storefront in the Pinnacle Creek shopping center, 14810 Cantrell Road at Taylor Loop Road, Little Rock, show that Zen Thai & Fusion is going into the former Pasta J's West. We're still trying to track down additional details. It puts what appears to be the final nail into the coffin in the Pasta J's owners to revive Ken Shivey's beloved and long-missed Italian restaurant The Villa as The Villa West -- at least for the moment and certainly as far as the location is concerned.
A franchise outlet of the Plano, Texas-based Bawarchi Indian Cuisine appears to be headed for the Market Place Shopping Center, 11121 N. Rodney Parham Road, Little Rock, with a target opening date at the end of December. The menu, available on the website, bawarchibiryanipoint.com, features more than 30 versions of biryani (the Indian rice dish); vegetarian and nonvegetarian entrees; North and South Indian items (including several versions of the crepe-like dosa); and even "Indo Chinese" fusions of Indian and Chinese cuisine. The website also reveals what looks like an outlet of a subsidiary chain, Bawarchi Biryanis, at 3404 S.E. Macy Road, Bentonville.
Indian food is becoming common along that Rodney Parham Road corridor. The Market Place, which also has an Indian grocery store, has housed at least four previous Indian restaurants and it's a literal stone's throw from the very popular Taj Mahal, 1520 Market St. There's also Banana Leaf -- A South Indian Kitchen inside Asian Groceries in the Ashley Square Shopping Center, 9112 N. Rodney Parham at Reservoir Road. And the target opening date is still Nov. 15 for Mehfil Indo-Mughlai Pak Cuisine in the former Dixie Cafe, Village at Pleasant Valley shopping center, 10700 N. Rodney Parham at Interstate 430, although owner Anita Arab says she may yet have to push it back. That menu focuses particularly on Indian and Pakistani dishes from the Mughal era, which ruled that area from the early 1500s to the mid-1700s. Hours will be 11 a.m.-10 p.m. daily. Keep watching the Facebook page, facebook.com/mehfilcuisine, for updates.
The Layla's Gyros & Pizza outlet at 6100 Stones Drive, Little Rock, facing Cantrell Road, has reportedly closed. Calls to the phone number, (501) 868-8226, reached a recording that said the number has been changed and the new number is unknown. The original location, 9501 N. Rodney Parham Road, Little Rock, is still up and running, 11 a.m.-9 p.m. Monday-Thursday, 11 a.m.-10 p.m. Friday-Saturday, 11 a.m.-5 p.m. Sunday. The phone number is (501) 227-7272.
A plumbing permit was approved Oct. 12 and a building permit filed with the city for Yeh Mon Jamaican Restaurant, going into the Bowman Curve Shopping Center, 200 N. Bowman Road, Little Rock. Patrick Blackburn, whose name was on the incorporation papers filed with the Secretary of State's office July 2, says if all goes well, he's hoping to be up and running by mid-December and serving a genuine Jamaican menu -- including curried and jerk chicken, red beans and rice, curried goat, ox tails and brown-stew chicken and brown-stew steak -- prepared by "genuine people from Jamaica."
U.S. Pizza Co. announced via Facebook last week that new franchisee Wild Waters Co., owned by Mark and Paula Lukas, will be building a new location of the Little Rock-based chain, "from the ground up in Chenal area of west Little Rock." Mark Lucas, the post notes, started as a U.S. Pizza server 10 years ago and "worked his way up to Assistant Manager, then GM and Area Director, and now owner of a franchise with his wife."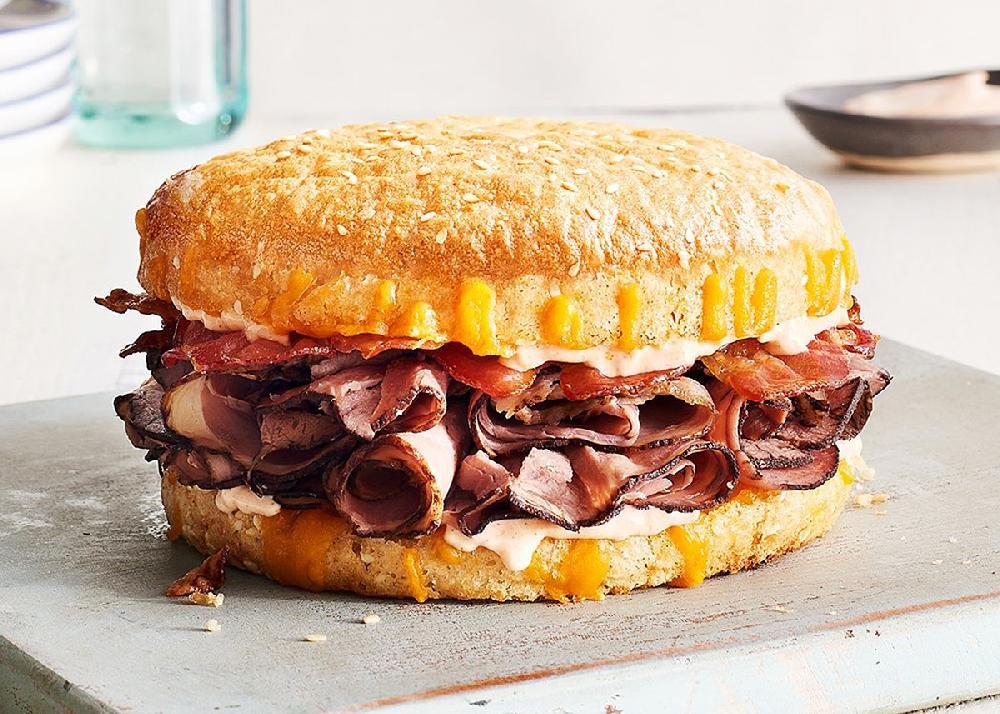 A Beef Bacon Smokecheesy sandwich is on the menu at the new Schlotzsky's Austin Eatery in Hot Springs.
Schlotzsky's Austin Eatery opens today at 3521 Central Ave., Hot Springs. The first 100 guests who buy a CinnaPack (six Cinnabon Classic rolls) will get one small Original sandwich (ham, salami, olives and cheese on a toasted sourdough bun) per week for a year. And they'll be slinging specials from 4-7 p.m. The recently unveiled concept includes a bigger menu variety, including sandwiches, a couple of mac-and-brisket combinations and pizza. Hours are 10 a.m.-10 p.m. daily. The phone number is (501) 701-4533; visit schlotzskys.com/austin-eatery or facebook.com/schlotzskyshotsprings.
And look for Mama's Little Italy to open at 1020 Airport Road, Hot Springs, by the middle of December. Erion Lami, whose name appears on the building and Health Department permit applications, says he's looking to start serving a full Italian menu, including pizza, for lunch and dinner Tuesday-Saturday. And yes, the last time you looked, it was Mango Peppers Urban Tacos, which had just opened there in July. Previous occupants of the revolving-door site include the Dugout Sports Bar & Grill, Paradise Grill, the Old Feed House, Grampa's and the Salty Oyster Grill.
Has a restaurant opened -- or closed -- near you in the last week or so? Does your favorite eatery have a new menu? Is there a new chef in charge? Drop us a line. Call (501) 399-3667 or (501) 378-3513, or send a note to Restaurants, Weekend Section, Arkansas Democrat-Gazette, P.O. Box 2221, Little Rock, Ark. 72203. Send email to:
eharrison@arkansasonline.com
Weekend on 11/01/2018