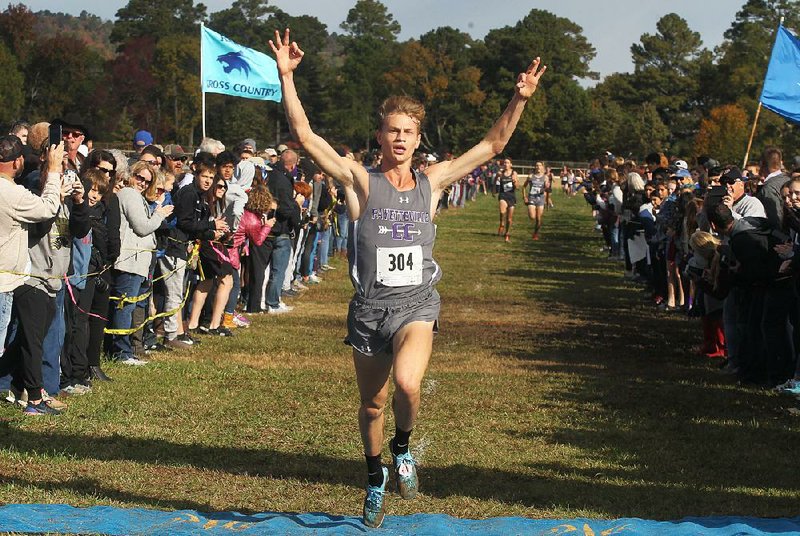 Fayetteville's Camren Fischer crosses the finish line to win his third consecutive Class 6A boys cross country title. Fischer's winning time was 16 minutes, 19.9 seconds. ( The Sentinel-Record / Richard Rasmussen)
HOT SPRINGS -- Camren Fischer saw the muddy conditions and chose to sacrifice the Oaklawn Park course record in order to help his Fayetteville teammates try to win the Class 6A boys cross country title.
The plan almost worked, except Bentonville High's boys figured out the Bulldogs' strategy and found a counter move for it.
At A Glance
ARKANSAS HIGH SCHOOL CROSS COUNTRY CHAMPIONSHIPS
at Oaklawn Park, Hot Springs
Class 6A
Team Scores 1. Bentonville High 28; 2. Fayetteville 33; 3. Springdale Har-Ber 87; 4. Rogers High 129; 5. Conway 129
*— Rogers gets higher place by sixth-runner tiebreaker.
Individual results 1. Camren Fischer, Fayetteville, 16:19.9; 2. Lukas Pabst, Bentonville, 16:27.1; 3. Carter Betts, Fayetteville, 16:28.3; 4. Daniel Graham, Bentonville, 16:32.5; 5. Coleman Wilson, Bentonville, 16:33.5; 6. Jack Williams, Fayetteville, 16:34.3; 7. Dawson Mayberry, Bentonville, 16:42.0; 8. Reuben Reina, Har-Ber, 16:46.5; 9. River Baker, Har-Ber, 16:46.6; 10. Dylan Mayberry, Bentonville, 16:52.9.
Class 5A
Team scores 1. Lake Hamilton 53; 2. Mountain Home 88; 3. Siloam Springs 137; 4. Russellville 143; 5. Maumelle 163.
Individual results 1. Dominic Ward, Greenbrier, 16:46.1; 2. Kazdyn Chandler, Nettleton, 17:02.8; 3. Colby Swecker, Lake Hamilton, 17:09.3; 4. Whit Lawrence, Mountain Home, 17:21.4; 5. Michael Capehart, Siloam Springs, 17:26.1; 6. JD Otts, Vilonia, 17:27.6; 7. Kerrig Kelly, Siloam Springs, 17:29.1; 8. William Swecker, Lake Hamilton, 17:29.5; 9. Andrew Westphal, Mountain Home, 17:34.1; 10. Skylar Davis, Lake Hamilton, 17:34.6.
Class 4A
Team Scores 1. Huntsville 43; 2. De Queen 61; 3. Pea Ridge 132; 4. Berryville 133; 5. Harrison 180.
Individual results 1. Parker Ables, Heber Springs, 16:53.5; 2. Jacob Braswell, Huntsville, 17:30.1; 3. Hector Hernandez, De Queen, 17:31.0; 4. Colton Edens, Huntsville, 17:34.2; 5. Braden Scrivner, Berryville, 18:08.3; 6. Hunter Thompson, Harrison, 18:13.0; 7. Jett Loenneke, Huntsville, 18:14.8; 8. Shaed Cates, Pea Ridge, 18:19.4; 9. Alejandro Lerma, De Queen, 18:28.7; 10. Tanner Barbee, Huntsville, 18:32.3.
Class 3A
Team Scores 1. Cave City 39; 2. West Fork 110; 3. Little Rock Episcopal Collegiate 133; 4. Green Forest 141; 5. Genoa Central 193.
Individual results 1. Lexington Hilton, Green Forest, 16:38.8; 2. Fischer Miller, Cave City, 16:45.8; 3. Luke Walling, Cave City; 16:50.2; 4. Connor Jackson, Manila, 17:21.6; 5. Kendall Townsley, Cave City, 17:31.1; 6. Dalton Jones, Genoa Central, 17:54.5; 7. Caleb Anderson, Cave City, 18:01.0; 8. Alex Ventress, Bismarck, 18:32.7; 9. Jed Johnson, LR Episcopal, 18:34.2; 10. Anthony Tramonte, Elkins, 18:36.4.
Class 1A/2A
Team scores 1. Ouachita 69; 2. Quitman 123; 3. Haas Hall-Bentonville; 4. Decatur 148; 5. Hermitage 150.
Individual results 1. Justice Neufeld, Acorn, 18:06.1; 2. Jacob Tyburski, Haas Hall-Bentonville, 18:12.8; 3. Jordan Foster, Caddo Hills, 18:22.7; 4. Kayden Eckman, Eureka Springs, 18:30.7; 5. Derian Yang, Arkansas Arts Academy, 18:33.1; 6. Jacob Smithpeters, Haas Hall-Fayetteville, 18:47.2; 7. David Davilla, Decatur, 18:50.3; 8. Kyler Caraway, Melbourne, 18:56.5; 9. Ethan Sanders, Ouachita, 18:58.2; 10. Tanner Wilson, Ouachita, 19:00.2.
The Tigers had all five runners place in the top 10, and it was enough to claim their second consecutive title and seventh overall. Bentonville, who won the 6A-West Conference title by a two-point margin last week, scored 28 points in the meet while Fayetteville was right behind with 33.
"Those boys really grouped up well," Bentonville coach Mike Power said. "We knew it would be a bit slower, and we figured Fayetteville's strategy out pretty well. They were mentally prepared for it.
"It was getting a little close there at the end. We had a good finish by some of the senior boys, and they came through at the end. It was a really exciting finish."
Fischer, who ran his final high school meet inside the state borders, won the individual title for a third straight time. The senior covered the 5,000 meters in 16 minutes, 19.9 seconds -- almost a minute slower than his time at the 6A-West meet last week.
He used the deliberately slower pace to help set the pace for teammate Carter Betts and others.
"It was all about the team," Fischer said. "We wanted that team title. I was focused around the title, and nothing about me. Obviously, I was going to do my best, and it was going to come down to strategy.
"I would have liked to have the state record, but you can't always have it. I tried to take it easier today and came across the mile in 5:20, which is my tempo pace for a training run. I had my teammate with me and about 1 kilometer left and started picking it up a little."
While Fischer put distance between him and Betts, Bentonville junior Lukas Pabst picked up his pace and passed Betts on the final stretch. Pabst's time was 16:27.1, slightly more than a second ahead of Pabst, while Tiger teammate Daniel Graham finished fourth at 16:32.5
Coleman Wilson was Bentonville's third runner and finished fifth, while twin brothers Dawson and Dylan Mayberry took seventh and 10, respectively. Springdale Har-Ber was third in team scores with 87, while Rogers and Conway both had 129.
Class 5A
It's a new classification for Lake Hamilton, but the outcome turned out the same.
The Wolves placed three runners in the top 11 en route to their sixth straight title. Lake Hamilton finished with 53 points, followed by Mountain Home with 88 and Siloam Springs with 137, six points ahead of Russellville.
Dominic Ward of Greenbrier claimed the individual title with his time of 16:46.1, more than 16 seconds faster than runnerup Kazdyn Chandler of Nettleton. Colby Swecker, last year's 6A champ, was the first of three Lake Hamilton runners at 17:09.3, followed by William Swecker (ninth, 17:29.5) and Skylar Davis (11th, 17:34.6).
Class 4A
Huntsville placed four runners in the top 10 and captured the first cross country state title in school history.
The Eagles finished with 43 points while De Queen finished second with 61. Pea Ridge was a distant third with 134, one point ahead of Berryville.
Jacob Braswell led Huntsville with his second-place finish as he had a time of 17:30.1, almost a second faster than De Queen's Hector Hernandez. Colton Edens took fourth for Huntsville, followed by Jett Loenneke and Tanner Barbee, who finished eighth and 10th, respectively.
Parker Ables of Heber Springs took the individual championship as he covered the course in 16:53.5.
Class 3A
Cave City placed four of its five runners in the top 10 and the Cavemen captured their second straight state championship. Cave City finished with 33 points, while West Fork was a distant second with 110, 23 less than Little Rock Episcopal Collegiate.
Lexington Hilton of Green Forest earned the individual title with his time of 16:38.8. Fischer Miller led Cave City with his second-place finish at 16:45.8, followed by Luke Walling (third, 16:50.2), Kendall Townsley (fifth, 17:31.1) and Caleb Anderson (seventh, 18:01.).
Class 1A/2A
Justice Neufeld of Acorn held off Jacob Tyburski of Haas Hall-Bentonville and claimed the individual title by a 6-second margin. Neufeld finished the course in 18:06.1 , while Tyburski's time was 18:12.2.
Ouachita claimed its second straight team title with 89 points, followed by Quitman with 123 and Haas Hall-Bentonville with 133. The Warriors were led by Ethan Wilson and Tanner Wilson, who finished ninth and 10th, respectively.
Preps Sports on 11/03/2018
Print Headline: PREP CROSS COUNTRY: Bentonville's counter move foils Fayetteville's strategy
Sponsor Content