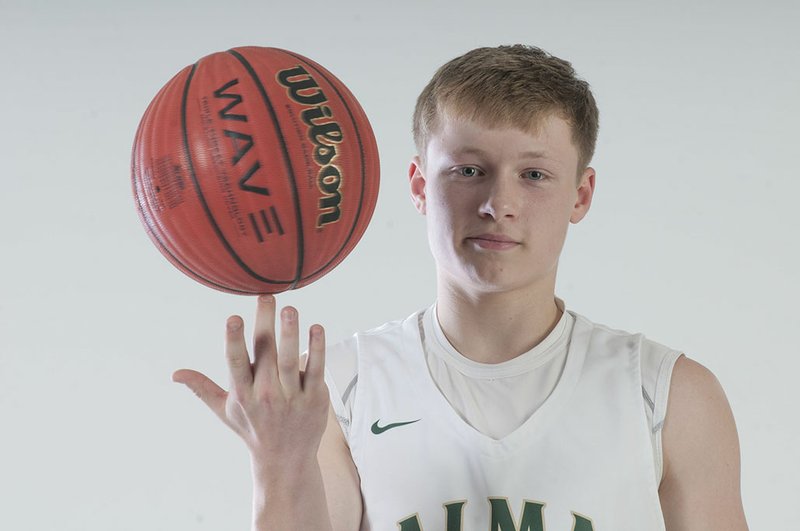 NWA Democrat-Gazette/J.T. WAMPLER Cejay Mann of Alma is expected to step into the role of starting point guard for the Airedales this season.
Basketball is in Alma junior Cejay Mann's blood.
Mann, the son of Alma girls coach and former Van Buren standout Codey Mann, is slated to take over point guard duties for the Airedales this fall after spending his sophomore season behind three-year starter Garrison Jensen.
AT A GLANCE
CEJAY MANN
SCHOOL Alma
CLASS Junior
HEIGHT 5-10
POSITION Point Guard
NOTABLE Cejay Mann is the son of Alma girls basketball coach Codey Mann, a former Van Buren basketball standout. … Averaged around 4 points per game as sophomore as the Airedales' sixth man — first off the bench. … Comes from a basketball family with his dad and mom, Gina, who played at Des Moines (Iowa) Area Community College. … Sister Lydia is an eighth-grader playing with the freshman team at Alma.
And Cejay has heard all the comparisons to his dad, who once scored 46 points in a game against Russellville.
"They say I play just like him," Cejay said. "They say I'm small like him, but I'm a way better shooter."
His father's strengths were not shooting from outside the 3-point line, but Cejay is certainly a threat from long range.
"They say I get my shooting ability from my mom," Cejay said, referencing his mother Gina Mann, who played college basketball at Des Moines (Iowa) Area Community College. She met Codey there after he started his college career at Arkansas Tech under coach Marty Barnes.
The Manns also have a daughter, Lydia, an eighth-grader who will play up with the Airedales' freshman girls team and is expected to be a contributor for her dad at the varsity level next year.
"We are 100 percent a basketball family," Codey said.
The Airedales are counting on the 5-foot-10 Cejay to lead them as the team's point guard after playing a role off the bench last year as the sixth man. As a ninth-grader, he helped the Airedales win the ninth-grade regional championship.
Mann will be the floor general for an Airedales team coming off a 17-9 season last year, losing 51-48 to Watson Chapel in overtime in the opening round of the Class 5A Tournament.
The Airedales figure to be among the top teams in the 5A-West Conference, which includes familiar conference foes Greenwood, Russellville and Siloam Springs, along with Beebe, Greenbrier, Little Rock Christian and Vilonia.
Cejay knows how important his role is.
"You have to know the game a lot, every single thing," he said. "(My dad) was a point guard, too, so he knows a lot. He's passed that on to me. ... You have to know what you're doing because if you mess up, the team doesn't play its best. If you get your teammates involved then you're all better together and can be the best you can be."
Sports on 11/04/2018
Print Headline: CLASS 5A Mann family has strong hoops DNA
Sponsor Content