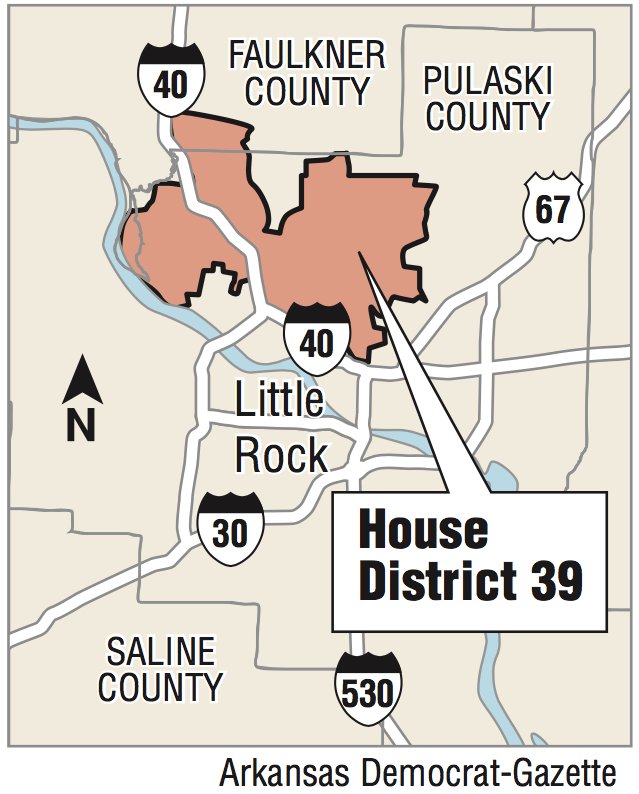 A map showing the location of House District 39
The candidates for House District 39 in Pulaski County tout their passion for education and their experience in the field as reasons why they should be elected to the post.
State Rep. Mark Lowery, a Republican, faces Democrat Monica Ball in Tuesday's election. They are both from Maumelle.
Lowery, 61, was a former speech instructor and debate coach at the University of Central Arkansas in Conway and taught communications at Henderson State University.
Lowery also served as chief of staff to then-Lt. Gov. Mike Huckabee.
He is chairman of the Joint Performance Review Committee and is on the Joint Budget Committee. He serves on the House Education Committee and the House Insurance and Commerce Committee.
Lowery says his three legislative terms prove he's devoted to his constituents and capable of making tough decisions for all Arkansans.
"I'm doing a good job for the state and specifically for my district," Lowery said. "I've sponsored legislation that allowed Maumelle to form its own school district. I'm a big supporter of charter schools. The work I've done in education sets me apart from Ms. Ball."
Ball, 61, retired after 28 years as a national board-certified teacher in both the North Little Rock and Little Rock school districts. Ball has no previous political experience, but handily defeated opponent Joshua Price in the May 22 Democratic primary.
She's dealt with countless diverse students and parents, Ball said. And now, she said, she's reached out to thousands of people during the campaign.
"I am more in touch with the people of this district, and therefore better able to represent them on everyday kitchen table issues that concern them most," Ball said. "I bring fresh ideas to the table, with the best interest of the people in mind."
A widow who is originally from El Dorado, Kan., Ball said she feels there's a "huge disconnect" at the state Capitol with legislators working more for special-interest donors and high-priced lobbyists than their voters.
"I am running to represent the people of District 39 on the issues that matter most to them: improving public education, affordable health care and good jobs," Ball said.
Working to strengthen public education and improve access to high-quality pre-kindergarten and postsecondary education would be the top of her agenda if she wins the seat, Ball said.
Ball said the original version of the state's Medicaid expansion program -- which provides health care coverage to low-income households -- was a positive thing for Arkansas and it greatly lowered the number of uninsured residents.
She takes exception to the addition this summer of a work requirement to the program -- now called Arkansas Works -- for some recipients. Arkansas became the first state to implement the requirement.
"I will fight to protect the Medicaid expansion and ensure that Arkansans have access to affordable health care so that no one is forced into bankruptcy if someone gets sick," Ball said.
Lowery, a Little Rock native, said he supports the work requirement. He said there are plenty of built-in options -- such as waivers for job training and counting volunteer work toward the requirement -- that will soften the impact.
"I think there needs to be some skin in the game," Lowery said. "It's a relatively low burden to make sure we're giving them superior health coverage."
Ball supports the proposed initiated act on Tuesday's ballot to incrementally raise the state's minimum wage by $2.50 to $11 an hour by 2021.
"I will work to ensure good jobs that pay living wages so families can support themselves with dignity," she said.
Lowery opposes the initiative.
"If you look at surrounding states, we already offer a higher minimum wage," he said. "We have to be very careful. If we raise it too high, customers are going to be served more and more through kiosks instead of by a real person. That's the byproduct of forcing higher wages on employers. A wage increase is not sustainable."
Lowery also supports Gov. Asa Hutchinson's proposal to again cut the individual income tax. The Legislature has already approved two other cuts.
"We do better as a state if we can keep more money in the pockets of Arkansans and keep it cycling through the economy," Lowery said. "That money needs to be spent on services or re-routed back to the taxpayers."
It's a mistake, Ball said, to cut income taxes on the state's top earners. Hutchinson's plan will cut the state's top individual tax rate from 6.9 percent to 5.9 percent.
"I foresee a budget crisis similar to that of Oklahoma, where disruptive measures -- such as going to a four-day school week, have been instituted so school districts can save money on utilities and fuel for bus transportation," Ball said. "In addition, budget cuts caused closing of rural hospitals, and overcrowded prisons. Instead of further enriching the wealthiest by cutting taxes, we should wisely invest those tax revenues in improving the quality of life for all Arkansans."
On the issue of abortion, the candidates' stances are vastly different.
Ball said abortion "should remain safe, legal and rare."
"A woman should be able to make informed decisions regarding her pregnancy without interference by politicians," she said.
For Lowery, he said he is "without question pro-life and proud to have the endorsement of Arkansas Right to Life," a nonprofit group.
Early voting continues Monday. Election Day is Tuesday.
SundayMonday on 11/04/2018
CORRECTION: Rep. Mark Lowery, R-Maumelle, was chief of staff to then-Lt. Gov. Mike Huckabee. An earlier version of this story misstated Huckabee's position at the time.
Print Headline: District 39 rivals key on education
Sponsor Content