Flowers are popular subjects for many artists; their depictions -- representational, pop art, surrealist, abstract and more -- can reach beyond merely decorative as they explore spiritual, sensual and emotional themes.
Claude Monet, Georgia O'Keeffe, Vincent van Gogh, Andy Warhol and Roy Lichtenstein are just a few who have found inspiration and notoriety in flowers. Each created masterpieces that explored the possibilities and mysteries they found in water and calla lilies, sunflowers and more.
Two current exhibits in central Arkansas present a diversity of approach -- the metalpoint creations of Marjorie Williams-Smith at Hearne Fine Art and the oil paintings of Diana Shearon at Red Door Gallery.
Williams-Smith, who is retired from the art faculty at the University of Arkansas at Little Rock, works in the demanding, intricate sphere of metalpoint -- silver, copper, gold and more -- to create images that appear to be almost academic botanicals.
Until you let them soak in.
"The Messengers: A Survey of Work in Metalpoint" presents 39 works by Williams-Smith from 1987 through this year. The 1987 piece, Pin Rose, is a silverpoint and graphite work that is simple and direct, yet hints at resistance to being constrained.
Initially working only in silverpoint, Williams-Smith has exerted her command over other metals as well, enriching her work with different backgrounds (black gesso and color tints) and integrating watercolor, crayon and other media as welcome pops of color and emotional texture. But this creative expansion never takes away from her skillful metalpoint technique.
Case in point: what is perhaps her most striking and beautiful work yet, the stunning Divine Energy, a 28-by-20 inch silverpoint, watercolor, crayon, white charcoal and graphite on tinted acrylic gesso and watercolor paper. It is a painstakingly executed presentation of allium schubertii -- aka flowering onion. In Williams-Smith's hands, three of these plants turn into a fireworks-like explosion of creative energy. Divine, indeed.
Roses in the exhibition also capture the eye -- especially the gorgeous Clairvoyance, a 2012 silverpoint on black gesso. In it one sees dawning of awareness, of truth emerging from darkness. Pink Rose is a 2007 silverpoint and watercolor that is only 5 by 4 inches, but its impact is much larger.
Also present in the gallery is a vase of dried roses and one of allium schubertii, which inspired works in the exhibition.
Williams-Smith's growth in technique and her expression of spirit and determination inspired by nature's flowers has moments of beauty, power and revelation.
A catalog ($10) also accompanies this exhibition.
. . .
Williams-Smith will lead a silverpoint workshop at 10:30 a.m.-12:30 p.m. Nov. 17 at the Hearne Gallery. The $75 fee includes all supplies. For information, call (501) 372-6822.
Marjorie Williams-Smith, "The Messengers: A Survey of Work in Metalpoint," through Jan. 5, Hearne Fine Art, 1001 Wright Ave., Suite C, Little Rock. Hours: 9 a.m.-5 p.m Monday-Friday; 10 a.m.-6 p.m. Saturday. Info: hearnefineart.com, (501) 372-6822
SHEARON AND ARTAUD
Diana Shearon's oils are also a bit deceptive. To say her floral canvases are things of beauty is stating the obvious. Her work is representational, at times bordering on magical realism/romanticism.
At first glance, Tempest aches with beauty. Look deeper and the beauty goes deeper -- into yearning, a longing for home and hearth in the array of yellow roses. Red roses are the stars of Reprise, while sunflowers fill the canvas of the inviting Sunflower Bouquet. It's a calming, cheery balm for the spirit. She is capable of surprises, too, as the striking minimalism of the still life Dill & Limes shows.
Shearon broadens her view with Summer Garden, an explosion of color that embraces a larger field of vision. Generally, her floral work is superior to the landscapes, but Hilltop 1, 2 and 3 -- a triptych -- shows she has a real affinity for depicting the sky and cloudscapes. She works well with nature's spaciousness, leaving the viewer wishing he was there.
Shearon's talents have been recognized with her acceptance at a number of national juried exhibits and a best in show at the Memphis Germantown Art League's 41st Annual Juried Star Exhibition, honors well deserved.
Also showing at the gallery is French award-winning watercolor artist Georges Artaud. While much of his work centers on cityscapes and landscapes, he has a couple of lovely, well-executed florals, La Rose Rouge and La Rose Trimiere.
The Puddle (La Flaque) turns a rain puddle and grate on a stone street into unexpected beauty.
Artaud's works have a radiant, refined beauty that is sometimes mysterious and elusive.
Diana Shearon and Georges Artaud, through Dec. 30, Red Door Gallery, 3715 John F. Kennedy Blvd., North Little Rock. Hours: 10 a.m.-5:30 p.m. Monday-Friday, 10 a.m.-4 p.m. Saturday. Info: reddoorgalleryonline.com, (501) 753-5227
BRIEFLY ...
• It isn't on the wall of the Arkansas Arts Center's current exhibition, "Independent Vision: Modern and Contemporary Art From the Martin Muller Collection," but there is at least one work by an Arkansas artist in San Francisco gallerist Muller's collection -- David Bailin's Ladder (Garden), a 2002 charcoal on paper.
Muller, who owns and operates Modernism Inc. in San Francisco, has a collection that numbers some 2,300 works by 625 artists. He lived in Little Rock in the mid- and late-1970s and credits his time here in helping launch his career as one of the country's major art brokers.
"Independent Vision: Modern and Contemporary Art From the Martin Muller Collection," through Dec. 30, Arkansas Arts Center, 9th and Commerce streets, Little Rock. Hours: 10 a.m.-5 p.m. Tuesday-Saturday, 11 a.m.-5 p.m. Saturday. Info: arkansasartscenter.org, (501) 372-4000
• Gallery 26's annual Holiday Show and Sale is always a treat -- the east wall of the Hillcrest Gallery will be filled, floor to ceiling, with work by more than 60 artists. It opens with a reception at 6 p.m. Saturday and hangs through Jan. 13.
Holiday Show and Sale, Gallery 26, 2601 Kavanaugh Blvd., Suite #1, Little Rock. Hours: 10 a.m.-6 p.m. Tuesday-Saturday. Info: gallery26.com, (501) 664-8996.
Email:
ewidner@arkansasonline.com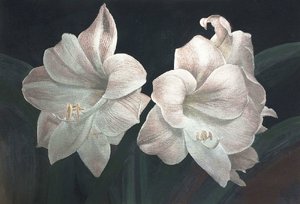 Photo by Courtesy of Hearne Fine Art
Marjorie Williams-Smith's Angels is aluminumpoint, copperpoint, silverpoint, gouache and pastel on black acrylic gesso on watercolor paper.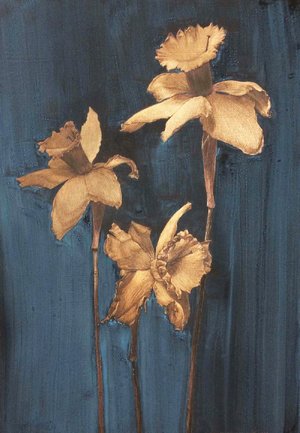 Photo by Courtesy of Hearne Fine Art
Arrayed in Glory is goldpoint, aluminumpoint, copperpoint, silver-point, black Conte crayon and gouache on black acrylic gesso on watercolor paper. It is part of a retrospective of work by Marjorie Williams-Smith at Hearne Fine Art.
Style on 11/04/2018