SEOUL, South Korea -- North Korea stepped up its attack on U.S.-led sanctions, threatening to resume its nuclear program if they aren't lifted.
The North Korean Foreign Ministry's Institute for American Studies said it could revive its policy of economic construction and nuclear development if sanctions continue. The U.S. "had better stop the self-destructive act of putting pressure" on the North, the Korean Central News Agency quoted Director Kwon Jong Gun as saying.
The measures hamper South Korea from pursuing cooperation projects with North Korea, the institute said. That echoes North Korean leader Kim Jong Un's recent comments, saying that "vicious" sanctions stand in the way of promoting the country's development and lead instead "to change and submission."
The statement released by the Foreign Ministry on Friday evening said North Korea could revive its "pyongjin" policy of simultaneously advancing its nuclear force and economic development if the United States doesn't change its stance. The North stopped short of threatening to abandon ongoing nuclear negotiations with Washington.
In April, Kim declared that the country's nuclear weapons program was sufficiently advanced, and that the policy of "pyongjin" would by replaced by a single focus on improving the economy. Backtracking could reignite tensions with the United States.
The statement accused Washington of derailing commitments made by Kim and President Donald Trump at their June summit in Singapore to work toward a nuclear-free Korean Peninsula. It was the first time the North said it could resume weapons tests and other development activities since Kim's declaration in April.
The Trump administration has insisted that sanctions and other pressures remain on North Korea until it dismantles its nuclear program. Kim's regime, however, has always demanded a step-by-step process of denuclearization that would include lifting U.S. sanctions along the way.
In the past month, Pyongyang has stepped up its calls for sanctions relief. The statement released Friday is the latest indication that negotiations over its nuclear program have hit an impasse.
In an interview with Fox News' Sean Hannity on Friday, U.S. Secretary of State Mike Pompeo said he plans to talk this week with his North Korean counterpart, apparently referring to senior North Korean official Kim Yong Chol.
Pompeo did not provide the location and date for the meeting, which will likely be focused on persuading North Korea to take firmer steps toward denuclearization and setting up a second summit between their leaders. Pompeo and Kim will probably be accompanied by special envoy Stephen Biegun and North Korea's Choe Son Hui, South Korea's Hankyoreh newspaper reported.
"A lot of work remains, but I'm confident that we will keep the economic pressure in place until such time as Chairman Kim fulfills the commitment he made to President Trump back in June in Singapore," Pompeo said.
That oft-repeated refrain about pressure is the problem in Pyongyang's eyes. North Korea argues that Trump promised Kim in June that a new era in relations was beginning.
"The improvement of relations and sanctions are incompatible," the Foreign Ministry commentary said. "'Friendship' is incompatible with 'pressure.'"
The Foreign Ministry asked Washington to abandon its "foolish daydream" that sanctions and pressure will lead to denuclearization. "We cannot help laughing at such a foolish idea," it said.
The United States, it added, was making a big mistake if it believed that North Korea would agree to unilateral disarmament as long as sanctions remain in place, and argued that negotiations should be "simultaneous and phased" and based on "reciprocity and equality."
"If the U.S. keeps behaving arrogantly without showing any change in its stand, while failing to properly understand our repeated demand, the DPRK may add one thing to the state policy for directing all efforts to the economic construction adopted in April and as a result, the word 'pyongjin' may appear again," the statement said. DPRK is the abbreviation of North Korea's official name, the Democratic People's Republic of Korea.
Hours after the statement was released, satellite imagery seen by 38 North suggested that North Korea is continuing uranium mining and milling operations at one of the country's largest declared uranium ore concentrate facilities.
The issue of sanctions has also created a rift between Seoul and Washington.
South Korea has backed the North's call for sanctions relief and is keen to get moving on an ambitious program of economic development and cooperation, including building road and rail links across their heavily militarized frontier.
South Korean President Moon Jae-in has described inter-Korean engagement as crucial to resolving the nuclear standoff. A large number of South Korean CEOs accompanied Moon in his September visit to Pyongyang, when he and Kim agreed to normalize operations at a jointly run factory park and resume South Korean visitors' travel to the North when possible, voicing optimism the international sanctions could end and allow such projects.
But South Korea's enthusiasm for engagement with its rival has also created discomfort in the United States amid growing concerns that the North is dragging its feet with its promise to denuclearize. South Korea last month walked back on a proposal to lift some of its unilateral sanctions against North Korea to create diplomatic space after Trump's blunt retort that Seoul could "do nothing" without Washington's approval.
Information for this article was contributed by Jihye Lee of Bloomberg News; by Simon Denyer of The Washington Post; and by Kim Tong-Hyung of The Associated Press.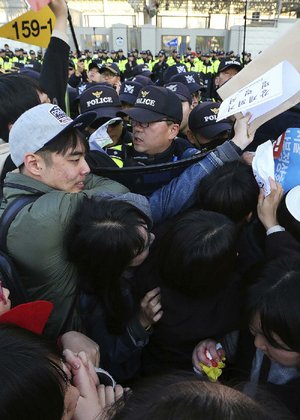 Photo by AP/AHN YOUNG-JOON
Protesters struggle with police Saturday outside the U.S. Embassy in Seoul, South Korea, during a rally against U.S. policy on North Korea.
A Section on 11/04/2018