HENSLEY -- The Lake Sandy dam that provides homeowners with a beautiful lakeside view poses many safety problems, a letter from the state said.
"The internal erosion and voids could cause the dam to collapse," it read. "The many slides, slumps, erosion channels, large trees, rodent activity, and animal burrows on the upstream and downstream slope are very concerning and indicate a lack of maintenance."
Mike Oglesby, who had asked the state for help, forwarded the letter to several of his neighbors.
They live by Lake Sandy in eastern Saline County. If the dam breaks, the lake would empty. They worry that they'll be liable for damages if the dam fails. It's a structure and a responsibility that many of the homeowners didn't know they were getting when they bought their homes.
No one has paid dues to the Lake Sandy Property Owners Association for at least 20 years, Oglesby and others estimate. The association hasn't met, and no one has maintained the dam that the association acquired through a warranty deed from a real estate developer in 1992.
The Lake Sandy dam is a case study in what happens when there's no maintenance done on an unregulated dam, a problem that is not uncommon in Arkansas.
A much smaller unregulated dam broke and flooded yards with water and debris in White County last year, a state dam safety official said. If the dam had been built in Oklahoma, Louisiana, Mississippi or Tennessee, it would have met the criteria for being regulated, but in Arkansas it's 2 feet short of the required height.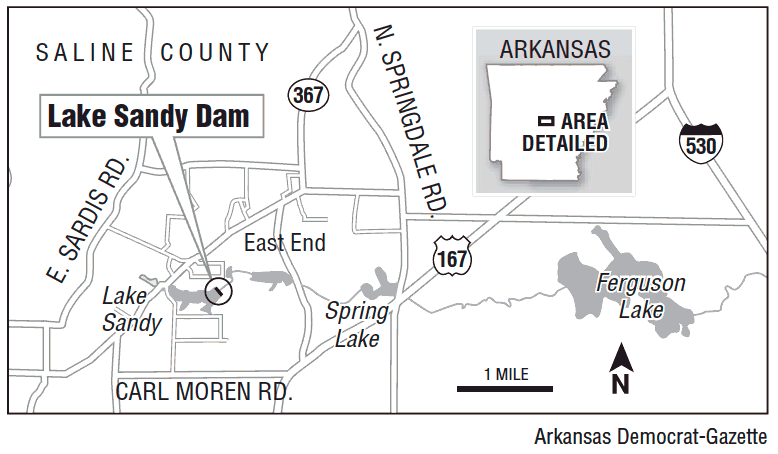 Active property owners associations often keep their dams strong and tidy, but that's not generally the case in places with little buy-in from residents. Unlike improvement districts, property owners associations usually don't collect annual dues and fees as part of property tax bills. Some county tax collectors can pull in 90 percent or more of taxes owed. The associations typically choose to bill and collect, and many people don't pay.
There is no property owners association for Lake Sandy Acres as far as Oglesby knows, but there's a dam, and it's in bad shape.
"It's leaking slightly more, as it's going to be progressively doing," he said.
At least 36 property owners associations in Arkansas own dams in their neighborhoods, not including Lake Sandy, the Arkansas Democrat-Gazette found in an analysis of the federal National Inventory of Dams. Seven are unregulated.
In the case of Lake Sandy, neither the dam nor its ownership are known to the National Inventory of Dams, and the dam became known to state dam safety officials only this year. Arkansas has 410 regulated dams, and the state has data on nearly 900 more for informational purposes. But it didn't have data on Lake Sandy.
Oglesby didn't know anything about the dam either, until this year. While on a walk, he spotted water trickling from a hill. The water was coming from the lake.
Oglesby pointed to the trickling water during a recent stroll along the dam, which is covered in tall trees that can compromise the earthen structure. The trickling is enough to form the tiniest of creeks and for a water moccasin to comfortably curl up in. A corrugated metal pipe older than its effective lifespan sits covered in rust.
"It's not a matter that the dam will break," he said. "It's when it will break."
WHAT'S BEEN LEARNED
Oglesby, 73, lives on the edge of the lake in an old-fashioned camper with a metal exterior and an attached wooden deck that rivals the inside of the camper in size. He lives with his dog, Killer (so named because he is not a friend to raccoons); a cat named 10-4 (because he was born on Oct. 4); and sometimes his wife, who also lives in Little Rock.
His daughter, her husband and their three dogs live behind Oglesby's shed, where he makes his own wine, mostly dry reds and whites, which he doesn't sell.
When Oglesby talks about what he's learned regarding the dam, he speaks of unraveling a knot of history, records and financial transactions.
This is what he knows, and what records show:
Lake Sandy Acres is a mix of houses and mobile homes. It includes numerous land parcels that were never developed or sold, many of them owned by the original builder, Magness Inc. of Little Rock, or associates of Magness.
Magness Inc., also known as Magness Builders or Magness Developers, was owned and operated by Byron and Sharon Magness, who never lived in Lake Sandy Acres. Byron Magness died in 2008, and Sharon Magness died in April.
Lake Sandy Acres has 72 lots, according to Saline County real estate records. Today, Magness Inc. owns 18 of them, all vacant. Another seven vacant lots are owned by people who use Magness Inc. as a billing address. Seven more are owned by a man who paid property taxes for the Magnesses' Shady Acres home for several years. A few other properties are vacant lots. Most appear to have homes on them.
Magness Inc. platted the land for the first phase of Lake Sandy Acres in 1985. The Bill of Assurance outlining the area is what buyers get when they purchase a home there. That record indicated that a property owners association would be formed upon the sale of 60 percent of the lots.
In 1992, Magness Inc. deeded two parcels of land to the "Lake Sandy Property Owners Association," Saline County real estate records show. The association paid Magness $1 for the land, which included the dam, in an agreement signed April 24, 1992, and approved at the Saline County Courthouse May 12, 1992.
The Lake Sandy Property Owners Association was incorporated by a unanimous vote of 25 landowners and received Arkansas secretary of state approval on June 2, 1992, state records show.
Not all property owners associations are incorporated, Saline County Attorney Clay Ford explained. It's difficult to say whether 60 percent of Lake Sandy lots were sold before or after June 2, 1992, he said, so it's not easy to say whether the deed could be invalidated because of the date of incorporation occurring after.
Later in the 1990s, people who were considered "associates" of the property owners association sued to get full membership. A judge decided that the association could vote in associates as full members on a case-by-case basis, but by then the lawsuit had driven the members apart, resident Cliff Harris said.
The association had its last meeting in the mid- to late 1990s, and, as far as residents remember, that's when dam maintenance stopped.
The Lake Sandy Property Owners Association last paid property taxes on the land in 2015. This summer, the Saline County Tax Collector's office turned the matter of the tax-delinquent property over to the state land commissioner's office, which scheduled it for auction on July 9, 2020. The state would not be responsible for maintenance of the dam, Land Commissioner spokesman Nikki Heck said.
In 2018, Oglesby called the Arkansas Natural Resources Commission, and a commission official visited the dam. Stephen Smedley, an engineer in the commission's dam safety office, inspected it and identified numerous problems.
"I think it would be pretty easy to spend half a million dollars," he said on needed repairs.
DAMAGE DOWNSTREAM
Dam failures do most of their damage downstream, but people who live downstream often aren't consulted when the dams are built.
Last year an unregulated dam near Pangburn in White County broke and flooded neighboring yards, Smedley said. The people called the Natural Resources Commission, which couldn't help them, and then a lawyer.
Under state law, downstream property owners can petition for a dam to be regulated if they believe the dam's failure would endanger them or their property.
Lake Sandy is about 3,000 feet wide and 600 feet north-to-south, with offshoots that stretch farther. Just more than 1,000 feet downstream from its dam, along Mill Branch, is a small lake near Shady Acres Circle. More than 1,100 feet downstream of that is Mary Lake, next to the Carmelite Monastery.
That lake stretches about 2,400 feet before it reaches Arch Street Pike, or Arkansas 367. About 4,400 feet farther, along what is called Clear Creek, is Spring Lake, which has numerous spacious, brick homes around it.
None of the lakes have dams that are known to the state.
Dam safety is a problem, one Spring Lake Estates resident told the Arkansas Democrat-Gazette. She said she is concerned about Mary Lake, the monastery and possible damage to Arch Street Pike more than she is about her neighbors, who mostly live on higher ground above Spring Lake.
Without an analysis, it's difficult to say how far downstream water from Lake Sandy would travel or how much damage it would do if the dam broke, Smedley said. The general rule for dam breaks is that the wave of water is usually about half as high as the dam, he said.
FUNDING GONE NOW
It's unclear who built the Lake Sandy dam or when.
In the 1960s and 1970s, the federal government paid for large numbers of people and organizations to construct dams, Smedley said. That money isn't available anymore, and none is left from that investment to maintain them, he said.
It's possible the federal government funded construction of the Lake Sandy dam, he said, but the state has no records of it. No permit was issued for the dam, and the dam isn't regulated.
The dam is 23 feet high and has more than 50 acre-feet of water behind it. State law requires that to be regulated, a dam must be both 25 feet high and have 50 acre-feet of water in the lake.
That's not the case in four of Arkansas' six neighboring states. In Mississippi, for example, a dam must meet at least one of those criteria.
Additionally, dams considered highly or significantly hazardous would prompt regulation in many other states. "High" hazard means a failure is likely to result in at least one death.
In Arkansas, hazard classifications have no bearing on whether a dam is regulated. Lake Sandy doesn't have a hazard rating because it was never regulated, Smedley said.
Arkansas' requirements can be a bit surprising, Smedley said. For example, Lake Conway has 26,000 acre-feet of water but is only 22 or 23 feet high, so it's not regulated. Luckily, Smedley said, it's owned by the Arkansas Game and Fish Commission, which takes good care of it.
Smedley wonders if the state could change its requirements to allow more dams to be regulated. For now, he wants changes to clarify existing regulations and to require that more high-hazard dams have maps showing what would be flooded if the dams fail.
Homeowners associations not taking care of dams is an issue throughout the United States, said Lori Spragens, executive director of the Association of Dam Safety Officials in Lexington, Ky.
"People move in, they don't know they're members of a homeowners association, they don't know they own a dam," Spragens said.
"Usually the dam is regulated, and so there's a little bit of a stick the state has in having that homeowners association pay the bill," Spragens said.
Smedley said parts of Lake Sandy Acres' story are similar to those of other property owners associations.
"It sounds like they haven't been doing what they should be doing," he said.
"We have several dams that are owned by POAs, and it's fairly typical that people want the benefits of the lake without having to pay for it," he said.
In 2016, Congress approved the National Dam Rehabilitation Program, which will have $25 million in available grants for fiscal 2019, according to the Association of State Dam Safety Officials. The state doesn't have a funding program for dams, Smedley said. It receives all of its dam safety funding from annual permit fees paid by dam owners.
"I don't know what to do," Harris said. "I don't have money. Most of the people out here don't have money."
Harris and five others tried to reorganize the property owners association in 2012. They filed an annual nonprofit report with the Arkansas Secretary of State's office and scheduled a meeting.
The only people interested were associate members who didn't have voting rights, Harris said. Many people who lived in Lake Sandy Acres in the 1990s aren't there anymore, and for some who still are, the emotions surrounding the years-ago lawsuit are still raw, he said. Several people threatened to sue if the association re-formed, he said.
Without an active property owners association, billing people won't do much good, residents said. Dues, which must be voted on, were once set at $25 to $30 per year per parcel, Harris said. At $25 per parcel for 72 parcels during the past 20 years, dues would have raised $36,000 if fully collected. At $30 per year per parcel, dues would have raised $43,200.
If dues had been collected and used toward regular maintenance of the dam, it might have been enough to prevent the larger problems there now, Smedley said.
Harris heard that dam repairs could cost a half-million dollars. He laughed thinking about it.
"That's the kind of money I dream of."
Metro on 11/05/2018