Donna Axum Whitworth, the first Miss Arkansas to go on to win Miss America, died Sunday evening of complications from a 12-year battle with Parkinson's disease.
Whitworth, 76, spent one of her last weekends in Fayetteville doing what she loved, representing the people of Arkansas, said her daughter, Lisa Mikus.
Whitworth and Mikus, both members of the Delta Delta Delta sorority, attended the grand opening of the renovated sorority house. Whitworth had worked to make sure the renovation happened, said Kathryn Griffin, a sorority member who worked with Whitworth to raise money for the house.
Whitworth spoke to the chapter Oct. 25 , then cheered for her Arkansas Razorbacks two days later during their loss to Vanderbilt.
"It was just a magical weekend for us," Mikus said.
Whitworth, who was born in El Dorado, won the Miss America title in 1964. She was beloved among Arkansans and remembered as a lady, according to Jessie Bennett, executive director of the Miss Arkansas Scholarship Pageant Inc.
"We always said that when Donna took the crown off for the last time, she never removed those high standards that she thought Miss America should possess," said Rick Pruitt, a former executive director of Miss Arkansas.
Whitworth majored in speech and drama, obtaining both bachelor's and master's degrees in the subjects.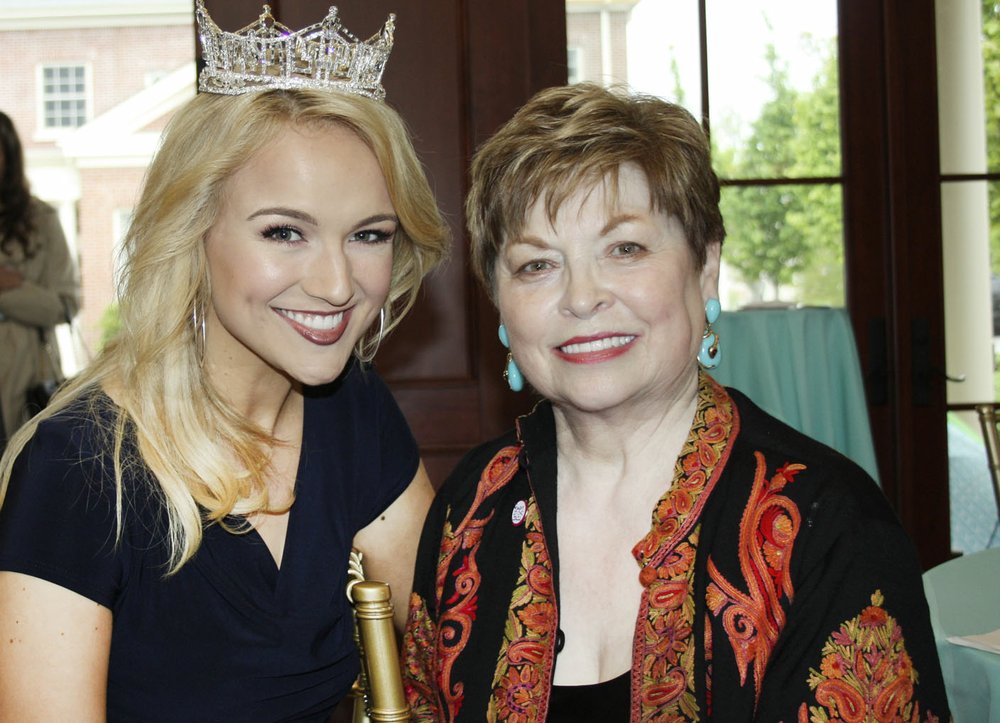 NWA Democrat-Gazette/CARIN SCHOPPMEYER Savvy Shields, Miss America (left), visits with Donna Axum Whitworth, Miss America 1964 and a founding member of the University Women's Giving Circle, at a reception in Axum Whitworth's honor April 20 at the Fowler House Conservatory on the UA campus in Fayetteville.
"And so I ended up arriving in Fayetteville at the age of 17 in 1959 and absolutely fell in love with the area and -- uh -- spent some of the greatest years of my life here at the University of Arkansas," Whitworth said in an interview with The David and Barbara Pryor Center for Arkansas Oral and Visual History.
The summer before her senior year, Whitworth made her second bid to become Miss Arkansas and won. She won the Miss America pageant about a month later, becoming the first of only three Arkansans to win the title. The other two are Elizabeth Ward of Russellville in 1981 and Savvy Shields of Fayetteville in 2016.
"So many people have said, 'What was it like when you heard your name called out?' " Whitworth recalled in the Pryor Center interview. "And it was like the flashback of all that many years of training and working and preparation, and how proud I was to be representing Arkansas and the University of Arkansas."
After serving as Miss America and graduating from the university, Whitworth taught speech classes at Texas Tech University in Lubbock and later went into television, starring in programs like The Noon Show and Good Morning Arkansas.
She married Bryan Whitworth in 1984, and combined the couple had five children. Whitworth lived in Fort Worth until her death.
"Although I live in Texas now, my heart is in Arkansas," Whitworth said in the Pryor Center interview. "You know, you're my people. These are my roots. These are my deep roots. This is where my love is."
Karen Van Horn and emcee Donna Axum Whitworth of Fort Worth.
Whitworth remained active fundraising for the University of Arkansas, participating in campaigns to help Old Main and most of the university's fundraising efforts, said David Gearhart, a former chancellor at the university. She also served in a variety of positions on the Arkansas Alumni Association.
Apart from the university, Whitworth served on the Miss America Board of Directors, becoming the first Miss America to hold a position on the board, Pruitt said. In 1994, President Bill Clinton appointed her to the President's Advisory Committee on the Arts for the John F. Kennedy Center for the Performing Arts.
"Well, I think I've led a pretty normal life," Whitworth said in the Pryor Center interview. "I always think of myself as a very normal person. You know, I cook, I clean house, and, you know, I do everything everybody else does. But I have just been given extraordinary opportunities in my life -- extraordinary platforms to do good. And you can choose to do good, or not do anything at all, or do bad things. But the burden is always on the doing of good for other people and leaving a positive legacy."
Metro on 11/06/2018