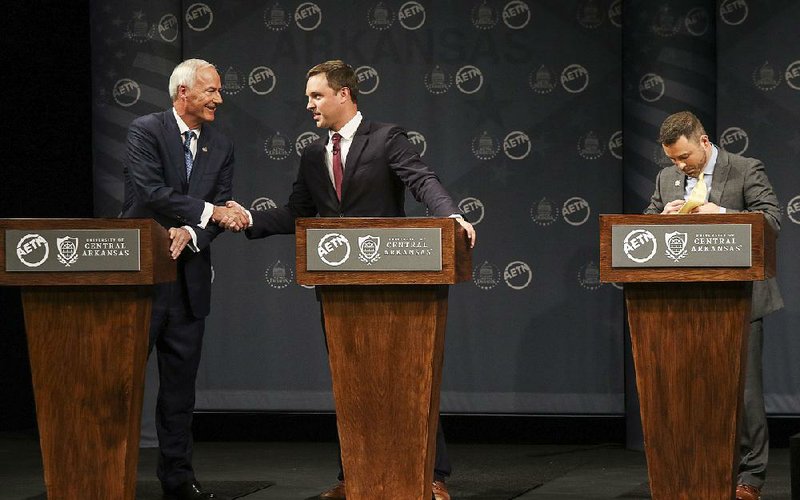 Arkansas Democrat-Gazette/MITCHELL PE MASILUN -- 10/12/2018 -- (L to R) Candidates for governor Asa Hutchinson (R-incumbent) shakes hands with Jared Henderson (D), as Mark West (L) takes off his mic after a debate at the Donald W. Reynolds Performance Hall in Conway Friday, Oct 12, 2018.
LITTLE ROCK — Four years after winning office in a race that drew national attention and money, Republican Gov. Asa Hutchinson is favored to win re-election in Arkansas against a long-shot Democratic rival who has targeted the incumbent over the state's Medicaid work requirement.
Hutchinson has eclipsed Democratic nominee Jared Henderson in fundraising and polls show the first-term governor is generally popular ahead of Tuesday's election. Hutchinson, a former congressman and federal Homeland Security official, was first elected governor in 2014.
Hutchinson has touted $150 million in tax cuts he has signed into law since taking office, along with a measure he championed requiring public high schools offer computer science courses. He also has called for a reorganization of state government that would cut the number of agencies directly reporting to him from 42 to 15.
The governor was a critic of the federal health care overhaul, but after taking office supported keeping the state's Medicaid expansion under that law. More than 250,000 people are on Arkansas' expansion, which uses state and federal funds to purchase private insurance for low-income residents.
Henderson, a former Teach for America executive, has criticized the governor over the state's requirement that some on its Medicaid expansion work or lose coverage. Arkansas was the first state to implement a Medicaid work requirement after the Trump administration said it would allow states to require participants to work to keep coverage. Nearly 8,500 people have lost coverage for not complying with the requirement.
Hutchinson has defended the requirement and said the majority-GOP Legislature wouldn't keep the expansion program without the mandate in place.
Henderson also targeted Hutchinson over widening corruption probes that have led to convictions and indictments of several former lawmakers, including the governor's nephew.
Republicans control all partisan statewide offices in Arkansas and both chambers of the state Legislature.
The race also features Libertarian nominee Mark West.
Sponsor Content