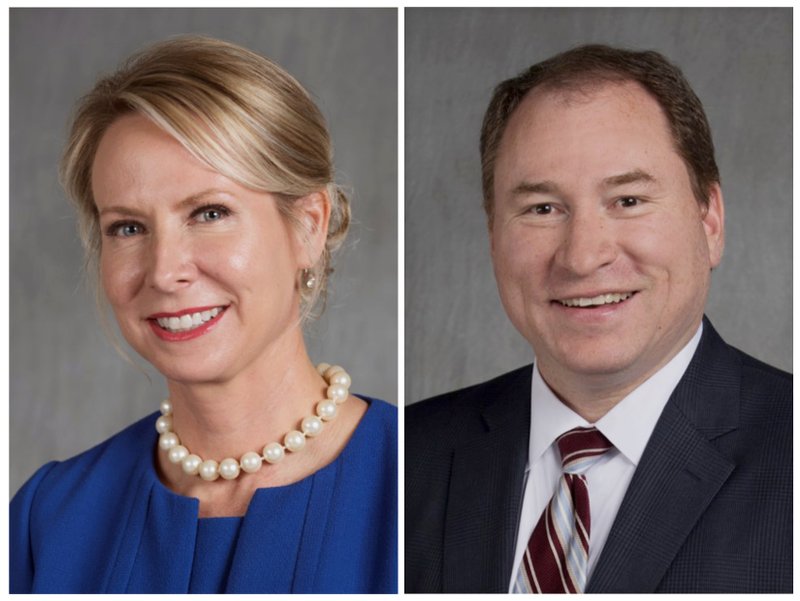 FILE - This combination of undated, file photos provided by the Arkansas Secretary of State's office shows from left, Arkansas Supreme Court Justice Courtney Goodson and David Sterling, her opponent for a position on the Arkansas Supreme Court in the November 2018 election. (Arkansas Secretary of State via AP, File)
LITTLE ROCK — An Arkansas Supreme Court justice is fighting for her political career in a re-election bid that's been marked by heavy spending by outside groups blanketing airwaves with attack ads, while voters are also being asked to raise the state's minimum wage.
The Arkansas secretary of state's office hasn't predicted how many of the state's nearly 1.8 million registered voters will cast a ballot in Tuesday's general election.
Here are the top races at stake as voters head to the polls:
COURT FIGHT
Months after outside groups spent big trying to unseat her, Justice Courtney Goodson has faced a new barrage of attack ads and mailers in her re-election fight against David Sterling. The Republican State Leadership Committee's Judicial Fairness Initiative has spent more than $1.2 million this fall on the race.
RSLC has been running ads saying Sterling shares President Donald Trump and Republican Gov. Asa Hutchinson's agenda. The group in one ad criticizes Goodson over donations she received from trial attorneys, and a mailer targets her for the high court striking down a voter ID law in 2014. A federal judge last week rejected Goodson's effort to halt an attack ad and mailer from the group.
Similar attacks sank Goodson's bid for chief justice two years ago, and she's portrayed the race as a referendum on outside group spending in judicial races.
Sterling ran unsuccessfully for the Republican nomination for attorney general four years ago, and notes his membership in the National Rifle Association and the Federalist Society in campaign literature.
BALLOT MEASURES
Voters will be asked to approve three ballot measures, most of which had faced court challenges in the weeks leading up to the election.
One initiative would raise Arkansas' minimum wage gradually from $8.50 an hour to $11. A constitutional amendment would legalize casinos in four Arkansas counties, including at a dog track and a horse track that already offer video poker and other forms of electronic gambling.
Another proposal would add voter ID to the state constitution, adding the requirement to show photo identification to the list of qualifications to vote in Arkansas. The Arkansas Supreme Court last month upheld a voter ID law that's nearly identical to a measure that the high court struck down four years ago. This proposal would further enshrine the requirement in Arkansas' constitution.
The state Supreme Court last month disqualified two other ballot measures imposing strict term limits on lawmakers and capping damages awarded in civil lawsuits. The proposals remain on the ballot, but the state is barred from counting any votes for or against them.
SOLIDLY RED ARKANSAS
Republicans appeared in a strong position to maintain their hold on Arkansas' partisan statewide offices, including the three that will be in charge of redrawing legislative districts after the 2020 Census.
Republican Attorney General Leslie Rutledge was fending off a challenge from Democratic challenger Mike Lee, a former consumer product regulator. Republican Land Commissioner John Thurston faced Democrat Susan Inman in the race for secretary of state. Those two offices and the governor sit on the Board of Apportionment that will redraw state House and Senate districts in three years.
Republicans currently hold all seven of the state's partisan constitutional offices, as well as a majority in both chambers of the Legislature.
Sponsor Content