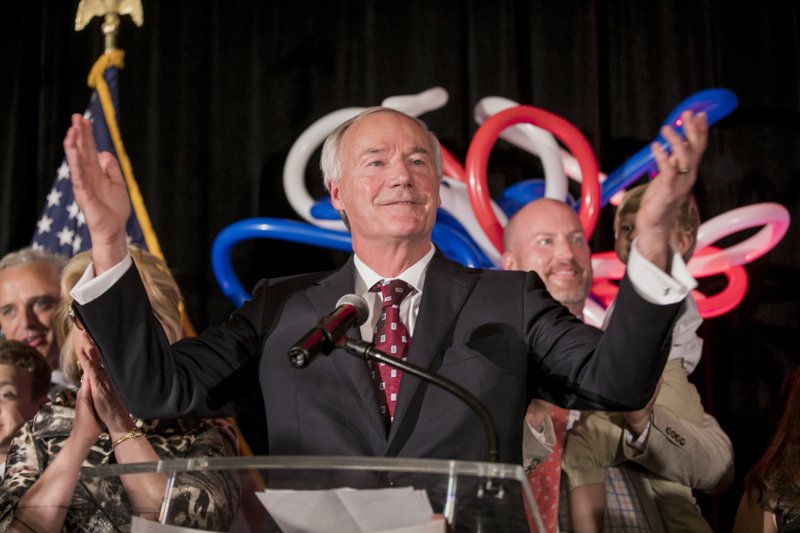 Gov. Asa Hutchinson speaks after his victory was announced at his election night rally Tuesday in Little Rock. (AP Photo/Gareth Patterson)
Gov. Asa Hutchinson on Tuesday handily won re-election to a second four-year term.
The Republican governor defeated Democratic candidate Jared Henderson of Little Rock and Libertarian Mark West of Batesville.
Republican nominees for the state's other six constitutional offices easily defeated their rivals as well Tuesday.
With 2,397 of 2,607 precincts reporting, incomplete, unofficial returns in the gubernatorial general election showed:
Hutchinson 563,474
Henderson 275,933
West 24,990
Hutchinson said in an interview that he won re-election because Arkansas is in a good position with low unemployment and growth in wages and jobs. And, he said, he kept the promises he made in his successful 2014 campaign for governor.
He said he made clear that his agenda for his second four-year term would include raising teacher pay, transforming state government, cutting state income taxes and creating a long-range highway plan.
"We campaigned hard and worked hard across the state," Hutchinson said.
He noted that he's run in tough races in the past. Some of those he lost.
"I'm very humbled and very glad to have this opportunity to serve the people of Arkansas for another four years," the governor said.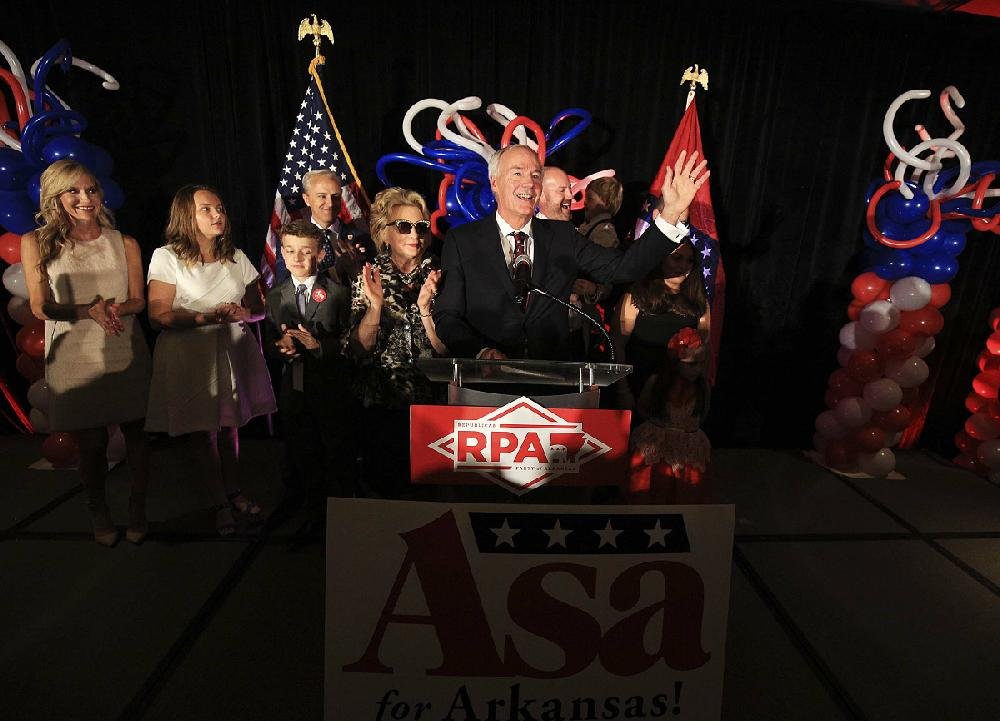 Gov. Asa Hutchinson, joined by first lady Susan Hutchinson and other family members, speaks Tuesday night at a watch party at the Embassy Suites in Little Rock.
Hutchinson said at the Republican Party's election night watch party at the Embassy Suites in west Little Rock that "Jared was most gracious," about his challenger's call congratulating him on winning.
"We talked about the positive race we both ran ... and how it takes a lot of sacrifice to run," Hutchinson said.
Henderson said he was proud of the campaign that he ran.
"We picked a tough fight, and we'll have to keep building," he said.
Henderson said he lost to the governor because it's always tough to defeat an incumbent. While he made a lot of progress introducing himself throughout the state, Henderson said, many people didn't know him and that played a part in his loss.
"I'm definitely going to stay involved" because Arkansas needs a strong, competitive state Democratic Party, Henderson said of his political future. He said it's likely that he'll run again for elected office in the future.
West said he congratulates Hutchinson on running a good campaign to win re-election.
"I hope he will work harder to limit the size of government, which includes both taxes and spending, and he will defend our gun rights and he'll work on criminal justice reform so government isn't in the business of hurting people," he said.
Hutchinson is the third consecutive governor in Arkansas to win re-election. Governors are limited to two four-year terms. The others were Republican Mike Huckabee and Democrat Mike Beebe.
Hutchinson, 67, is a former federal Department of Homeland Security undersecretary and administrator of the U.S. Drug Enforcement Administration under President George W. Bush. Hutchinson also was a 3rd District congressman and a U.S. attorney.
He lost a U.S. Senate race to Democrat Dale Bumpers in 1986; lost to Democratic candidate Winston Bryant for attorney general in 1990; and lost to Beebe for governor in 2006. Hutchinson won the governor's race in 2014.
Henderson, 40, is the owner of a medical practice with his wife and is a former executive director in Arkansas for the nonprofit Teach for America. The governor's race was his first bid for elected office.
West, 42, is corporate office manager for Mechanical Construction Services in Newark. In 2016, he lost to Republican U.S. Rep. Rick Crawford of Jonesboro for the 1st District seat.

From left: Jared Henderson, Gov. Asa Hutchinson and Mark West.
CAMPAIGN PROMISES
Before Tuesday, Hutchinson said he should be re-elected because he kept his 2014 campaign promises to implement a $100 million income tax cut for middle-class Arkansans, push to offer computer coding in each high school, and focus on creating jobs. He said that if he won a second term, he would push to cut income taxes again, increase teacher pay and push for voter approval of a long-term highway plan. He also plans to reorganize state government.
In 2015 and 2017, the Legislature enacted Hutchinson's plans to cut individual income-tax rates for people with less than $75,000 a year in taxable income. The state projected the plans would collectively reduce tax revenue by $150 million a year.
During the campaign, Henderson countered that his ideas better fit the needs of Arkansans. He proposed ideas such as significantly boosting teacher pay and making it easier to start small businesses.
West said he was the only candidate who wanted to gradually shift state programs to the private sector. He hoped to get 3 percent of the vote so the Libertarian Party could automatically qualify for spots on the 2020 election ballot.
On his next income-tax proposal, Hutchinson wants to gradually cut the top individual tax rate from 6.9 percent to 5.9 percent; reduce the number of individual income-tax tables from three to one; and increase the standard deduction. The plan is projected to reduce state revenue by nearly $192 million a year. It would be the third income-tax cut since he took office.
During the campaign, Henderson said he opposed Hutchinson's plan to cut the state's top individual tax rate. Henderson said he would significantly increase teacher pay and also increase spending on infrastructure, such as broadband Internet and roads.
MEDICAID EXPANSION
Henderson and Hutchinson both support Arkansas' version of Medicaid expansion to provide health coverage for poor people. The program initially was authorized by the Republican-controlled Legislature and then-Gov. Beebe in 2013. The program provides health insurance coverage to about 250,000 low-income people. It's now known as Arkansas Works.
Henderson disagreed with Hutchinson's plan this summer to add a work requirement for able-bodied adults, ages 18-49, participating in the Medicaid expansion. In August, advocacy groups filed a lawsuit challenging the work requirement less than two months after a federal judge blocked a similar requirement in Kentucky.
Participants must work, attend school, get job training or volunteer at least 80 hours a month under the work requirement. The work requirement has led to about 8,000 Arkansans losing their health insurance.
Hutchinson said removing the work requirement would mean the death of the Medicaid expansion program by the Republican-controlled Legislature, but Henderson disputed that. The Medicaid expansion is projected to cost the state about $135 million in fiscal 2019, which started July 1, while the federal government's share is forecast at $1.95 billion. The state is paying 6 percent of the cost of the program this year, and its share increases to 7 percent next year and then to 10 percent in 2020 under existing federal law.
[2018 ELECTION: Full Democrat-Gazette coverage of Arkansas races]
CAMPAIGN FUNDING
Hutchinson raised $4.96 million in contributions and spent $3.82 million, leaving about $1.13 million in his campaign account as of Oct. 27 , according to his campaign spokesman Jamie Barker. Hutchinson formally announced his re-election bid in May 2017.
In contrast, Henderson reported raising $637,577.17 in contributions, spending $628,827.73 and lending his campaign $100,000, leaving $108,749.44 in his campaign account on Oct. 27. Henderson announced his bid for governor in mid-December.
West reported raising $7,980.90, spending $6,624.86 and lending his campaign $100, leaving $1,456.04 in his campaign account on Oct. 27.
In the Republican primary in May, Hutchinson defeated gun-range owner Jan Morgan of Hot Springs by a margin of 69.6 percent to 30.4 percent after winning an endorsement from President Donald Trump on the day before the primary. In the Democratic primary, Henderson was the victor over Leticia Sanders of Maumelle.
In the 2014 Republican primary, Hutchinson beat businessman Curtis Coleman for the gubernatorial nomination. In the 2014 general election, Hutchinson defeated former Democratic U.S. Rep. Mike Ross of Little Rock and other candidates.
Hutchinson's margin of victory Tuesday, according to early returns, appeared to be similar to when Beebe won his second term.
Hutchinson: "Being elected four years ago was the highlight of my political career. But being elected tonight with a very significant majority of the vote is even more gratifying because Arkansans are saying, 'We have done a good job. Let's keep going in the right direction." pic.twitter.com/mS3CMAPjKA

— Josh Snyder (@JSnyderLR) November 7, 2018
In 2002, Huckabee won re-election over Democratic candidate and state Treasurer Jimmie Lou Fisher by a margin of 53 percent to 46.9 percent.
In 2010, Beebe won re-election over Republican candidate Jim Keet by a margin of 64.4 percent to 33.6 percent, with Green Party candidate Jim Lendall picking up 1.8 percent of the vote.
Information for this article was contributed by Amanda Claire Curcio of the Arkansas Democrat-Gazette.
A Section on 11/07/2018
Print Headline: Arkansas Gov. Asa Hutchinson gets four more years as state's leader
Sponsor Content