Speaking between meetings at his campaign headquarters downtown the day after Election Day, Frank Scott Jr. estimated that he'd gotten about an hour of sleep the night before.
The 34-year-old bank executive took an early lead in Little Rock's mayoral election Tuesday night, ultimately earning the most votes of the five candidates. But no one secured the 40 percent of the vote needed to win outright, and Scott will face attorney and business consultant Baker Kurrus in a runoff election on Dec. 4.
"I'm excited, humbled, emotional, joyful and grateful, all at the same time," Scott said. "I've been up in the wee hours in the morning trying to figure out strategy."
Kurrus, 64, said he, too, was thankful for his campaign team and excited about the support he received but had his eyes on the next goal.
"We ran really hard all the way through the finish line," he said. "We're going to thank everybody and proceed full throttle."
The race was the most competitive election for Little Rock mayor in at least a decade. The five candidates netted close to $1 million among them in campaign contributions from all over the city. Little Rock's mayor is elected to a four-year term and receives an annual salary of $160,000. Mark Stodola, the current mayor, did not seek re-election.
With all precincts reporting, the unofficial vote totals show that Scott got 25,076 votes, or about 37 percent of the vote. Kurrus got 19,620 votes, about 29 percent. Warwick Sabin, a third-term Democratic state representative, finished fewer than 600 votes behind Kurrus.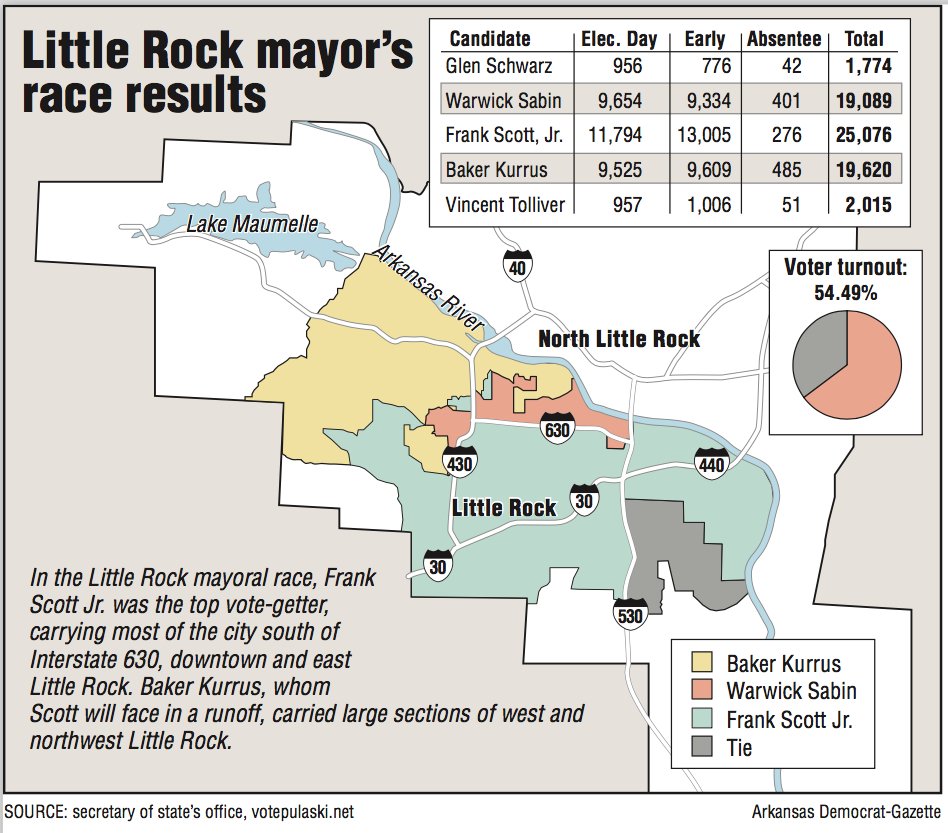 A map and information showing the Little Rock mayor's race results
Writer and activist Vincent Tolliver got 2,015 votes, and marijuana decriminalization advocate Glen Schwarz got 1,774, about 3 percent of the vote each.
Scott prevailed in precincts in areas south of Interstate 630, in downtown and in east Little Rock, according to the Arkansas secretary of state's office.
"I think he had some pockets of strength in parts of the city that most folks didn't expect ... he got votes all over the city," said Jay Barth, a political science professor at Hendrix College in Conway.
Kurrus carried large sections of west and northwest Little Rock, as well as parts of the Heights neighborhood, where his totals ran close to Sabin's. Sabin carried precincts in and around the Heights, as well as in the city's Hillcrest neighborhood.
In some precincts, including areas of west-central Little Rock, fewer than 100 votes separated the top three candidates.
Sabin, 41, said he was proud that he had run a campaign that was positive and focused on the issues. He commended the other candidates, though he said he had not decided if he would publicly endorse one of them.
"Hopefully, whoever wins the race can unite the city around a common vision that is truly inclusive and represents the city," he said.
Barth said he wasn't sure who Sabin's voters would favor in the runoff. Separately, he noted that Little Rock has a history of "racialized voting" -- voters choosing candidates of their own race -- and few racially mixed precincts.
With his eyes on the runoff, Kurrus said he would continue with his previous campaign strategy, but focus more on what his first steps would be if he got the job. He said he wants to make his platform more concrete for people, with clear examples of what would be different in his administration.
"I just think our message is resonating, you know?" he said Wednesday. "I think people are listening."
Scott, who received the most votes from people who cast their ballots before Election Day, attributed his success to a strategy focused on engaging voters directly.
"We had a very people-empowered campaign, and we were very focused on getting voters to the polls," he said.
Scott said he planned to stay the course. He estimated that his campaign had registered between 3,000 and 4,000 new voters -- independent of which candidate they would choose.
He said he would work to earn votes from people who supported other candidates, including Kurrus.
"They are all on the table," he said.
[2018 ELECTION: Full Democrat-Gazette coverage of Arkansas races]
Metro on 11/08/2018