Arkansas voters approved an amendment to the state's constitution allowing licenses for four casinos: two existing gambling facilities and two others that will be built.
About 54 percent of voters approved of the amendment Tuesday. Retired Little Rock resident Robert Bradley said he voted for casinos to keep gambling money in Arkansas.
"People take the money out of their hometown," Bradley said. "It's better for the city, for the people. There's more jobs."
Now questions remain about where and when gambling will happen, and about how much revenue the casinos will generate.
Where will the casinos be?
The amendment provides for four casino licenses. Two of those licenses will be given to already existing electronic gaming facilities at racetracks: Southland Park Gaming and Racing, a greyhound track in West Memphis, and Oaklawn Racing and Gaming, a thoroughbred racetrack in Hot Springs. The other two licenses will be awarded to casinos after an application process and will be constructed in Jefferson and Pope counties.
Notably, the amendment passed in all but 11 counties, and of those that did not support the amendment, Pope County residents had the strongest opposition. About 60 percent of voters in Pope County opposed it. In Jefferson County, by comparison, nearly 65 percent were in favor.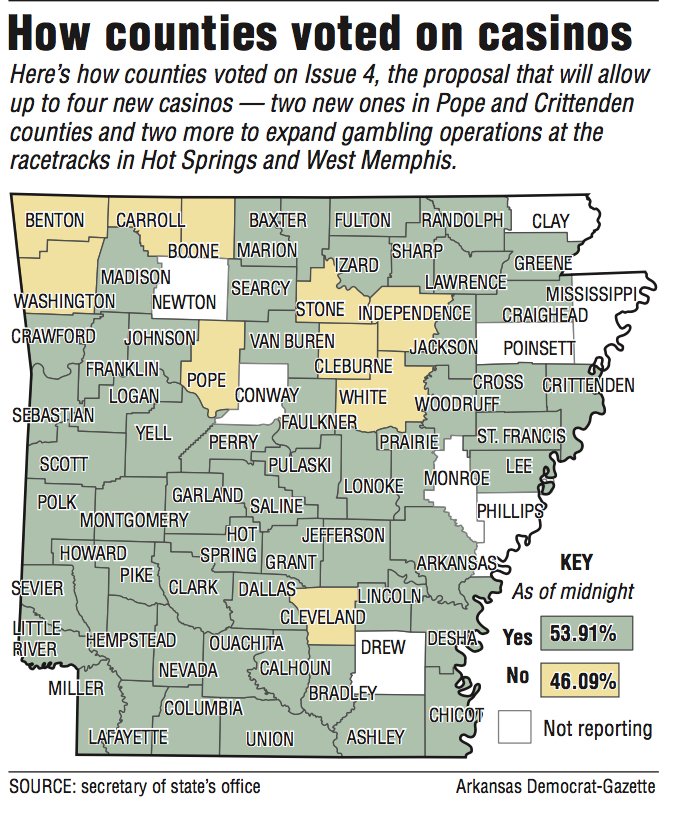 A map showing how counties voted on casinos.
State Sen. Breanne Davis said that Pope County residents were concerned that they were being written into the constitution without having a say. The county voted 68 percent in favor of a local ordinance which mandates a local election before the county judge can write a letter of support for a casino, an amendment-mandated part of a casino group's application.
John Berrey, chairman of the Quapaw Tribe, said they intend to apply for a license to build a casino in Pine Bluff. It's not clear who else intends to apply, but along with the Cherokee Nation, the two Oklahoma tribes donated more than $5.8 million to the campaign in favor of the amendment.
When will the casinos open?
Before casinos can be officially opened, licenses must be awarded. The deadline for awarding licenses to Oaklawn and Southland is June 30, 2019 — but if everything runs smoothly, licenses could be issued earlier.
According to a spokesman, table games at Southland should be running "as soon as is feasible," while a spokeswoman for Oaklawn said they do not have date yet.
If the Quapaw Tribe is awarded a license for a Pine Bluff casino, a spokesman for the tribe said they hope to have a casino running by early 2020.
How much money will this generate?
The state Department of Finance and Administration estimates that by giving Oaklawn and Southland full casino licenses, the state will lose around $36 million in general revenue over two years. That's because right now the facilities are taxed as electronic games of skill, which is a higher tax rate than casino gaming.
But the state is using projections based on the money the casinos made solely as electronic gaming facilities.
Supporters say the casinos will generate far more income with additional gambling games and sports wagering. A previous study commissioned by a group advocating for the casinos found the casinos could generate $39 million in annual state and local revenue.
And the state does believe the casinos eventually will be profitable.
"As the casinos operate, we do anticipate it'll get closer to the numbers that the electronic gaming is generating and will ultimately result in additional revenue for the state," Hardin said.
It's not clear right now how the state intends to make up the projected deficit. Gov. Asa Hutchinson will present his budget on Wednesday.