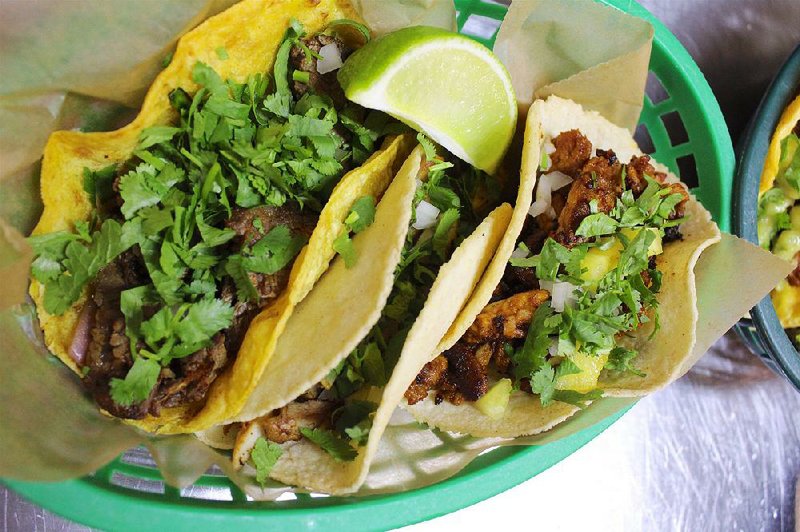 Dos Rocas Beer & Tacos opens next week and will be serving (as pictured on its website) a range of Latin American street food.
Halloween saw, among other things that went bump in the night, the closing of The Tavern Sports Grill, in the Promenade at Chenal, 17815 Chenal Parkway, Little Rock. A final Facebook post that day thanked customers "for all the years of business and memories." The phone number, (501) 830-2100, had not been disconnected by our deadline, but produced only a voicemail message even during working hours. A shopping center spokesman confirmed the closure and added that "an active negotiation for the lease of this space [is] underway," but has not been finalized. A spokesman for Yellow Rocket Concepts, which operates two restaurants in the shopping center -- Big Orange and Local Lime -- denied, as rumored, that they are planning to put in a west Little Rock branch of Lost Forty in the space.
Co-owner Jack Sundell says they're doing a couple of soft-opening events this week at Dos Rocas Beer & Tacos, 1220 Main St., Little Rock, with plans to open it to the public on Wednesday. Native Paraguayan Cesar Bordon-Avalos, lunch kitchen manager at The Root Cafe since 2012, and native Honduran and Root breakfast chef Luis Vasquez are shepherding a pan-Latin American, primarily street-food menu. Hours will be 11 a.m.-9 p.m. Tuesday-Thursday, 11 a.m.-11 p.m. Friday-Saturday, with plans to open Sundays in the near future. Don't let the word "beer" in the name fool you, by the way; it will have a full bar and a Latin American-inspired cocktail menu. The phone number is (501) 313-5413; the website is dosrocasbeerandtacos.com and the Facebook page is facebook.com/dosrocasbeerandtacos.
Meanwhile, Sundell says The Root, 1500 S. Main St., Little Rock, will hold an Izakaya Dinner, 6 p.m. Nov. 20. Izakaya, he explains, is a type of Japanese pub that serves small plates to accompany drinks. Michael Reid, the restaurant's dinner sous chef, who spent six months in Japan studying food and working in Japanese kitchens, is preparing a six-course meal with sake pairings by Ben Bell, founder of Sake Arkansas, which seeks to build and promote sake production as a new Arkansas industry based on the state's rice production. Tickets are $50. Visit tinyurl.com/y7qmkwc4; for more information, call (501) 414-0423.
We reported a few weeks ago the closure of Sashimi Japanese Steakhouse, 1900 Club Manor Drive, Maumelle, and a few weeks later, its replacement by Kendo Japanese Steakhouse & Sushi. Now we learn that Sashimi has resurfaced, sort of: owner Tommy Kattaviravong, while still seeking a new location where he can reopen, is operating Sashimi Express, basically a limited menu, grab-and-go operation, inside the Phillips 66 station, 10920 Maumelle Blvd., North Little Rock. Hours are 10:30 a.m.-2:30 p.m. and 4-8:30 p.m. Monday-Friday, 4-8:30 p.m. Saturday. The phone number is (501) 246-5464. And this is not the first time there has been a sushi vendor inside this particular gas station, although it was a Shell station when we mentioned it in this column in November 2007: "We admit to having been highly intrigued by the street-side sign outside the Shell station/convenience store at Maumelle Boulevard and Counts Massie Road, North Little Rock, just outside Maumelle: 'Choo-Choo Cafe, Sushi, Philly Cheesesteaks, Catfish.'"
A plumbing permit was filed last month for Wicked Taco, going into the Pyramid Building. 221 W. Second St., Little Rock. Turns out it's to be the storefront incarnation of the Grills on Wheels Mexican food truck. The process will take a couple of months and the owners say as of right now, they're not planning to keep the food truck in operation once the new place opens. The Grills on Wheels phone number is (501) 291-3350.
We have an update on the status of Feastros, 4200 E. Kiehl Ave., Sherwood, closed since a Jan. 4 fire totally destroyed the kitchen: Owner Mark Spaight recently posted on Facebook that a projected early October opening date had gone by the wayside because of a series of challenges, including a failed plumbing inspection, but he's still working on getting the place back on its feet. One sign of hope: another Facebook posting seeking dishwashers. We still get no answer when we call the restaurant phone number, (501) 864-7860.
The Benton-based Eat My Catfish mini-chain is marking its 10th anniversary with a "Back to Our Roots Tour," in which the original food truck with which Travis Hester started the business visits all four current store locations, 11 a.m.-9 p.m. each Monday in November, offering the original limited menu (catfish, chicken and shrimp dinners) at original 2008 prices. (Customers can also choose from the current menu.) The chain is donating the difference between past and current prices from each meal to a career and technical education center in each community. Word got to us too late to mention Monday's visit to the original outlet at 1205 Military Road, Benton; the remaining stops on the tour: Monday, Breckenridge Village Shopping Center, 10301 N. Rodney Parham Road, Little Rock; Nov. 19, 2125 Harkrider St., Conway; and Nov. 26, 4216 E. McCain Blvd., North Little Rock.
It's Food and Wine Week in Eureka Springs, Friday-Nov. 18, with a number of the town's eating and drinking establishments offering specials, wine pairings and wine dinners. The list includes The Cottage Inn, Stonehouse, Crystal Dining Room, Gravel Bar, DeVito's of Eureka Springs, Cuisine Karen (cooking class), Sparky's Roadhouse Cafe, Fresh Harvest and Grotto Wood Fired Grill & Wine Cave. Some specifics are available at eurekasprings.org/foodandwine.
Delivery service Bite Squad is expanding to Jonesboro this weekend, initially offering delivery from more than 20 area restaurants, including Sully's, Hong Kong Chinese Restaurant, Doe's Eat Place, Twisted Foods and Gina's Place and chains including Cinnabon, Schlotzky's, Uncle Maddio's Pizza Joint, On the Border Mexican Grill & Cantina, Larry's Pizza and Tropical Smoothie Cafe. Delivery is available within a seven-mile radius of participating partners; place orders via the Bite Squad app or the website, bitesquad.com. Delivery fees start at $2.99. As a grand opening promotion, patrons who place a Bite Squad order this weekend, Friday-Sunday, will receive free memberships in their subscription-based service, Unlimited, which involves paying a monthly fee with unlimited ordering privileges; visit go.bitesquad.com/jonesboro.
...
Here is a partial list of freebies (courtesy of offers.com/blog/post/veterans-day-freebies) for Veterans Day (Sunday) and the legally observed Veterans Day (Monday) at places we know have area outlets. And, as always, as this is compiled on a national basis, check with those outlets to see if they are, in fact, participating, and also for what proof of service they may require. Also check the offers.com site for any additions that may have surfaced after our deadline.
• Applebee's: free meal Sunday for veterans and active-duty military
• Bar Louie: Free meal for vets and active military, all day Sunday, including a free burger or flatbread (up to $15 value). Military ID required. Through Monday, guests can donate via an add-on to their checks to Operation Homefront.
• Bonefish Grill: free Bang Bang Shrimp appetizer Sunday for all active and retired service members with a valid military ID.
• Golden Corral: For Military Appreciation Night, 5-9 p.m. Monday, free meal for anyone serving in or who has served in the U.S. military. Dine-in only. Guests (including family) pay full price.
• On the Border: Veterans with a valid military ID or proof of service get a free "Create-Your-Own-Combo 2" Meal
• Cracker Barrel: Veterans and active duty military Sunday get a free piece of Coca-Cola Cake.
And one more late locally placed entry:
• On Sunday at Gandolfo's New York Delicatessen, in the Promenade at Chenal, 17801 Chenal Parkway. Little Rock, all veterans with valid ID get 50 percent off (except beer and wine).
...
"A major cable network" is looking for restaurateurs hoping to take their establishments to the next level, in particular those "thinking about making major changes to improve business," for the pilot of a new show that will feature "a professional restaurant consultant who helps rebrand a restaurant to boost sales." According to the announcement, "We'll track your progress, catch it all on camera, and change your fate and future. You'll need just two weeks this fall/winter and an improvement budget of $25,000-$100,000, depending on the size of your restaurant." Interested? Visit highnoontv.com/casting. High Noon Entertainment, also the production company behind Cake Boss, Cajun Aces, Fixer Upper and other shows on HGTV, Discovery, TLC, Travel Channel, Animal Planet, Weather Channel and Food Network, isn't naming the consultant, but says that person will be donating his or her services.
And we're in the process of compiling a list of places that will be open on Thanksgiving, the initial version of which we'll run in this column Nov. 15 with a (hopefully) expanded version to run on the day itself. If your establishment will be up, open and serving on Nov. 22, please submit, by noon Monday, details, including the street address of the restaurant, whether you are requiring reservations and how to make them (website, Facebook page and particularly the phone number) to eharrison@arkansasonline.com. Feel free to provide menu or buffet specifics. And thanks in advance.
Has a restaurant opened -- or closed -- near you in the last week or so? Does your favorite eatery have a new menu? Is there a new chef in charge? Drop us a line. Call (501) 399-3667 or (501) 378-3513, or send a note to Restaurants, Weekend Section, Arkansas Democrat-Gazette, P.O. Box 2221, Little Rock, Ark. 72203. Send email to:
eharrison@arkansasonline.com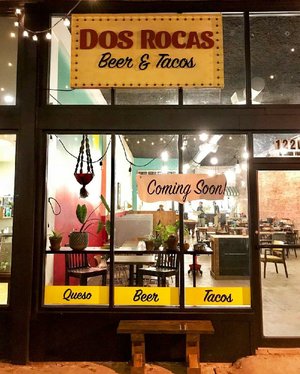 Dos Rocas Beer & Tacos opens next week and will be serving (as pictured on its website) a range of Latin American street food.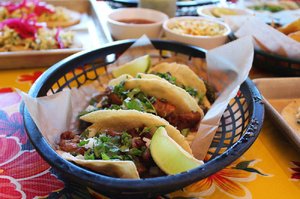 Dos Rocas Beer & Tacos opens next week and will be serving (as pictured on its website) a range of Latin American street food.
Weekend on 11/08/2018
Print Headline: Restaurant Transitions: The Tavern in west Little Rock shut; Dos Rocas opening set
Sponsor Content