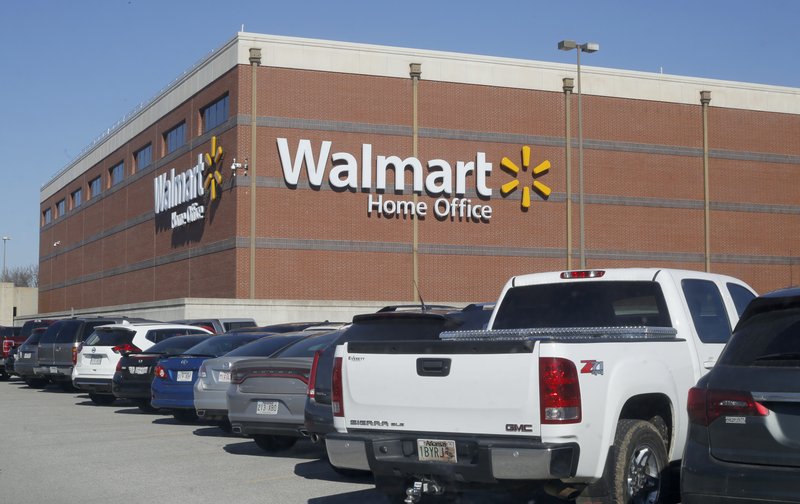 The Walmart home office is shown in this file photo. ( David Gottschalk)
Walmart Inc. is transferring 570 jobs at its Bentonville headquarters to an outside firm that will help manage part of the retailer's financial operations.
The jobs are back-office finance and accounting positions, according to a news release Thursday from Genpact, a global professional services firm that specializes in introducing companies to new technologies. Employees in the affected positions handle duties such as accounts payable and receivable and invoicing.
A Walmart spokesman said all 570 workers have jobs at Genpact if they want them. She said Walmart made every effort to ensure they will have the same jobs there, with comparable pay and benefits. Employees who choose not to make the move will be offered 60 days with pay to search for other jobs.
The moves will take place Nov. 28.
Workers were notified of the impending change Thursday morning in a "town hall" meeting with company executives, the spokesman said, and had a chance to meet with Genpact executives. Immediately after the meeting, they received their job offers so they could make an informed decision about what to do, the spokesman said.
Walmart doesn't disclose how many people work in any given department, but the spokesman said those affected by the move are only a small percentage of employees within its global-business services division. Clay Johnson, executive vice president and enterprise chief information officer for Walmart, oversees that division.
Johnson said in the news release that the partnership with Genpact will help the division transition its functions to more digital technology. This will improve work quality, speed up processing time "and unlock potential savings for innovation and growth," he said.
Employees who do make the move will remain at Walmart's Bentonville campus, where Genpact is leasing a building. That will be its home for the foreseeable future, Genpact spokesman Danielle D'Angelo said.
Genpact, which has more than 70 offices around the world and a flagship office in New York, is "100 percent committed" to its investment in Bentonville, D'Angelo said. The company plans to work with Walmart and other businesses to create a hub for digital innovation in Northwest Arkansas.
D'Angelo said Genpact uses robotic process automation, machine learning, predictive analytics, artificial intelligence and other digital technologies to help retail and consumer-goods clients streamline processes, improve customer service and drive growth.
"Coming to this market is a big, exciting move for us because of how big Walmart is in retail," D'Angelo said. "But we are planning a long-term commitment to the community here. We plan to reach out to local business groups and academic institutions, and find ways to partner together to make Bentonville even a stronger place known for digital innovation."
Business on 11/09/2018
Print Headline: Walmart shifts 570 jobs at Arkansas headquarters to outside firm
Sponsor Content