Donations to the Bill, Hillary and Chelsea Clinton Foundation dropped sharply in 2017, the third-straight year of declining revenue.
Contributions, which peaked during the foundation's major endowment drive, totaled $26.6 million last year, down from $172.6 million in 2014, $108.9 million in 2015 and $62.9 million in 2016.
From 2016 to 2017, donations dipped 57.8 percent.
The financial figures are included in the organization's 990 forms, which are filed each year with the Internal Revenue Service.
The Little Rock-based foundation, which has offices in New York City and around the globe, prepared the document earlier this month and provided a copy to the Arkansas Democrat-Gazette.
The endowment, which contained $267,491 at the beginning of 2013, topped $207 million last year, up from $187.2 million in 2016. Most of the increase, $20.4 million, came from investment gains. The endowment received $3 million in contributions in 2017 while classifying $3.7 million in pledges as uncollectable.
In a letter, foundation CEO Kevin Thurm said the organization's focus remains on "overcoming complex challenges and improving the lives of people across the United States and around the world."
Thurm thanked the donors "who make this life-changing work possible."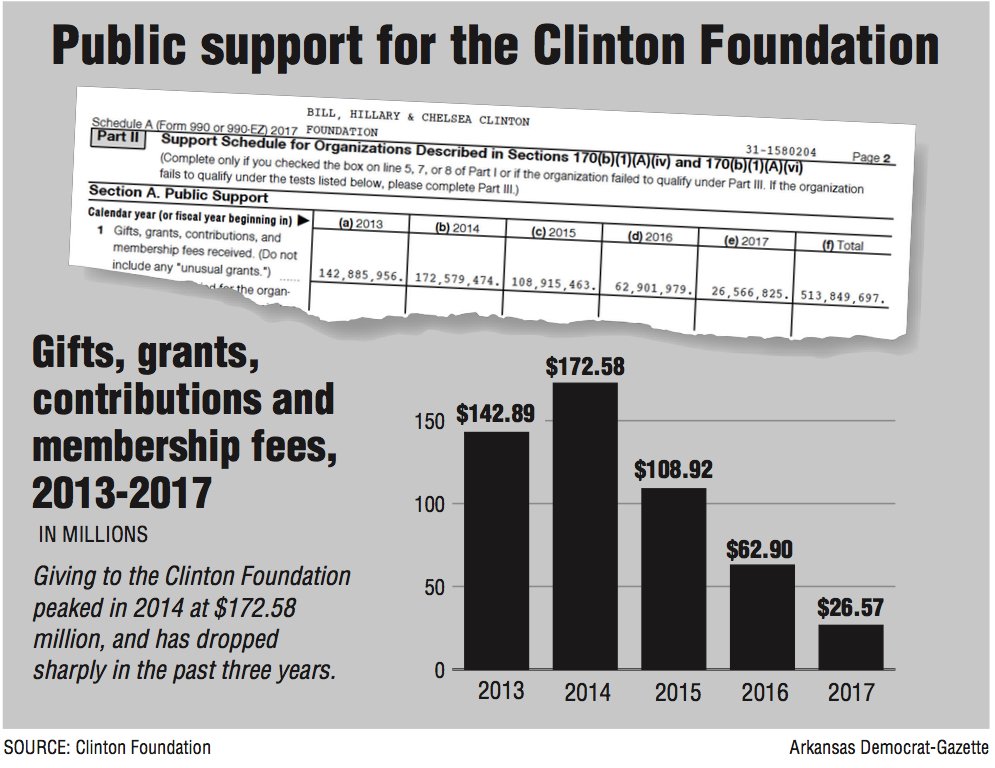 Foundation officials had previously attributed the 2016 revenue drops, in large part, to the "closing out" of the three-year endowment campaign, which wrapped up in 2015.
(Contributions in 2012, the year before the endowment drive began, had totaled $49.9 million.)
Fundraising restrictions, voluntarily adopted at the start of Hillary Clinton's second presidential campaign, were another factor, they had cited.
The latest declines were foreseeable, Thurm said in his letter.
With the cancellation of the Clinton Global Initiative annual meeting, "we anticipated a decline in both revenue and expenses for 2017, largely attributable to the absence of sponsorship and membership contributions for CGI," he wrote.
The event had attracted business executives, billionaires, celebrities, heads of state and philanthropists each year between 2005 and 2016, generating millions of dollars in revenue.
With giving down, staffing also has decreased, from 578 employees in 2016 to 398 in 2017.
The organization also pared its number of international offices from 10 to four. Spending on overseas activities totaled $15.5 million in 2017, down from $21.5 million in 2016.
Expenses for the Clinton Presidential Center totaled $12.4 million; revenue totaled $1.7 million.
Overall salaries dropped from $37.4 million to $24.9 million.
The foundation listed overall revenue of $38.4 million and expenses of $54.6 million, a gap of $16.1 million.
Net assets on Dec. 31, 2017, equaled $323.5 million, down from $326.7 million.
Thurm was the highest-paid, receiving total compensation of $445,342. Bruce R. Lindsey, a director and former foundation CEO, received total compensation of $407,361.
The former president continues to serve as board chairman. His daughter, Chelsea Clinton, is vice chairman. Both are volunteers and not compensated for their work.
Hillary Clinton, the former secretary of state, left the board in April of 2015 and has no formal position with the foundation, but continues to attend foundation events and to assist with fundraising.
All three Clintons were on hand for a foundation event in Chicago in October.
According to the IRS filing, Bill Clinton devotes 20 hours per week to Clinton Foundation activities.
"President Clinton, as board chair and a regular presence in Clinton Foundation offices in New York and Little Rock, has been tireless in working to advance the foundation's programs and impact," said foundation spokesman Brian Cookstra.
"President Clinton is a driving force of the foundation's work -- bringing together leaders from across sectors to help people recover from hurricanes in the Caribbean; launching new solar energy projects; spearheading our efforts to fight the opioid epidemic; hosting emerging leaders at the Clinton Presidential Center in Little Rock through the Presidential Leadership Scholars program; and bringing together over 1,000 students at CGI University in Chicago last month," Cookstra said.
Started in 1997 and originally called the William J. Clinton Presidential Foundation, the nonprofit focused initially on raising funds to build Clinton's presidential center.
Since the center's completion in November 2004, the foundation has broadened its focus.
Today, the foundation "works with strategic partners to develop and implement programs that create economic opportunity, improve public health, and inspire civic engagement and service," its website states.
In addition to the Clinton Presidential Center, which includes the library and museum, other efforts include:
• The Clinton Climate Initiative, which "develops scalable projects that can be tailored to local conditions while also serving as innovative models for tackling global climate change."
• The Clinton Development Initiative, which helps farmers in Malawi, Rwanda and Tanzania to "increase their economic potential," by promoting "best agriculture practices" that increase crop yields and promote sustainability and profitability.
• The Clinton Global Initiative. While eliminating the annual meeting in New York City, the foundation continues to oversee Clinton Global Initiative University, a program for college students.
• The Clinton Health Matters Initiative, which seeks to reduce opioid overdoses and decrease the prevalence of preventable diseases.
• The Alliance for a Healthier Generation, which focuses on promoting exercise and nutrition programs for children. The alliance, which was founded by the foundation and the American Heart Association, is independent but received $1.98 million in funding from the foundation in 2017.
• Too Small to Fail, which educates parents and others about early childhood brain development.
Leslie Lenkowsky, an emeritus professor at Indiana University and an expert on philanthropy, said he is "not in the least surprised" by the Clinton Foundation's falling revenue.
Before the 2016 election, "Mrs. Clinton had a chance at becoming president. Since then, she lost. She's likely out of public life. [Bill Clinton's] reputation has been damaged by the fallout of the #MeToo movement, so the organization's not as attractive as it once was," Lenkowsky said.
Despite the downturn, the foundation's fundraising totals remain substantial, he said.
He said "$27 million is a large amount of money so we shouldn't underestimate that. They're still a large organization."
The 72-year-old former president was wise to create the endowment, Lenkowsky said.
"Success isn't going to be with you all the time, and the endowment will at least give you a bit of a cushion," he said. "If your fundraising plan is 'President Clinton's going to visit someplace and the money's going to come in,' it's not going to last forever," he said.
It's important for the foundation to begin thinking about the long term, he added.
"Nonprofits over the years are usually started by people who feel passionate about what they're doing, who are deeply committed to doing it. But such people really need to find a way of institutionalizing their passion and enthusiasm so that when they leave the scene, for whatever reason, there are other people that can pick up and run the foundation efficiently," he said.
Sunday on 11/11/2018