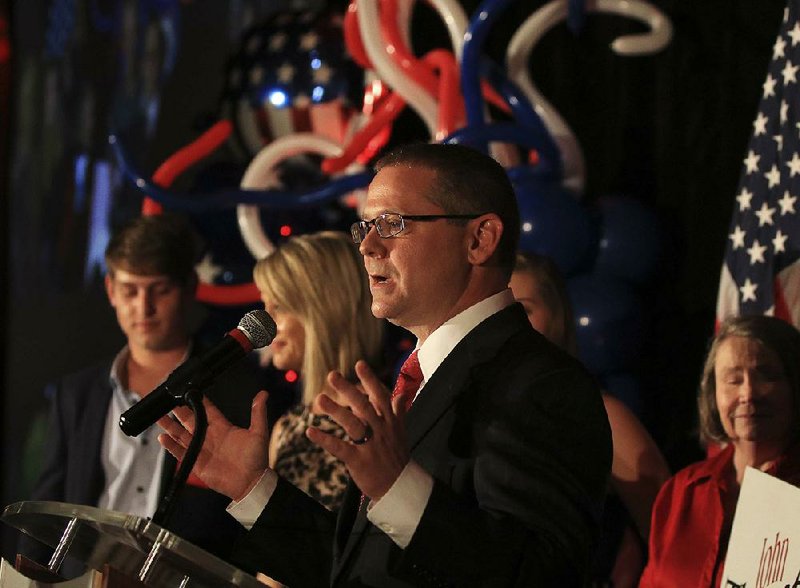 State Land Commissioner John Thurston speaks to supporters Tuesday night at a watch party in Little Rock. ( Arkansas Democrat-Gazette / Staton Breidenthal)
Following Gov. Asa Hutchinson's lead, Secretary of State-elect John Thurston plans to take to his new office in January the same government-transformation principles Hutchinson has adopted.
The Republican governor recently unveiled a proposal to trim the number of state agencies that report to him from 42 to 15.
Thurston, a Republican from the East End community in Saline County, wants to use a similar approach regarding the secretary of state office's processes and procedures.
It's not that there's anything wrong with how the office is operating, Thurston said, but reviewing and maximizing efficiency never hurts.
"The governor wants to consolidate and streamline," Thurston said. "I think that's just good government, and every constitutional office and state agency should be doing that."
Thurston, the current commissioner of state lands, won't be sworn in as secretary of state until January, but he plans to immediately start reviewing and studying that operation. The land commissioner's office is one of seven state constitutional offices.
Thurston, who was term-limited as land commissioner, will replace Republican Secretary of State Mark Martin, who also was term-limited.
Thurston won the office in Tuesday's election, garnering more than 60 percent of the vote against Democrat Susan Inman and Libertarian Christopher Olson, according to unofficial returns.
The secretary of state serves a maximum of two four-year terms. The pay is $94,554 a year.
The secretary of state's office oversees elections, business registrations and the state Capitol grounds. Thurston, along with Attorney General Leslie Rutledge and Hutchinson, also will sit on the Board of Apportionment, which redraws the lines of state legislative districts every 10 years after the U.S. Census.
[2018 ELECTION: Full Democrat-Gazette coverage of Arkansas races]
Thurston said his first order of business will be to develop a management structure that supports his style and encourages a healthy work environment. He also wants to evaluate current contracts and forthcoming projects. As an example, Thurston said, the state Capitol's upper windows will need to be restored soon.
Martin, the current secretary of state, said he plans to talk with Thurston and help him begin to develop relationships with the office staff. Martin said he thinks Thurston will do a good job and bring "fresh ideas."
"One thing I would say to him is that the job is bigger than one person, so trust your people," Martin said. "Stand by them and back them up. Understand that human beings make mistakes. You take the hits that come and shield them from it, so they have the confidence to be entrepreneurial."
Thurston, 45, was first elected land commissioner in 2010. Before holding that office, the central Arkansas native worked in ministry operations at Agape Church in Little Rock.
In other areas, Thurston said he hopes to address any franchise tax issues raised by the Tax Reform and Relief Legislative Task Force and reduce red tape for businesses. He'd also like to work with the Arkansas Economic Development Commission to determine how the office's business and commercial services division can better serve businesses in Arkansas.
He also mentioned reviewing the systems the secretary of state's office uses for campaign finance reporting to ensure that it complies with Arkansas law and best practices in other states.
Thurston said he thought last week's election ran smoothly for the most part throughout the state. He said the state should continue working to educate and train county elections officials to eliminate as many election-season snags as possible.
He thanked voters for giving him the opportunity to serve, including those who supported his opponents.
"This office, though it's partisan, should be governed in a nonpartisan way," Thurston said. "Even though I had my 'R' hat on during the election, it's coming off, and I'm going to serve all Arkansans."
A Section on 11/12/2018
Print Headline: Set to take new post, Secretary of State-elect John Thurston shares ideas
Sponsor Content