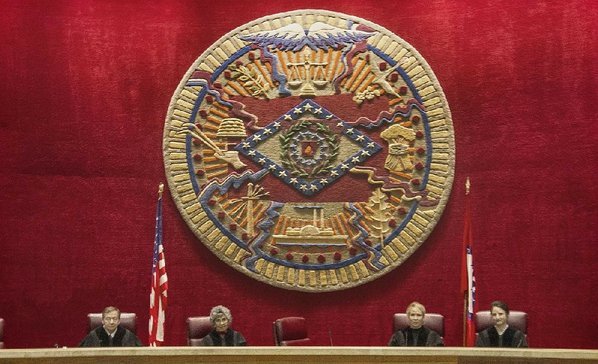 File photo
Ethics charges against all seven members of the Arkansas Supreme Court were dismissed Friday by a unanimous vote of the Judicial Discipline and Disability Commission.
The charges had stemmed from a complaint filed by Pulaski County Circuit Court Judge Wendell Griffen, who accused the justices of improperly removing him from all death penalty cases following Griffen's public protest against capital punishment in front of the Governor's Mansion in April 2017.
A special counsel working for the commission, J. Brent Standridge, had found probable cause to move forward with ethics charges earlier this year.
Each of the justices filed motions seeking to dismiss the charges, and eight members of the commission voted in favor of dismissal after meeting in executive session.
There are still charges pending before the commission against Griffen, related to his public demonstration.
David Sachar, the director of the JDDC, said Standridge essentially serves as the prosecutor in the case, and that it is up to him, not Griffen, to decide whether to appeal.
Reached by phone Friday, Standridge, the special counsel who investigated the charges, said Friday afternoon that once he is given a written order by the commission to review, he will decide whether there are any grounds to appeal the case.
Earlier, five of the Supreme Court justices had filed a petition with their own court seeking to have the JDDC charges dismissed, requiring the governor to appoint seven new special justices in the case. Both Standridge and Robert Peck, an attorney for Chief Justice Dan Kemp, said Friday they were unsure how the JDDC's latest action affected that case.
Read Saturday's Arkansas Democrat-Gazette for full details.
Sponsor Content