NEW YORK -- Communal tables. Teleconferencing hubs. Cafes where employees can grab coffee and flip open laptops for impromptu meetings. Marvel Architects, a New York design firm, has incorporated such commonly requested features into clients' workplaces many times over.
But America Media hit Marvel this year with a requirement for its new offices in midtown Manhattan that the architects had never encountered working with previous office clients.
It wanted a chapel.
America Media is, after all, a 108-year-old Jesuit organization. The publisher of America magazine, it has been diversifying in recent years into nonprint platforms to provide news and opinion with a Catholic focus. But as important as gathering and transmitting information is to the organization, so is nurturing faith.
"This is the center of our mission," said the Rev. Matt Malone, America Media's president and editor-in-chief, standing in the place of worship that Marvel tucked into a corner of the organization's new offices at 1212 Avenue of the Americas. The interior is decorated with elements from the publisher's previous building, including stained-glass panels made by the Rambusch design company.
It was the sale of the former home, on West 56th Street, earlier in the year that made the modernization and custom design of the new office possible. For decades, that nine-story structure had been America Media's headquarters as well as a residence for priests who worked on the magazine and in nearby institutions.
But the organization's warren of rooms, spread over four floors, had become incompatible with the collaboration required to cover breaking news and disseminate it online and in broadcasts. And America Media needed access to the equity in the building to invest in new technology, hire staff members and redesign its magazine and website.
"We had the asset, but it was not monetized," said Malone, who was appointed six years ago.
After ruling out options such as renting part of the building to another organization or tearing the whole thing down and building a larger structure that could include condos or hotel rooms, Malone and members of the business staff consulted the commercial real estate firm CBRE about selling. After discussions, the building was sold in 2016 for $48.7 million to the developer and investing firm Savanna, which is constructing a 26-story office building on the site in partnership with Atom Assets, a developer based in Hong Kong.
The priests who had lived in the old building, including Malone, moved to a nearby convent that had been vacant and was renovated by Marvel.
And the America Media staff, which consists of 10 priests and 44 lay employees, set up shop in temporary offices while the hunt was on for a permanent work address that would cost $50-$60 per square foot, said Stuart Eisenkraft, a CBRE broker who helped America Media with its search.
Some media companies have moved to lower Manhattan in recent years, but midtown is still New York's media hub. And Malone, chaplain to the New York Press Club, wanted to remain in the thick of things.
America Media signed a 15-year lease for the office space, between 47th and 48th streets -- across the street from News Corp. and two blocks south of Rockefeller Center, the headquarters of NBC. St. Patrick's Cathedral is just a few blocks away.
To Malone, the location is "ideal."
The space, on the 11th floor of a 23-story 1965 building designed by Emery Roth & Sons, totals 10,800 square feet. And its ceilings are 9 feet 8 inches high -- just enough so that insulating layers could be added to the floor and ceiling of what would become the broadcast studio, making it as soundproof as possible.
The space, which had been gutted, cost $5.5 million to renovate.
Marvel clustered compact private offices in the center of the floor; glass fronts open them to the expanse of workstations in the newsroom and to the natural light from the windows on the perimeter of the floor.
The architects took inspiration from the austere rooms in Rome where St. Ignatius of Loyola, the 16th-century priest and theologian who founded the Society of Jesus, as the Jesuit order is formally known, lived the last years of his life.
But they went in a more industrial direction, leaving concrete columns exposed and simply polishing the concrete floors.
"It's an interesting combination of monastic selflessness with the subway aesthetic," said Jonathan Marvel, the founding principal of his namesake firm.
Against the office's spare backdrop, religious artifacts brought from the West 56th Street building stand out.
In the reception area, a crucifix and a gold-framed portrait of St. Robert Bellarmine, an Italian Jesuit who was a key figure in the Counter-Reformation, decorate the walls. In a large multipurpose room off the reception area, a backlit panel of stained glass glows.
Malone professes an interest in design, and in an interview in his office with Guido Hartray, a founding partner of Marvel who led his firm's design team on the project, he said he had enjoyed planning the new workplace. He personally went to furniture showrooms to try out seating.
Hartray, who attended a Jesuit high school in Chicago, said he had a particular interest in his clients. "I have an appreciation for the Jesuits because they were the ones who taught me how to do math and write coherently," he said.
He added that working with priest clients was not as different from working with other mission-driven nonprofit organizations.
"They might be dressed in black and have a white collar," Hartray said, "but eventually you're having the same conversation you'd be having if you were talking to someone who does IT for a university or any other institution."
For the chapel -- where the priests take turns leading Friday Mass for themselves and any employees who care to attend -- Marvel designed a walnut altar and ambo and a blackened-steel holy water font.
A table for editorial board meetings, built by a Jesuit brother in the 1950s for the West 56th Street offices, almost did not make it, however.
The 12-foot-long hunk of oak atop a massive base would not fit in the building's elevators. After a cardboard mock-up of the table was cobbled together for a test run to ensure the real thing could be maneuvered around the staircase's tight turns, 16 movers carried it up 10 flights of stairs.
With the table finally in place, "we built the room around it," Malone said.
"Once I saw this table here," he added, "it felt like home."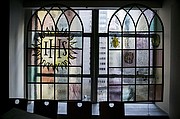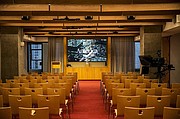 Religion on 11/17/2018