Arkansas-born journalist Alice Driver has been traveling, off and on, with the asylum-seekers that have been trekking from Central America toward the United States since early October. Working with Time magazine and Magnum photographer Jerome Sessini, Driver has been interviewing individual members of the caravan. She's also published an opinion piece on the CNN website and a heart-wrenching photo essay -- using her own photography -- called "When You Carry All that You Love With You" for the website Longreads. The photo essay covers the migrants' time in Mexico City, where they rested for a few days before continuing with their journey.
"You share the food with your baby daughter, who is 4 months old," reads a portion of the photo essay that accompanies a dim photo of a mother attempting to feed an infant on the ground. "Your milk has dried up. She is already eating beans, and you wonder if you are a bad mother. You hope that you will both sleep well tonight as you cradle her between your legs."
Read More
Find links to Alice Driver's reporting at www.alicedriver.com and follow her on twitter @DriverWrites.
"Anthony Bourdain fought for those who persisted, who persevered, those who took on powers greater than themselves, those who at any moment might be crushed by the weight of life. The fact that it may have been the weight of those very sorrows that crushed him, that he could defend others with deeply felt sincerity and strength even as he struggled with his own demons is a message to us all." — "Anthony Bourdain Was a Voice for the Underdog", CNN, June 8, 2018
"The last time I saw my Uncle Lee in 2013, he was traveling through Mexico, I think on his way to a peyote experience. He had a long-term relationship with hallucinogenic drugs, and he periodically left his tiny carpentry shop in Taos, above which he lived, to travel through Central and South America in search of such experiences. By that time, he was suffering from gout, and he wasn't supposed to drink. We sat on the roof of a rented house in Sayulita as the sun set, him with a shot of tequila in hand and a worn cowboy hat tipped down low almost to meet his eyes. As he looked at me and said, "Don't do what I've done. I never thought about the future. I always did what I wanted. Maybe it's good to save a bit of money." I sat in shock, as my model for life, and that of most of the artists in my family, was some mix of that philosophy — to make art at all costs." — "Forgive Yourself. And Forgive Me." www.longreads.com, March, 2018.
Next Week
Bill Rector
Little Rock
Driver is a world away from her tiny hometown of Oark, where her parents, artists Louise Halsey and Stephen Driver, raised her on a family commune. Oark was a close-knit community of around 200 people when she was born, so close that Driver still knows the midwife who attended her home birth.
"There's a knot on the floor of our house, and my dad always says, 'That's where you were born,'" she says. "So there's a real connection for me to the land. That will always be my home."
Driver returns for frequent visits and writes about Arkansas when she gets the chance.
"My parents were part of the back-to-the-land movement in the 1970s," she says. "My father is one of five brothers, and four of them decided to buy land in Arkansas together with the idea of building their own houses, of growing their own food, sort of exiting consumerist societies in a lot of ways."
Driver's father, a potter, and her mother, a weaver, were clearly the adventurous sort: They met at an art conference in Georgia, and, says Driver, "I think within a few weeks my dad had invited my mom to go live in a tent in Arkansas. He was building the foundation to the house. She said she thought it was the most exciting, greatest thing ever, to have this project of growing food and building a house and doing it with family."
Driver says her parents probably lived in a tent for about a year while the first house was under construction. No one in the group of settlers had any kind of background in building or farming -- but they had an abundance of enthusiasm.
"In fact, one of the things my mom said to me was something like, 'I thought not knowing how to do these things meant I couldn't do them, but I didn't realize it was just -- you start, you take an interest in something, and you learn as you go,'" says Driver.
By the time Driver was born, her parents were out of the tent and into a house -- "He's still building the house, that's the irony," Driver says with a laugh -- but until Driver's brother was born 18 months later, the family didn't have indoor plumbing. In an affectionate documentary she made four years ago called My Homeland, Driver interviews her parents about their early experiences in Oark. The film is rife with gorgeous scenery of the family's acreage in the Ozarks. The house, as seen in Driver's documentary, is no shack: It's multi-story, beautifully built, with a wall of windows on the second floor that must offer an astonishingly beautiful view of the land. Solar panels line the roof.
Driver's childhood in the tiny town sounds idyllic. Aunts and uncles lived nearby, and she was close to her younger brother. Her world was full of creativity, as her parents supported themselves with their art.
"It was a great childhood," she remembers. "[My parents] were always home. They were always doing stuff -- like making things with clay or weaving -- or out in the mountains running around. It's amazing to me, because I almost feel like I came from a hundred years ago, you know, growing up with an outhouse, pre-Internet, growing our own food."
Driver loved to read, but the closest library was in Clarksville, around 50 miles away. The bulk of her time growing up was spent outside.
"My brother is amazing," she says. "We both spent all of our time in the natural world. We spent our time outside in the mountains and the river. Probably today my parents would be called negligent parents or something. We really just ran wild outdoors, building things. You learn so much, constructing tree houses and monoliths and collecting crawdads."
Bright lights, big city
As ideal as country life seemed, it was far from perfect. Making a living in the tiny, isolated town was not easy. Soon, members of the family started moving away to areas of higher population -- and more economic opportunity -- like Fayetteville. Driver's parents were living a self-sustaining lifestyle but, still, making a living as artists became increasingly difficult as their children grew older. Also worrisome: The Oark school system was tiny, and, as Driver's father says in the documentary, her parents had philosophical differences of opinion with the administrators.
"We came with middle class values about education and education being important," says Stephen Driver in the film. "People here said, 'I didn't learn how to read, and I did OK, so why do my kids need to learn how to read?' School was a place to park the kids."
"Kindergarten through 12th grade had less than 100 students when I was there," Driver says. "So I went to, for example, second and third grade, and fourth and fifth grade -- combined classrooms. Probably, most of my teachers weren't certified. I could tell some pretty sketchy stories. I would say that most of what I learned, I learned on my own."
So when Driver was 14, the family made a difficult decision: They left Oark so that her father could accept a teaching position in Kentucky.
"It was basically an economic decision," she says. "When I was growing up, no one had health insurance. And they wanted to have us in a better school for high school."
The transition was a difficult one for Driver. She went from a town with a population of 200 people to Owensboro, Ky., whose population boasted nearly 60,000 people.
"It was a huge, huge change," she says. "And it was a really hard change. It's not like I had never seen a television, but we didn't have one. I didn't watch MTV, I didn't know any pop culture, any references to television or songs. I really didn't get fashion. Kids really picked on me for the first two years that I lived there. I remember crying all the time."
Driver says this abject loneliness persisted until she discovered the key to integrating into her school community: sports. Her active outdoorsy lifestyle in Oark and her genetics -- her mother was a runner, her father was an All-American swimmer, and she has an uncle who tried out for the Olympic swimming team -- had turned her into an excellent athlete. She soon found herself a member of the cross country, track and swim teams at school.
"In the United States, if you play sports -- even if you're a nerd, and you don't have a clue -- suddenly, you're OK," she says. "I also realized that clothing could make me fit in, and so I was always asking my mom things like, 'Can you buy me Guess [brand clothing],' which was really hard, because my parents didn't have any money. So I think it was a pretty difficult time for them, too."
Beyond borders
It was around this time that she got her first glimpse at a culture outside the United States that would capture her imagination.
"When my dad got his job teaching at a university in Kentucky, he created a summer study abroad program in Costa Rica, and he took me with his students when I was 16," she remembers. "That changed everything for me. I had never been out of the United States. I had never been in a country where everyone was speaking a different language. I thought, 'Oh my God, I can get on a plane and go anywhere for $300, $400 or $500.' I was completely blown away. I couldn't get over the fact that it's like, 'oh, I can spend this money on seven pairs of shoes, or I could go to Costa Rica.'"
She went with her father to Costa Rica again when she was 18 and then traveled to Mexico with her Spanish professor at Berea College in Kentucky. Berea College is notable because it was founded in 1855 by an abolitionist and admitted both white and black students from the moment its doors opened. But a second notable factor attracted Driver's attention -- it's one of a few "work colleges" in the United States. Students receive a tuition-free education in exchange for participation in the school's work-study program. By attending Berea, Driver wouldn't have to worry about being a financial drain on her parents.
Driver says she had realized by the time she attended college that she excelled at writing and enjoyed it, but she couldn't fathom being able to make a living at it. Sublimating her desire to pursue writing as a career, she entered the sports medicine program at Berea because a close friend with whom she was attending college had chosen the program.
"I thought, 'I'll just do what my best friend Lee is doing and, basically, work with athletes,'" she says. "I'm an athlete; I'll just work with athletes. But I quickly discovered that I wasn't interested in that. And so I switched to English and was an English and Spanish major."
She earned her degree but was no closer to figuring out what she wanted to do. She was waiting tables when a former professor suggested she seek a master's degree in Spanish literature. She earned a spot in the University of Kentucky's graduate program.
"I got a lot of support to travel, because they wanted me to study in Spain," she says. "So everything they offered, I applied for it."
In two years, she earned her master's degree, and, three years later, she had landed her Ph.D. By the time she was writing her doctoral dissertation, there was little doubt in Driver's mind: She was a writer.
"The subject of [the dissertation] was violence against women in Mexico," she says of More or Less Dead: Feminicide, Haunting, and the Ethics of Representation in Mexico. "There was a really famous novel that was published about that topic. So, originally, I was supposed to be in the library writing about a novel. The problem was, I got really curious, and I wanted to go to the border and interview people. I just couldn't help myself. I started interviewing journalists and photographers, and then I went to the border. Once I was there, I thought, 'Real life is way more interesting.' And when you're writing about violence against women, I don't want to be sitting in the library saying, 'This old, male novelist says x.' I need to be in the streets, saying, 'The mother of this murdered girl is searching for justice.' And once that happened, I knew I didn't want to stay in academia. I just wanted to write. I wanted to be out there, talking to people about this stuff instead of just reading about other people talking."
Driver pitched her dissertation to an academic publisher, who published it as a book. Academic books are notoriously low earners, though, and Driver continued to apply for fellowships and freelance work to make ends meet. It wasn't easy. She "fell into" some translation work in Washington, D.C., that helped, but finances remained tight.
"I've tried to write a bunch of different times, and I've run out of money," she says. "Right now, freelancing is working, but it's very precarious. If you don't have a trust fund, if you don't have family money, if you don't have some kind of corporate secret job, it's a continual process. It's not easy do to, financially."
Outside the mainstream
Though Driver eschewed learning her parents' trade as a child -- "You know, you always reject what your parents do," she says -- ironically, she now finds herself in the same position they've been in their whole lives: trying to make a living with art.
"They gave me a really great model, because I know this is what I want to do," she says. "It takes a lot of courage to do things outside of what's defined as 'acceptable' by society. I know what I'm doing one month from now, but I don't know what I'm doing two months from now. You've got to be pretty calm, and you can't think, 'Oh my God, my life is a disaster.'"
Driver's life has in fact never been more exciting, especially with the election of the new United States administration in 2016. Her expertise in certain subjects -- migration, violence in Mexico (specifically against women) and life for women in countries where abortion was illegal -- conflated with some of the language used by President Trump both during his campaign and after he was elected. She often gets work as a result.
"Basically, anything the president says gets picked up and recycled a thousand times by the media," she says. "So, definitely, my work has gotten a lot more relevant to the news cycle, you could say."
If anyone is qualified to give an accurate view of what's actually happening with any of these subjects, it's Driver. She is fearless in pursuit of a story. In an essay for Lenny Letters, she lists the dangerous places she's found herself: In Mexico City when a 7.1 magnitude earthquake hit. In San Salvador shortly after it was deemed the most dangerous city in the world. On a trek through Guatemala, Honduras and El Salvador in pursuit of a story on migrants. Driver's reasoning for going after these stories despite the risk is simple and to the point.
"In these dangerous places, women's stories are often forgotten," she writes in the essay. "The only news that is reported is by and about men and often focuses on gangs and cartels. Rather than feeling afraid, I prepare. I hire a local female journalist as a fixer, use my skills as a translator, find a female or non-binary photographer from Women Photograph and put together a team that will tell an important story."
Making an effort to hire women photographers is another place Driver is making a difference. She recently became aware of the fact that only 15 percent of photographers at United States news outlets are women.
"And it's not because there aren't women photographers," she says. "And so I just said, 'If major news outlets aren't going to hire women, I'm going to hire women.' And it's been wonderful to put together teams and collaborate. In this one case, I was working with women in the trans population, and I do think that women photographers can have easier access to certain populations, photographing intimate moments and working with children who are migrants. And I think that needs to be recognized."
Driver has several projects open right now: She's working on a three-part series on migrants for Longreads -- for which she hired women photographers as partners -- and continues to follow the asylum seekers making their way to the United States/Mexico border. She says she was "compelled" to cover this story.
"The Trump administration has promoted false information about the migrant caravan, and it is important to have journalists on the ground reporting the truth," she says. "President Trump has said the caravan is made up of criminals whereas, in reality, over half the caravan -- some 2,300 members -- are children. These are families looking for a better life, people fleeing unimaginable violence, and we should treat them with kindness always. I am not arguing that they should all be accepted in the United States, merely that we should follow international law and let them request asylum at the U.S. border."
Time, CNN, The New York Times, National Geographic, PRI, Huffpost -- Driver's resume continues to grow. She's also accepted a position as a regular columnist for Longreads. Yet, she says, as a freelance journalist, the future is always uncertain.
"A friend of mine who is a writer and is also a dog sledder said that one of the things she's learned from her sled dogs is that when you're in a race, you should never look back," she says. "You're going to make a bunch of mistakes, you're going to go broke, all kinds of things. But you've got to keep thinking that you can do it. If you're persistent, you accumulate publications and projects and experience, and nobody can take that away from you."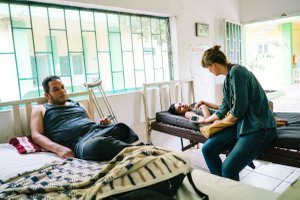 Photo courtesy Cambria Harkey Alice Driver interviews a migrant in Tapachula, Mexico, who was mutilated trying to take the train known as "La Bestia" (The Beast) through Mexico to reach the United States-Mexico border.
NAN Profiles on 11/18/2018