"Quack" is a derogatory term for a faux medical man. Dr. Thad Hardin says that doesn't bother him a bit as he gears up for Conway Regional Health System's inaugural Duck Derby.
"I feel like I'm pretty legit," says Hardin, who got his M.D. from the University of Arkansas for Medical Sciences, class of 2007, and has for eight years been a family practice physician on the health system medical staff. He's also on its board of directors.
The competitive team duck hunt will take place Jan. 11 on private land that folks across and outside central Arkansas will have donated for its use. A banquet designed also to appeal to nonhunters, complete with a silent auction and a raffle with big-ticket items, takes place the previous night, Jan. 10, in the Spiritan Center at Conway's St. Joseph's Catholic Church.
The combined event is a fundraiser to raise awareness of the health system's men's health programs and its guest house. "Nothing pulls guys together like a great hunt and this also is an opportunity for us to focus on men taking care of their health, a topic that men rarely discuss," Hardin says. "We are fortunate to provide comprehensive men's health services to our community, but they do us no good if men don't take a proactive role in taking care of themselves. So our goals are two-fold with this event."
He's also not worried about attracting duck hunters to chilly flooded fields in the early hours of a January weekday. "There's no better excuse from going to work than a good duck hunt," he insists.
The event was the brainchild of Hardin, an avid outdoorsman and hunter. An Arkansas native, he graduated from the University of Arkansas, Fayetteville, in 2003. He and his wife have two sons. They attend Antioch Baptist Church in Conway.
"I've been hunting for a long time, and duck hunting is my particular favorite brand of hunting," he says. "I've participated in some other competitive hunting events, and I thought that idea of a competitive hunting event to raise money for a local foundation would go over particularly well in Conway and central Arkansas.
"Then I referred it to really good people to make it happen."
An organizing committee of 15 includes several fellow physicians, including Andrew Cole and Lew McColgan; members of the health system board; community leaders; and executives from Conway corporate, civic and educational institutions -- Nabholz Construction, Conway Corp., the University of Central Arkansas, First Security Bank, Trinity Development, JSI Partners LTD, American Safeguard Insurance, Crain Automotive, C2 Powersports & DeBoard Electronics and Simmons Bank.
Details of the hunt, including registration, are still taking shape and are to be posted on Conway Regional Health System's Facebook page. It'll cost $1,200 to register a four-man team; Hardin says they're hoping to have 25 teams participating. The winning team receives a premium prize package that likely will consist of multiple items -- that can be equally divided among the team, as well as the landowner who donates property for the hunt.
Hardin says you're supposed to have a duck hunting permit but if you don't, you're risking getting caught by the game warden. "We're not going be checking licenses -- that's on you," he explains. "You'll be hunting at your own peril, and if you do something illegal while you're hunting, that's between you and the Arkansas Game and Fish Commission."
He's also hoping to draw several hundred people to the Thursday night banquet, expecting nonhunters in addition to the hunters, the sponsors and landowners donating fields for the hunt, hunters and nonhunters. The $40 admission price will include a catered meal -- barbecue or fish, he says, but not duck.
"The neat thing about this banquet is, where the usual hunting banquet -- Wild Turkey Federation, Delta Waterfowl; all of those banquets are geared toward the hunter. Our banquet, we'll have plenty of prizes geared toward the hunter, but many of our silent auction items will be geared toward the nonhunter."
It will also include a silent auction and a raffle, including among the big-ticket items a Legend Craft boat, motor and trailer and a 2019 Polaris Ranger side-by-side. They'll only sell 500 of the $100 raffle tickets to increase buyers' odds of winning something.
Organizers have been tracking down landowners and arranging details, but Hardin admits nobody on the committee has the assignment to recruit the ducks, who have been known to just show up on flooded fields during duck hunting season, but the presence of which is not guaranteed. "That's why it's called 'hunting' and not 'killing,'" he explains.
Hardin says he and his fellow organizers are expecting this to do well enough to reprise it for years to come. "All signs are pointing toward it doing well enough, year after year, until it runs itself. The more streamlined it gets, with repeat landowners, repeat sponsors, we won't have to do so much work in the future."
The one thing that won't exactly be around to repeat, of course, will be the ducks, but, Hardin notes, they go back north every year and breed, and new ones come back. "Properly treated, they are a renewable resource."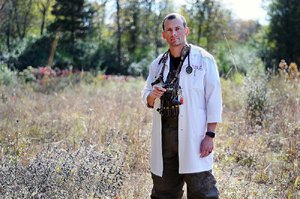 Photo by Special to the Democrat-Gazette/Heather Collins, Sells Agency
Conway Regional Medical Center's Dr. Thad Hardin is out, standing in his field, getting ready for the inaugural Duck Derby fundraiser.
High Profile on 11/18/2018