I'm pretty sure no one needs the 125 tracks -- the six hours and 22 minutes -- of The Beatles (aka White Album) Super Deluxe edition I've just downloaded.
The market for a set like this is limited to fetishists and completists and that strange baby-boomer contingent that can't quite let go of the idea of actually owning one's own music. The cheapest way to get into this set is to download it, which on iTunes will cost you $69.99. More people are likely to opt for the six-CD single Blu-ray version, which can be found for about $139, while a four-LP set on 180-gram vinyl (which obviously doesn't include all the music available digitally) is going for about $100 and a three-CD version is about $30.
I've had the double album since a few days after it was released on Nov. 22, 1968. It was a belated birthday present. I still remember slitting open the shrink wrap and being impressed with how adult and expensive the package seemed -- there was a serial number, the band's name embossed in helvetica, head shots of the band members, a poster with photos (John shampooing in the bath in the upper left) and the lyrics printed on the back.
When I replaced that copy in the mid-1970s (because vinyl records do wear out), the packaging was noticeably cheaper. "The Beatles" was no longer embossed on the cover, just printed in light gray. There was no serial number. The head shots were paler and the card stock felt flimsy.
At some point I got it on audiocassette tape. When it came out on CD in 1987, I got it then. Nine years ago, I got both the new stereo and the new mono mix of the album in boxed set releases.
On top of all the official releases, I've got hundreds of Beatles bootlegs and outtakes. (When you write about pop music for 40 years, you acquire these things.) And I'm not an obsessive Beatles fan. After I determined I preferred the mono mixes, I gave the stereo boxed set to a friend. My attitude toward the Beatles is that they're great, but I've pretty much heard them. I don't automatically switch over to Outlaw Country when they pop up on Little Steven's Underground Garage, but sometimes I do.
Still, I dig this new set. There's stuff I probably will listen to once -- like the 54 seconds of "Lady Madonna (Backing Vocals from Take 3)." I don't think the 2018 stereo mix is any great improvement over the mono mix (although the stereo version of "Helter Skelter" is superior, if only because Ringo's agonized shout of "I've got blisters on my fingers" is missing from the mono version). But more than anything else, this set humanizes the still-young gods who were the greatest pop band the world has ever known. You can hear them as they were never meant to be heard, as a real band, striving to pluck magic from the air.
The meat of the set, aside from the tracks from the original album with which everyone reading this story is likely to be familiar, are 27 songs recorded in George Harrison's country house in Surrey, Kinfauns, in May 1968. These so-called Esher tapes -- named for the nearby town -- have been available as bootlegs for decades, since (the legend goes) John Lennon traded a cassette copy of them to a fan sometime in the mid-1970s. The digital revolution of the past 20 years probably means that everyone with a deep interest in the band has at least heard some of these tracks (albeit often in sonically compromised versions); the official release of these tracks is a mild revelation.
The feeling is loose and collegial, in opposition to the perceived notion that by 1968 the Beatles were barely speaking to one another. The recordings were made on a four-track machine that allows for minimal production, maybe here and there a guitar overdub or double-tracked vocals, but it's mostly hootenanny-style guitar strumming and vocals. It feels a lot like the 1965 album Beach Boys' Party!, which presented Brian Wilson and company in an all-acoustic context, singing a few of their hits (and covers, including one of the Beatles' "I Will") in an imagined beach-party campfire singalong setting, with band members' harmonizing while playing dreadnought guitars, bongos and playing tambourine. (That album was marred by the inclusion of canned audience noise, a lapse in taste that was corrected in 2015 when an expanded edition, retitled Beach Boys' Party!: Uncovered and Unplugged was released.)
But the Beach Boys project was an ersatz singalong released as a stopgap because Capitol was pressing the band for an album and Brian Wilson was deep into the weeds with the sessions that would become Pet Sounds. So the Beach Boys pretended to record an informal guitar pull.
But what the Esher tapes represent is the Beatles genuinely working to figure out their future in an interesting time in their lives.
Their manager, Brian Epstein, had died. George Martin, their longtime producer, was absent through a lot of the recording of what would become known as the White Album. And, as conventional wisdom holds, the boys were starting to explore individual interests. Paul McCartney had some ideas about experimenting with musique concrete, Harrison had discovered Indian music, John Lennon had discovered Yoko Ono. They'd all -- to some degree, with Ringo Starr being the most skeptical -- discovered transcendental meditation and become disillusioned with the movement's leader Maharishi Mahesh Yogi, after spending time with his Sexy Sadie self in his ashram in India in February.
(A lot of the songs that ended up on the White Album were begun in India, where the boys were insulated from the demands of their schedules and fans.)
Some of the songs here are well-fleshed out -- the strummy version of "Back in the USSR" that kicks off the session is loose, but the tandem vocal (John and Paul) is harmonically tight, with a Beach Boys-y flourish at the end of the chorus and McCartney's delightful scatted version of what would, on the final track, become the electric guitar solo.
In other places, the Beatles sound wonderfully fallible -- the Esher version of "Happiness Is a Warm Gun" got some much needed editing in the studio, and Lennon's "Child of Nature" is a beautiful melody married to a sappy lyric inspired by one of Maharishi's lectures. It was much better when it was refitted and released as "Jealous Guy" on Lennon's Imagine album in 1971. ("Mother Nature's Son," McCartney's response to the same lecture, feels nearly complete in its Esher version.) Harrison's "Circles," which didn't get an official release until his 1982 album Gone Troppo, arguably the most forgettable of all solo albums from former Beatles, which feels about right.
But then there's a cool, tuneful version of "Mean Mr. Mustard" that might cut the version familiar from Abbey Road if you like articulate acoustic guitars. And Harrison's "Sour Sea Milk," which was eventually recorded and released by Apple Records signee Jackie Lomax (Harrison produced and contributed a searing guitar solo to Lomax's recording) is interesting, and would have made a reasonable alternative to Harrison's "Savoy Truffle," which appears on the album and seems to be working through some of the same melodic ideas.
But it's Harrison's folky finger-picked version of "While My Guitar Gently Weeps" that's the highlight of the set, even absent Eric Clapton's indelible solo. Here an expanded lyric seems to address both the recent fiasco in India and the coming apart of his band. ("The problems you sow/are the troubles you're reaping.")
The White Album isn't the best Beatles album -- that's probably Revolver or Rubber Soul -- but one thing this set makes clear is that it definitely is a Beatles album, not a collection of songs by four disparate solo artists as it has often been portrayed. And the new version is completely unnecessary.
Unless you have to have it.
Email:
pmartin@arkansasonline.com
blooddirtangels.com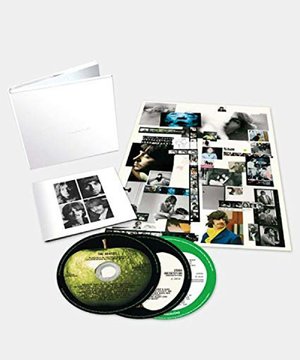 The reissue of The Beatles, aka the White Album, has several formats including this three-CD version.
Style on 11/18/2018