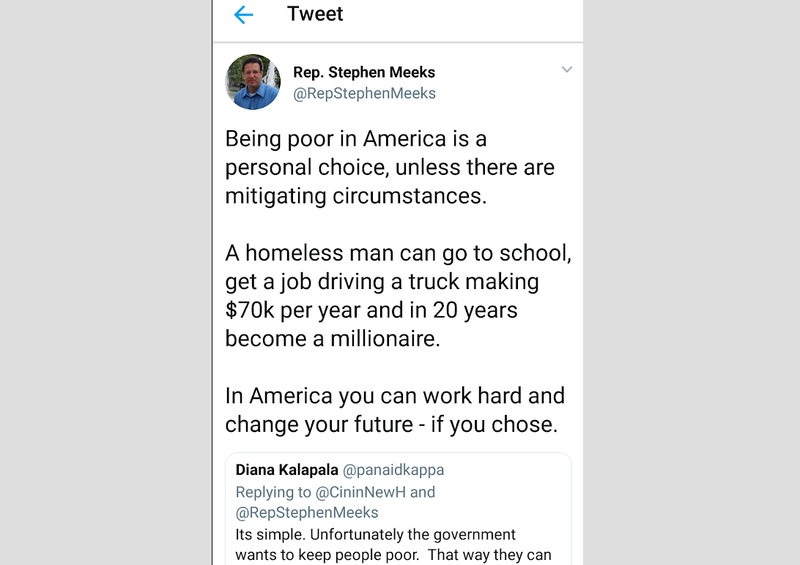 This screenshot shows a tweet posted by Rep. Stephen Meeks asserting that being poor "in America is a personal choice."
An Arkansas representative who wrote on Twitter that poverty is a "personal choice" has apologized to people offended by the post, which he said was poorly worded.
Rep. Stephen Meeks, R-Greenbrier, tweeted Saturday that being poor "in America is a personal choice, unless there are mitigating circumstances."
"A homeless man can go to school, get a job driving a truck making $70k per year and in 20 years become a millionaire," he wrote. "In America you can work hard and change your future - if you chose."
In an interview, Meeks, a four-term legislator who is also a Papa John's Pizza delivery driver, said he originally wrote the tweet in response to a woman who said she was poor because of the government.
"I understand that there can be situations where there's health issues, addiction, family circumstances, things like that," he said. "But I also know from personal experience that someone in poverty can change that and change their life."
Meeks ultimately deleted the post after receiving thousands of replies in response. Many of the responses were critical.
Meeks said he deleted the post because "things were getting out of hand."
"A lot of those responses were negative, unfortunately people took the intent and twisted it," he said.
Blake Rutherford, an Arkansas native and political commentator who served as advisor to three attorneys general, tweeted that Meeks has "no business serving in the legislature."
Jesse Gibson, president of the Arkansas Trial Lawyers Association and chair of Little Rock Parks and Recreation, wrote that Meeks' tweet was "the most tone deaf, insensitive, and clueless statement imaginable."
Actor George Takei, who has more than 2.8 million followers on Twitter, also weighed in, calling Meeks a "completely moronic and out-of-touch representative."
Throughout Saturday, Meeks continued to issue tweets asserting instances in which the poor became wealthy, including a series of "myths" and "truths."
On Sunday morning, Meeks tweeted again, calling the original post a "poorly worded tweet expressing my belief in the American dream."
"Based on the responses there are a lot of people who believe the American dream is out of reach," he added. "That is something we need to change. I apologize to anyone I offended that was not my intent."
Some on Twitter continued to criticize the representative, writing that his apology did not address his assertion that those in poverty choose to be there.
Billy Fleming, an Arkansas native and former member of the White House Domestic Policy Council, wrote that the "wording wasn't the problem."
"The sentiment that poor people are poor because they're somehow defective was," he wrote.
Sponsor Content