HOT SPRINGS -- The owner of Oaklawn Racing & Gaming on Monday announced a plan to spend more than $100 million the next two years to build a 200-room hotel and expand its casino by 28,000 square feet.
The $100 million project will be one of the state's largest-ever private investments in the hospitality and tourism industry, Louis Cella, president of the Oaklawn Jockey Club and owner of the track, said during a news conference near the track's paddock area. About 200 people, mainly a variety of state and local officials and others involved in the hospitality industry, attended the event.
Oaklawn officials had previously announced a change to the thoroughbred track's 2019 racing season. Its 60-day meet for live racing will open Jan. 25, a couple of weeks later than usual, and close on May 4, the day of the Kentucky Derby at Churchill Downs in Louisville, Ky.
Cella called the project "a new chapter" in Oaklawn's 114-year history, its third expansion since 2008, and a boost to Oaklawn's place in thoroughbred racing nationwide and to Hot Springs as a "premier tourism destination."
Cella said the project has been planned for four years and would have happened without voters' passage earlier this month of a constitutional amendment allowing casino gambling. The amendment allows casinos at the state's two racetracks -- Oaklawn and the Southland Gaming and Racing greyhound track in West Memphis -- and a casino in Pope and Jefferson counties.
The project includes:
• A 7-story, 200-room hotel with an outdoor pool, luxury spa, a restaurant and two "presidential" suites. Rooms on one side of the hotel will have a view of the track's finish line; those on the other side will have a view of the Ouachita Mountains to the south.
• A 14,000-square-foot event center, with a capacity for about 1,500 people for concerts, meetings, banquets and weddings.
• Another 28,000 square feet will be added to the casino that abuts Oaklawn's south end, with a new restaurant and food court.
Construction will start right after the track's live racing season concludes May 4, Wayne Smith, Oaklawn's general manager, said. The expanded casino should be complete by January 2020, with the hotel and events center completed by late 2020.
Smith said more than 400 people will be hired full time when the project is complete. About 2,300 people will be involved in the construction, he said.
Construction won't interfere with actual operations of the gaming center or the racetrack except for some detours getting in and out of the facilities, he said.
Although it has opposed similar gambling initiatives in the past, Oaklawn officially stayed neutral on the ballot initiative approved by voters by a margin of 54 percent to 46 percent.
Gov. Asa Hutchinson said Oaklawn officials came to his office in October to discuss their plans. "This investment would have happened without Issue 4," Hutchinson said, referring to the measure approved by voters. "I can't take credit, because this is a private investment, but I still get to celebrate it," he said.
No state money or incentives are part of the project, he said.
Hutchinson said some 1,500 people work at Oaklawn during the horse-racing season. "That's a 200-million economic impact," he said.
Steve Arrison, chief executive officer of the Hot Springs Advertising and Promotion Commission, said Oaklawn's expansion will have a positive "ripple effect" on the rest of Hot Springs' restaurants, hotels, museums and other attractions. Oaklawn's event center, will complement, not compete with, the city's downtown convention center, Arrison said.
Smith, the track's general manager since March 2017, said Oaklawn will eventually increase its purses. The addition of a turf track also is possible, he said.
The gaming amendment approved by voters also allows wagering on sports, but Oaklawn officials said Monday they weren't ready to address that issue.
The Arkansas Racing Commission also still must issue rules and regulations for the casino amendment.
Oaklawn named HGB Design of Memphis as the architect for the expansion and Flintco Construction of Springdale as the contractor.
In August, state Department of Finance and Administration officials projected the state would receive $36 million less a year in fiscal 2020 and 2021 and then $14 million less in fiscal 2022 under Issue 4.
They attributed the projected revenue drop to two factors: Oaklawn Racing and Gaming in Hot Springs and Southland Gaming and Racing in West Memphis being taxed at a lower rate; and the assumption that the two other casinos wouldn't open until fiscal 2022.
A study commissioned by Driving Arkansas Forward, the group behind getting the casino issue on the ballot, projected that 3,000 new jobs would be created in the gaming industry, with a similar number employed indirectly, if the measure passed. The study projected an increase of $5.8 billion in the state's gross domestic product over the next decade.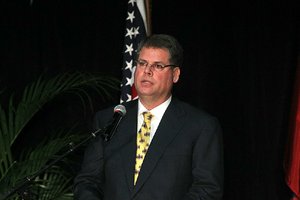 Photo by Richard Rasmussen
Oaklawn Jockey Club President Louis Cella announces a $100 million expansion plan for Oaklawn Racing & Gaming on Monday in Hot Springs.
A Section on 11/20/2018