STUTTGART -- The Museum of the Arkansas Grand Prairie is well worth visiting any time of year. But this Friday and Saturday are prime occasions for stopping by.
That's because Stuttgart, 50 miles southeast of Little Rock, is staging its 83rd annual World's Championship Duck Calling Contest and Wings Over the Prairie Festival. This is one of the state's liveliest yearly events, with the contest's grand champion winning a prize package worth more than $15,000.
Displaying no false modesty, signs at the outskirts of town proclaim Stuttgart to be "Rice and Duck Capital of the World." The museum pays due respect to the importance here of rice farming, but gives a lot more attention to ducks and their avian kin in the several rooms of the Waterfowl Wing.
A centerpiece of the wing is a diorama showing ducks and their relatives of various species swooping and landing to feed in a rice field. At one edge of the exhibit is a duck blind, a reminder that the main point of attracting the birds each fall is to take aim at them.
Near the entrance to the Waterfowl Wing, preserved behind glass, is a dazzling artifact created by Ruby Abel. A Stuttgart resident who was a professional "duck dresser," gutting and plucking the birds, she twice won the Women's World Championship Duck Calling Contest.
In the mid-1960s, Abel took 450 heads of mallard ducks, pulled off their iridescent green feathers and sewed them into a coat. Later called the "Coat of Many Feathers," it has an estimated value of $20,000. Until Abel's death in 1985, it was displayed at her Sportsman's Restaurant. She willed it to the museum.
Another novel creation, perched on a top shelf, is a hat made from the tail feathers of mallards. It was crafted by Arthur J. Longtin for the inimitable Willie Oates, known around the state as the "Hat Lady" for her eye-popping chapeau collection.
Along with its Waterfowl Wing, the Stuttgart museum shows antique farm equipment and automobiles, a rural schoolhouse and a scaled-down reproduction of early Main Street stores among its more than 10,000 objects. Outdoor structures include a copy of a German Lutheran church scaled to two-thirds actual size.
Wings Over the Prairie Festival preliminaries have been going on since last Saturday, starting with the Queen Mallard and Junior Queen Mallard pageants. On today's Thanksgiving holiday, the only listed activities are rides and concessions on the midway starting at 3 p.m.
The simulated quacking begins at 10 a.m. Friday with the Children's Duck Calling Class for ages 4 to 8, followed at 11 a.m. by the Chick and Sophie Major Memorial Duck Calling Contest open to high-school seniors. The Intermediate World's Championship contest begins at 2 p.m., preceding the Last Chance Regional contest at 3:30 p.m.
Saturday brings the really big duck-calling competitions on the Main Street Stage: Junior World's Championship at 9 a.m. Women's World Championship at 10 a.m., and main World's Championship at 2 p.m.
Also on Saturday's schedule is the Great 5K/10K Duck Race (for humans, not waterfowl) at 8 a.m. A Baggo Tournament of bean-bag tossing begins at 11 a.m., with the World Championship Duck Gumbo Cook-off also starting then.
The stupendous growth of the contest and festival can be grasped by the fact that the winner of the first competition in 1936, Mississippian Thomas E. Walsh, received only a hunting coat valued at $6.60.
Walsh was just one of two victors over the past 82 years who produced the quacking sounds in his throat rather than by using a carved duck call. There have also been only two times when the grand champion was a woman who out-called all the men. She was Stuttgart's aptly named Pat Peacock, in 1955 and 1956.
Museum of the Arkansas Grand Prairie, 921 E. Fourth St., Stuttgart, will be open 8 a.m.-4 p.m. Friday, 10 a.m.-4 p.m. Saturday. It is closed today for Thanksgiving. Admission is free, with donations welcome. Visit grandprairiemuseum.org or call (870) 673-7001.
For information on the 83rd annual World's Championship Duck Calling Contest & Wings Over the Prairie Festival, visit stuttgartarkansas.org. Admission to festival grounds is free, but there are charges for some events.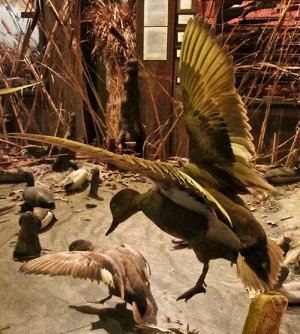 Photo by Special to the Democrat-Gazette/MARCIA SCHNEDLER
A diorama in the Waterfowl Wing depicts a number of species at Stuttgart's Museum of the Arkansas Grand Prairie.
Weekend on 11/22/2018