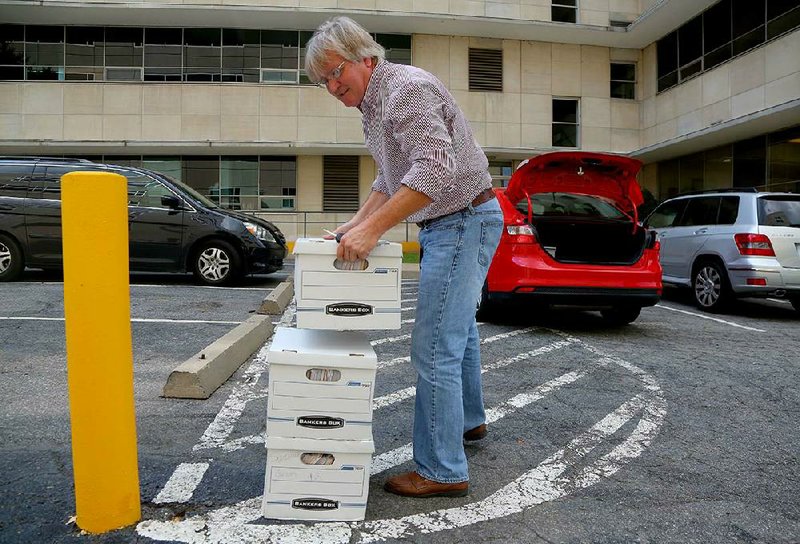 David Couch unloads boxes Friday outside the secretary of state's office that he says contain petitions with more than 41,000 signatures in this 2014 file photo. ( Stephen B. Thornton)
As vote returns began rolling in on election night this month, the architect of one of Arkansas' successful ballot measures chatted online with people backing redistricting initiatives in Missouri, Michigan, Colorado and Utah.
In those four states, voters approved initiated measures that supporters said would make the redrawing of legislative and congressional district boundaries less partisan.
David Couch watched the results come in with an eye toward 2020, when he hopes to put a similar proposal on the ballot.
Arkansas voters have approved initiated acts and constitutional amendments -- this year, on wage increases and an expansion of casino gambling, and in 2016, the legalization of medical marijuana -- over the opposition of Republican leaders. Couch proposed the initiated act on the minimum wage and the constitutional amendment on marijuana.
The success of those citizen-pitched measures has spurred advocates such as Couch to draft more ideas to put before voters in two years.
Besides Couch's redistricting measure, other proposals would legalize recreational marijuana; alter campaign finance; allow voting by mail; and make other electoral changes that are gaining ground in other states.
"There are a lot of popular populist issues out there that for whatever reason the General Assembly doesn't want to take on themselves," Couch said recently. "I've always said this, Arkansas is more of a populist state."
Arkansas voters also tend to approve amendments referred to them by lawmakers. In the most recent election, they approved an amendment that will require voter identification. The Legislature is allowed under the constitution to refer three constitutional amendments when it meets in regular sessions.
In just the first day of bill pre-filing ahead of the 2019 regular session, lawmakers submitted proposals to end the biennial fiscal session and to change primary elections so all candidates face off in the first election, regardless of party.
Couch has already cleared the first hurdle toward getting his redistricting proposal on the 2020 ballot: The attorney general's office approved the wording of its popular name and ballot title. Couch said he will soon begin the process of soliciting the roughly 89,000 valid signatures of voters required to put the proposal on the ballot.
Once they get on a general election ballot, constitutional amendments and initiated acts require a simple majority of votes for approval.
[EMAIL UPDATES: Get the latest politics stories delivered to your inbox]
Couch headed a committee that spent more than $885,000 in 2016 supporting the medical-marijuana amendment. Most of the money went to pay canvassers to gather signatures.
He said he was likely to use a similar method to gather signatures for his redistricting proposal. He said the funds likely would come from 501(c)(4) groups -- defined by the IRS as "social welfare organizations" -- and would be disclosed in public reports to the state Ethics Commission.
"We've always been open about it," Couch said.
"If you have enough money, you can go a long way to put things on the ballot and get people to vote for it," said Jerry Cox, the president of the conservative, faith-based Family Council. Family Council opposed the casino amendment but relied on a grass-roots efforts to fight it. Supporters of that amendment spent more than $6.9 million on their effort.
REDISTRICTING
Redistricting of legislative and congressional boundaries takes place after the U.S. Census, next scheduled for 2020. Over the decades, Republicans and Democrats across the country have been accused of gerrymandering, or redrawing districts to favor their candidates.
State and federal courts in North Carolina and Pennsylvania ruled that the GOP-drawn maps there were so skewed that they violated the U.S. Constitution. The courts ordered them to be redrawn. Challenges to the maps in other states are pending.
In addition to the four states where voters supported overhauls this month, Ohioans approved a new redistricting process in the spring that requires greater input from members of the minority party.
"We've never seen that much activity around reform," said Michael Li of the Brannon Center for Justice's Democracy Program. Redistricting initiatives "passed in all those states with bipartisan support. They're outperforming Republicans in those states."
Li said the Brannon Center does not offer financial support to initiatives that would change the redistricting process.
In Arkansas, redistricting of the four U.S. House districts is done by the Legislature, while a Board of Apportionment made up of the governor, attorney general and secretary of state draw the boundaries for state legislative districts.
Democrats controlled both processes when the lines were last drawn in 2011, but were unable to stop Republicans from taking control of the Legislature and statewide offices.
Now set to control the process after the 2020 Census, Republicans such as Gov. Asa Hutchinson have accused Democrats of wanting to change the rules.
But Couch, an attorney from Little Rock, said voters "are tired of politicians doing things for politicians, and not for people."
Under Couch's proposed constitutional amendment, the majority and minority leaders of the state House and Senate would together appoint four members of a seven-member redistricting commission. Those appointed members would in turn pick three others to fill the remaining seats.
The amendment also proposes rules on what the redistricting commission may and may not consider when drawing the district lines. For example, the commission would be required to minimize splitting up counties or cities into different districts, and would be barred from considering data on voters' party affiliations and the home addresses of incumbent lawmakers.
RECREATIONAL POT
When Arkansas voters approved the legalization of medical marijuana in 2016, voters in four other states -- California, Nevada, Maine and Massachusetts -- moved ahead with full legalization of recreational marijuana.
Since then, two more states have followed suit, according to the National Conference of State Legislatures, raising to 10 the number of states with full marijuana legalization.
Two marijuana advocates in Arkansas, Melissa Fults and attorney John Wesley Hall, said they see an opportunity for Arkansas to become the first state in the South to legalize recreational marijuana. They've drafted several proposals for a ballot amendment in 2020, all of which so far have been rejected by Attorney General Leslie Rutledge.
In written responses declining to certify the "Arkansas Cannabis Amendment" submitted by Fults and Hall, Rutledge pointed out "fundamental flaws" with the language in their proposal.
Rutledge said it was "unclear" what effect the amendment would have on Arkansas' medical-marijuana program. (Medical marijuana is expected to be available early next year.)
Her office has rejected more than a dozen proposals related to marijuana legalization the past three months.
Rutledge drew criticism earlier this year for repeatedly rejecting citizen-drafted measures, including Couch's minimum wage and redistricting proposals, based on similar alleged deficiencies.
Defending her office's decision not to certify the proposals, Rutledge said the Arkansas Supreme Court had set exacting standards by knocking previous measures off the ballot after they had been certified by her office.
Ultimately, faced with lawsuits and an ultimatum from the state Supreme Court, Rutledge approved the measures, though she said the justices had "muddied the waters" by forcing her hand.
Hall said he was preparing to submit a new draft to Rutledge around the first of the year.
Commercial companies that have prospered in states with legal marijuana likely would offer financial backing to a legalization effort in Arkansas, Hall said. And he pointed to prominent Republicans who have lent their support to legalization.
"If [former Republican Speaker of the House] John Boehner is for it, why isn't the whole world for it?" Hall said recently.
However, Cox, the Family Council director who opposed the 2016 medical-marijuana amendment, said he did not believe Arkansas' voters were ready to take the next step so soon after approving medical marijuana.
"I don't believe public opinion will allow recreational marijuana to pass," Cox said. He cited polling from 2016 that showed voters were "very strongly against" full legalization.
[2018 ELECTION: Full Democrat-Gazette coverage of Arkansas races]
Couch said he has no plans to become involved in marijuana legalization efforts in 2020.
However, he speculated that voter frustration with the Medical Marijuana Commission -- which hasn't moved fast enough for some in making medical marijuana available -- could lend support to full legalization in 2020.
ELECTORAL CHANGES
Fults, the backer of legalizing marijuana, also said she planned to pitch separate initiated acts to a create a vote-by-mail system in Arkansas and to establish ranked-choice voting.
Mail-based voting was one of the key policy goals of Susan Inman, a Democratic candidate who lost her bid for secretary of state to Republican John Thurston.
A former state elections director and Pulaski County election commissioner, Inman said voting by mail would increase voter turnout while cutting costs. Opponents of mail-voting, including Thurston, questioned its security.
According to the National Conference of State Legislatures, only three states -- Oregon, Washington and Colorado -- mail ballots to every voter in each election. In all, 22 states allow voting by mail in certain elections.
Ranked-choice voting is an even rarer form of voting in the United States.
According to the nonprofit advocacy organization FairVote, only Maine uses ranked-choice voting for state and federal offices, though several major cities, including Minneapolis and San Francisco, also use the system for local elections.
Two recently submitted proposals from Fults' husband, Gary Fults, propose a ranked-choice voting system similar to the one established by Maine voters through a 2016 ballot measure.
While filling out their ballots, voters would rank their preferred candidates for each office. If no candidate receives a simple majority, vote counters would take ballots cast for the last-place finisher and reassign those voters' next highest choice to the remaining candidates, until one has a majority.
Because the system automatically reassigns votes for low-polling candidates, ranked-choice voting eliminates the need for runoff elections. As such, this method is sometimes called "instant-runoff voting."
After reviewing the proposal, Rutledge rejected the measure, writing that she believed the courts would question whether voters would understand the the system, which she called "a radical change in election law."
In its first general election test in Maine, incumbent U.S. Rep. Bruce Poliquin, a Republican, was the only member of the state's congressional delegation not to reach a 50 percent threshold during the first round of voting. After tallying the votes in the instant runoff, Poliquin's challenger, Democrat Jared Golden, was declared the winner.
State Rep. Dan Douglas, R-Bentonville, has proposed a constitutional amendment that would change Arkansas' partisan primary election into a nonpartisan blanket primary, the so-called jungle primary.
Currently, California, Louisiana and Washington utilize a jungle primary for all elections, in which the top two finishers, regardless of party, go on to a runoff. Nebraska uses the system for state legislative races.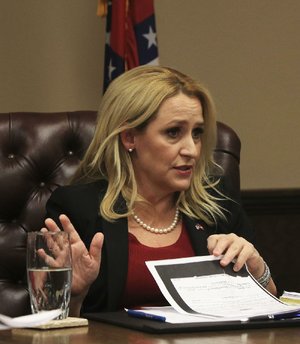 Photo by Staton Breidenthal
Arkansas Attorney General Leslie Rutledge is shown in her office in Little Rock in this file photo.
SundayMonday on 11/25/2018
Print Headline: Ballot-measure victories stir ideas for 2020, drive look at redistricting, recreational marijuana, vote changes
Sponsor Content