Lawmakers will be asked during next year's legislative session to approve the largest per-student funding increase for public schools in several years, but there are bipartisan concerns about whether the current formula is working.
In fiscal 2020, which begins July 1, school districts would receive base funding of $6,883 per student, up from this year's $6,781. If approved, the rate would increase by $102 per pupil in fiscal 2021, to $6,985.
Those increases (1.5 percent in fiscal 2020 and 1.48 percent in fiscal 2021) are being proposed after annual funding increases stagnated around 1 percent for each of the past four fiscal years. Additional money meant for teacher raises and operations and maintenance made up the bulk of the House and Senate education committees' recommended increases.
Throughout the committees' two-year educational adequacy reviews, members have questioned whether the recommendations include adequate funding increases and whether school districts will use the increased monies in the way legislators intended.
Some committee members have been particularly bothered that teacher salaries in some areas of the state have remained stagnant despite increased state funding for raises.
"A lot of people on both sides of the aisle see the variation in how schools are getting dollars to teachers," said Senate President Pro Tempore-elect Jim Hendren, R-Sulphur Springs. "We may disagree about the amounts and methods, but I think all of us agree that school districts aren't getting all the dollars to teachers that are meant for teachers."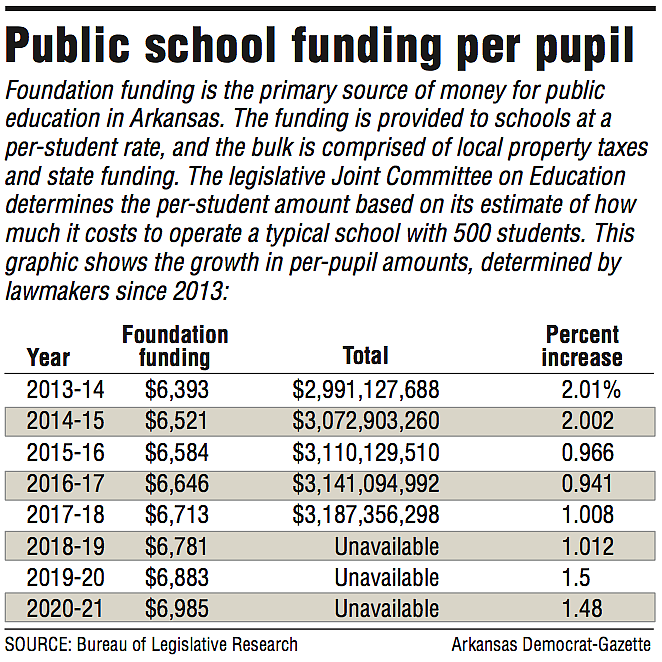 The education committees submit an educational adequacy report every two years before each regular legislative session. The report is required every two years because of a series of laws passed in the aftermath of several Arkansas Supreme Court decisions on the equity of kindergarten-through-12th-grade education in the state. Education accounts for more than half of the state's annual general revenue budget, and the governor takes the committee's report under advisement when generating the proposed budget.
[EDUCATION IN ARKANSAS: More coverage from the Democrat-Gazette]
Per-pupil funding, known as foundation funding, is the bedrock of public school funding in Arkansas. The money comes from a combination of state funds and local property-tax revenue. Schools receive other state and federal funds to supplement foundation funding.
For next fiscal year, the state expects foundation funding to cost about $3.17 billion, with $2.08 billion coming from state coffers and $1.28 billion from local property taxes.
Legislators determine the foundation funding amount using a matrix that takes into account an average school district's basic costs, such as faculty, staff, textbooks, transportation and utility costs.
However, school districts decide how to spend foundation funds, meaning they aren't required to raise teachers' salaries simply because lawmakers increased the line item for teachers in the funding matrix.
While lawmakers have complained that school districts haven't used increased allotments for teacher pay on salary raises, administrators and advocacy groups have countered that districts have been forced to use those funds on other areas of need.
John Karnes, the West Fork School District superintendent, noted that special-education costs in his district have more than doubled over the past decade.
"At that same time, additional funding for special education has been minimal at best," Karnes said in a public comment to the education committees. "In my district, there is no one area that is more grossly underfunded than special education, and we desperately need help."
The disconnect between lawmakers and school districts led to agreement among committee members to conduct a study over the next two years "to reconsider the state's funding structure and educational system."
The review could lead to simple tweaking of the components in the funding matrix or a complete overhaul, according to several members interviewed last week.
While some members would like to attach strings to foundation funding, Sen. Joyce Elliott of Little Rock, a longtime Democratic member of the committee, said that would require the committee to painstakingly review each district's needs on an individual basis.
"We would really need to do a granular study, not that I'm objecting to that," Elliott said. Funding "couldn't just be based on the prototypical school" as it is now, she said.
The House Education Committee chairman, Rep. Bruce Cozart, R-Hot Springs, said that transforming foundation funding into a spending model rather than a funding model is unlikely because it would get away from the matrix's original intent -- to ensure all public schools have equitable funding. He agreed with Elliott that a district-by-district funding review would be difficult.
"Plus, it would just make people want to spend more money because then they would get more money," Cozart said.
Hendren said that changing foundation funding to a spending model is a possibility for certain categories of funding.
"I think you're going to see some attention given to a method that makes sure that, particularly, dollars that are for classroom teachers, whether that's categorical funding or some sort of mandate from the Legislature, that some percentage of funding goes to the teachers," Hendren said.
Elliott said the method by which the state funds public schools is less important than ensuring that the money allotted is adequate.
Despite the funding jump recommended this year, several Democrats on the committee still didn't feel it was sufficient. The 1.5 percent funding increase fell between 0.5 and 1.4 percentage points below various inflation projections provided to lawmakers in August.
"Keeping up with inflation should be the floor," Elliott said.
Both committees' leaders said that the national inflation markers are unreliable and tend to run higher than actual economic conditions in Arkansas. This year's recommendations, they said, show a commitment from the Legislature to education in Arkansas.
"We got some things in there that kids and schools really need," Cozart said.
A Section on 11/26/2018