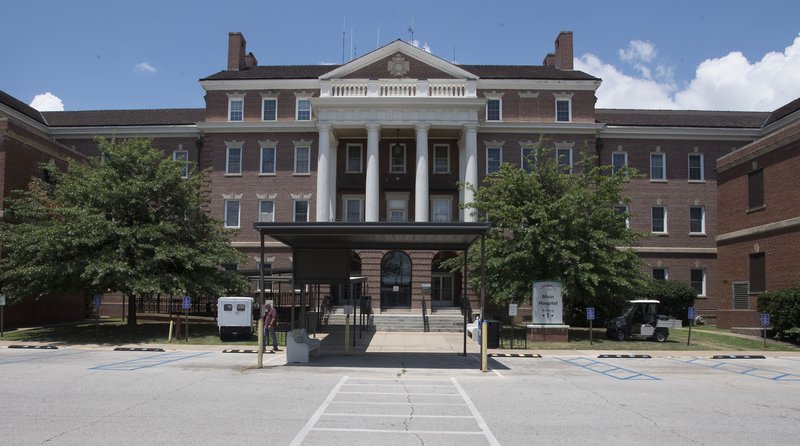 NWA Democrat-Gazette/J.T. WAMPLER Veterans Healthcare of the Ozarks July 2018.
FAYETTEVILLE -- Kelvin Parks, interim director of the Veterans Health Care System of the Ozarks for the past 10 months, was named the system's permanent director, according to a U.S. Department of Veterans Affairs announcement Monday.
Parks took over as interim director after Bryan Matthews, who had served two years, left in January to direct a Veterans Affairs facility in Biloxi, Miss. Parks was an associate medical center director at the time, a position comparable with a chief operating officer at a corporation.
Ozarks system administrators concluded in October 2017 a pathologist who analyzed tissue samples had worked while impaired. The nature of the impairment was not disclosed by the administration, citing personnel issues. The discovery launched a review of the pathologist's work.
Initial review results discovered at least one case in which misread pathology results appeared to have contributed to the death of a patient. The pathologist involved was suspended as soon as the impairment was alleged and dismissed in April.
The Veterans Affairs Department launched a comprehensive review, announcing the situation in a June news conference with Parks presiding. The review of all 33,806 cases dating back 13 years is expected to conclude this year.
As of the end of last month, review of 21,591 cases so far found 14 seriously wrong results, according to the latest report. Four of the veterans involved in those 14 cases have since died, but whether the missed diagnosis contributed to those deaths is under review.
Parks will oversee delivery of health care in the center as well as community-based outpatient clinics in Fort Smith, Harrison and Ozark in Arkansas, Branson and Mount Vernon in Missouri and Jay, Okla.
Parks is a retired Navy chief petty officer. He received his bachelor's degree in management from Crichton College in Memphis, Tenn., and his master's degree in management from Webster University in St. Louis.
NW News on 11/27/2018
Print Headline: Parks named VA director
Sponsor Content