Arkansas' first legal growers of medical marijuana expect to make the drug available next April.
Two of the five companies licensed to grow medical cannabis -- Bold Team of Cotton Plant and Natural State Medicinals Cultivation of Jefferson County -- testified before the Arkansas Medical Marijuana Commission on Wednesday that construction at both facilities was well underway, and they expected to plant the first seeds around the start of 2019.
The other three companies -- Natural State Wellness Enterprises of Newport, Delta Medical Cannabis Co. of Newport and Osage Creek Cultivation of Berryville -- estimated that they'd first have the drug ready for the marketplace between spring and summer of next year.
Officials from the Arkansas Department of Finance and Administration, which houses the commission, expect the first dispensaries to open by April. Dispensaries are allowed to grow a small amount of medical marijuana, but most of their supply is expected to come from licensed cultivators, who can only grow the drug and not sell it directly to patients.
"The main thing is once [cultivation facilities] are in place, that the dispensaries are open," said Dr. Carlos Roman, a commissioner. "And hopefully this process goes forward. Hopefully, that times out about right."
Arkansans legalized medical marijuana in the November 2016 general election, approving Amendment 98 to the Arkansas Constitution. However, legal and regulatory delays have stalled the implementation of a medical marijuana program in the state.
Cultivation licenses weren't issued until early July, and at least one growing company has yet to break ground on construction because of concerns about additional legal challenges.
Delta Medical Cannabis Co. asked the five-member commission Wednesday to let it move its facility about a mile and a half to avoid any legal conflicts resulting from its location near Arkansas State University-Newport.
State Sen. Bill Sample, R-Hot Springs, has requested an attorney general's opinion about whether ASU-Newport should be considered a school under Amendment 98. Under the amendment, medical marijuana facilities must be at least 3,000 feet from the nearest church, school or day care.
Both Natural State Wellness and Delta Medical planned to locate within 3,000 feet of ASU-Newport. The commission's own rules specifically exempt colleges and universities from the definition of "school." However, some have argued that ASU-Newport should be considered a school under Amendment 98 because it hosts students from nearby high schools for certain vocational and concurrent classes.
Don Parker, president of Delta Medical Cannabis, told the commission that the company was requesting the move out of an abundance of caution to avoid any further delays.
"We want to take off as much risk as we can," Parker said.
The commission voted to table a decision on the move until Attorney General Leslie Rutledge issues her opinion on the matter as requested by Sample. That opinion is in the final stages of drafting, said Deputy Attorney General Brian Bowen, who also provides legal counsel to the commission. He said the opinion will likely be released in the coming weeks.
Boyce Hamlet, director of the Arkansas Alcoholic Beverage Control Enforcement Division, said his division also expects in the coming weeks to complete its investigations of 15 complaints lodged against the five cultivation licensees.
Most of the cultivation companies are constructing their growing facilities in phases, allowing them to begin growing medical cannabis before construction is totally complete.
The groups said they will grow anywhere from 13 to 25 strains of cannabis, each with varying levels of certain cannabinoids (like THC and CBD) to treat different qualifying medical conditions.
"We're going to make sure that we have strains for every ailment that's part of the amendment," said Danny Brown, CEO of Bold Team.
Under Arkansas law, patients with one of 18 conditions can legally buy medical cannabis, which must be grown in Arkansas. The conditions are: cancer, glaucoma, HIV, hepatitis C, amyotrophic lateral sclerosis, Tourette syndrome, Crohn's disease, ulcerative colitis, post-traumatic stress disorder, severe arthritis, fibromyalgia, Alzheimer's disease, cachexia, peripheral neuropathy, severe nausea, seizures, severe muscle spasms and intractable pain that hasn't responded to ordinary treatments for at least six months.
An official from the Arkansas Department of Health, which issues the Medical Marijuana Registry ID cards that patients will need to obtain the drug, said 6,457 patients had been approved. Among those patients, 31 percent are chronic-pain patients, 16 percent suffer from severe arthritis and 10 percent deal with PTSD.
The cultivation companies expect the number of registered patients to skyrocket once the drug is available. Several estimated that up to 20,000 patients would be in the marketplace before 2020.
It takes 90 to 120 days from the time medical cannabis is planted to get it to a dispensary, the growers testified Wednesday.
Public Consulting Group, the Boston-based firm selected to score the 203 dispensary applications, remains on track to finish its evaluations between Dec. 7 and 14, Bowen said.
The commission scheduled a Dec. 19 meeting with Public Consulting Group.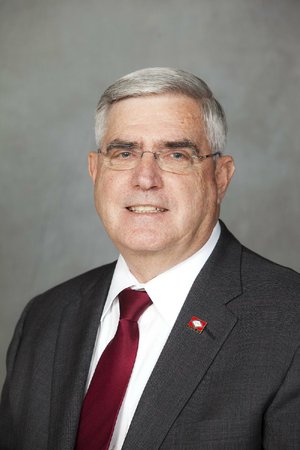 Photo by Arkansas Secretary of State
State Sen. Bill Sample, R-Hot Springs, is shown in this file photo.
A Section on 11/29/2018