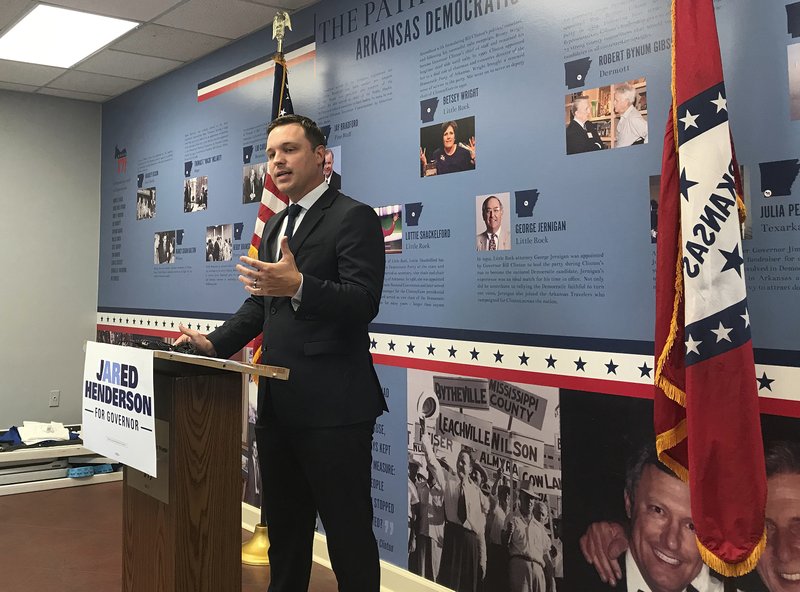 Jared Henderson, Democratic nominee for governor in Arkansas, talks about the state's work requirement for its Medicaid expansion at a news conference at the state Democratic Party headquarters Little Rock, Ark., Wednesday, Sept. 12, 2018. (AP Photo/Andrew DeMillo)
Democratic gubernatorial nominee Jared Henderson unveiled his criminal justice platform Monday, laying out a plan he says will divert thousands of people from prisons and jails in a states with one of the highest incarceration rates.
Focused mostly on lower-level and non-violent offenders, Henderson's plan included promises to de-prioritize drug possession and decriminalize marijuana, invest money in education and job-training programs aimed at prisoners re-entering society, expand access to mental health care, change cash bail and reduce the number of offenders sent back to prison for parole and probation violations.
"We'll have to make some investments early," Henderson said of his plan.
Henderson, a former executive with Teach for America, had previously proposed reducing the state's corrections budget to help pay for teacher pay raises.
Clarifying his stance Monday, Henderson said that in the "worst case," his criminal justice plan would be cost neutral. The expectation, he said, was that it would save the state money in the long run by keeping people out of prison, and those savings could be spent in other areas.
According to estimates provided by the campaign, Henderson said his plan would reduce the state's incarcerated population by about 9,300 individuals.
The Arkansas Department of Correction houses roughly 16,000 individuals, while county jails hold thousands more.
Henderson and Libertarian candidate Mark West are running against Gov. Asa Hutchinson, a Republican who signed legislation in 2016 aimed at keeping parole and probation violators from returning to prison.
The governor also dedicated funds to help open four crisis stabilization units across the state to treat the mentally ill.
Arkansas ranks sixth among states for its incarceration rate of 900 people per 100,000 population, according to the Prison Policy Initiative.
Read Tuesday's Arkansas Democrat-Gazette for full details.
Sponsor Content