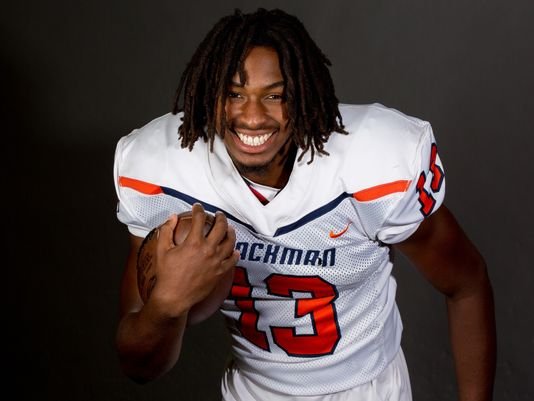 Trey Knox ( Dudley E. Dawson)
One of the nation's top receivers has committed to Arkansas over several of the country's top programs.
Trey Knox (6-4, 210 pounds) of Murfreesboro (Tenn.) Blackman picked the Hogs on Monday over scholarship offers from schools like Tennessee, Auburn, Ohio State, Clemson, Penn State, LSU, Notre Dame, Stanford and others.
Arkansas coach Chad Morris and offensive coordinator Joe Craddock were involved in Knox's recruitment. Defensive coordinator John Chavis and receivers coach Justin Stepp led the effort.
"I believe in the coaching staff," Knox said. "It's great team to play for, and the fans are crazy. Crazy about their squad. I want to go in and make plays and turn this around."
Knox, along with Arkansas' other receiver pledges — Treylon Burks, Shamar Nash and TQ Jackson — give the Hogs the best class in the nation. CBS Sports Network national recruiting analyst Tom Lemming rates Knox and Burks 4-star plus prospects, Nash a 4-star recruit and Jackson a 3-star plus prospect.
"Trey is athletic, has terrific hands; he can stretch a defense and has the ability to become a big play receiver at Arkansas," Lemming said. "Right now, Arkansas has the nation's top receiver class, which bodes well for the future."
Knox made an unofficial visit to Fayetteville in February and an official visit in June. He officially visited Tennessee on Sept 22. He also made unofficial visits to Florida and Ohio State.
He believes in what Morris is building at Arkansas and Stepp's ability to help him develop.
"I believe in him," Knox said of Stepp. "He just put two receivers into the league from SMU. That's a big thing.The offense is crazy. They run the same thing as Clemson, so I can come in and make plays. We run that system in high school."
Blackman coach Kit Hartsfield has high praise for his star receiver.
"Trey is a big, long, physical wide receiver that causes matchup problems every time he steps on the field," Hartsfield said. "He is very polished in his skills, a great route runner and has strong hands."
Knox recorded 52 receptions for 667 yards and 5 touchdowns as a junior. He has 21 catches for 345 yards and 2 touchdowns in 6 games this season. Hartsfield said Knox has worked hard and is prepared for the next level.
"Through his work ethic he has prepared his body to be SEC-ready as a freshman," Hartsfield said. "Most big wide receivers need to gain weight and be developed in the weight room, but even only as a young 17-year-old, he looks ready for the NFL Combine. Off the field, they are getting a 3.9 grade point average and 25 ACT student. He's the total package."
Knox's relationship with Stepp was a major reason for his choosing the Hogs.
"It's very tight; we talk on a daily basis," said Knox, who plans to enroll in January and go through spring practice. "He talks to my parents about every other day. I consider him family now, and I'm going to go and play for him for three to four years."
He has a message for others considering Arkansas.
"I tell 'em to come on because we're about to do something special in Fayetteville," Knox said.
Knox said he knew he wanted to be a Hog on Sept. 24 and told the Arkansas coaches a day later.
"They were extremely ecstatic," Knox said. "Coach Stepp was running through the hallway after I told them. So it was just crazy."
Knox is Arkansas' 20th commitment for the 2019 class. The Hogs could sign up to 29 prospects.
Sponsor Content