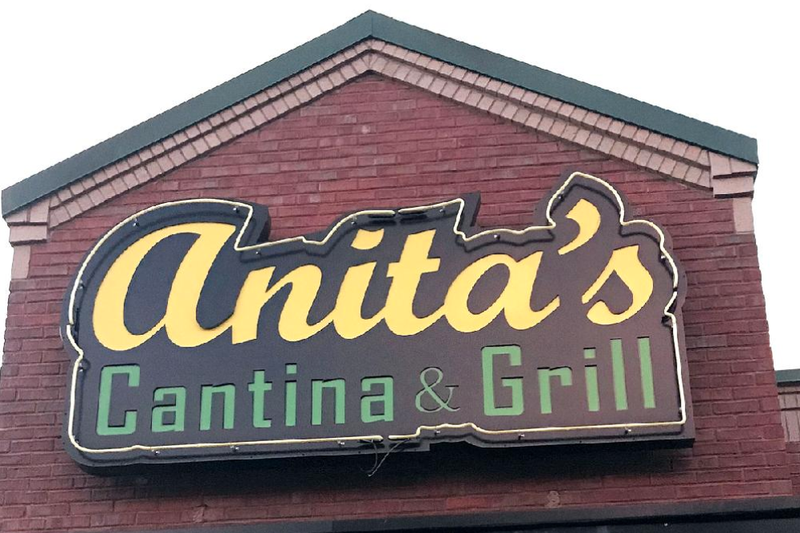 Anita's Cantina & Grill, 6 Mabelvale Plaza Drive, has closed. ( Jennifer Christman)
West End Smokehouse and Tavern, in the lower half of the building at 215 N. Shackleford Road, Little Rock, that also houses Sekisui, is closing at end of business, 2 a.m. Saturday. No, we don't know why, and employees we reached won't speak on the record. The phone number is (501) 224-7665. Sekisui, the listed address of which is 219 N. Shackleford, will, we're told, remain open. The phone number there is (501) 221-7070.
Meanwhile, Roger Cole of North Little Rock-based Ashley Co. Commercial Real Estate confirmed that The Daiquiri Shop is, in fact, the new tenant for the neighboring former Famous Dave's, 225 N. Shackleford, Little Rock, as we reported last week. No word yet on a prospective opening date. He wouldn't comment on the status of the West End, which building his company also manages.
Blacksmiths Bistro opened about three weeks ago at 324 E. 13th St., North Little Rock, the original home of Ceci's Chicken & Waffles before it moved to Conway. The menu features burgers, ribs, catfish, fried and boiled shrimp, wings (hot and whole) and daily plate-lunch specials. Hours: 10:30 a.m.-10 p.m. Tuesday-Thursday, 10:30 a.m.-midnight Friday-Saturday, 10:30 a.m.-6 p.m. Sunday. The phone number is (501) 313-4373.
Meanwhile, Jean's Cafe BBQ & Soulfood has opened in the former Viva Vegan storefront, 4601 W. 12th St., Little Rock, serving breakfast (pancakes, breakfast steaks, pork chop sandwiches and grilled fish and cheese grits), barbecue (ribs and chicken), hot dogs (all beef and "restaurant"), pizza by the slice, wings, steaks, burgers and barbecue deep-fried fish and ribs, plus Sunday-Thursday soul-food plate lunches. Printed on the menu is the legend "Open 24 hours 7 days a week," but the gentleman who answered the phone at (501) 777-1264 says it's really 6:30 a.m.-1:30 a.m. daily.
There's now an early February target date for the opening of Grub's Bar & Grille, going into the former Chili's space, 10700 N. Rodney Parham Road, Little Rock. The menu will be the same as the one at three Northwest Arkansas locations (in Fayetteville, Rogers and Fort Smith); visit grubsbar.com.
And the advent of Grub's is one of the linchpins, along with a massive new gastroenterology center taking over the former Kmart, for the newly formed entity calling itself the Rodney Parham Merchants Association. It's calling the North Rodney Parham Road corridor from Reservoir Road to Hinson Road "West Village," apparently to match the growing East Village development east of Interstate 30. The mission statement listed on its website, WestVillageLR.com, is "to create a ... district offering a wide variety of restaurants and local merchants. West Village will be a safe place you can shop local, dine local and experience being a part of a unique village-like setting."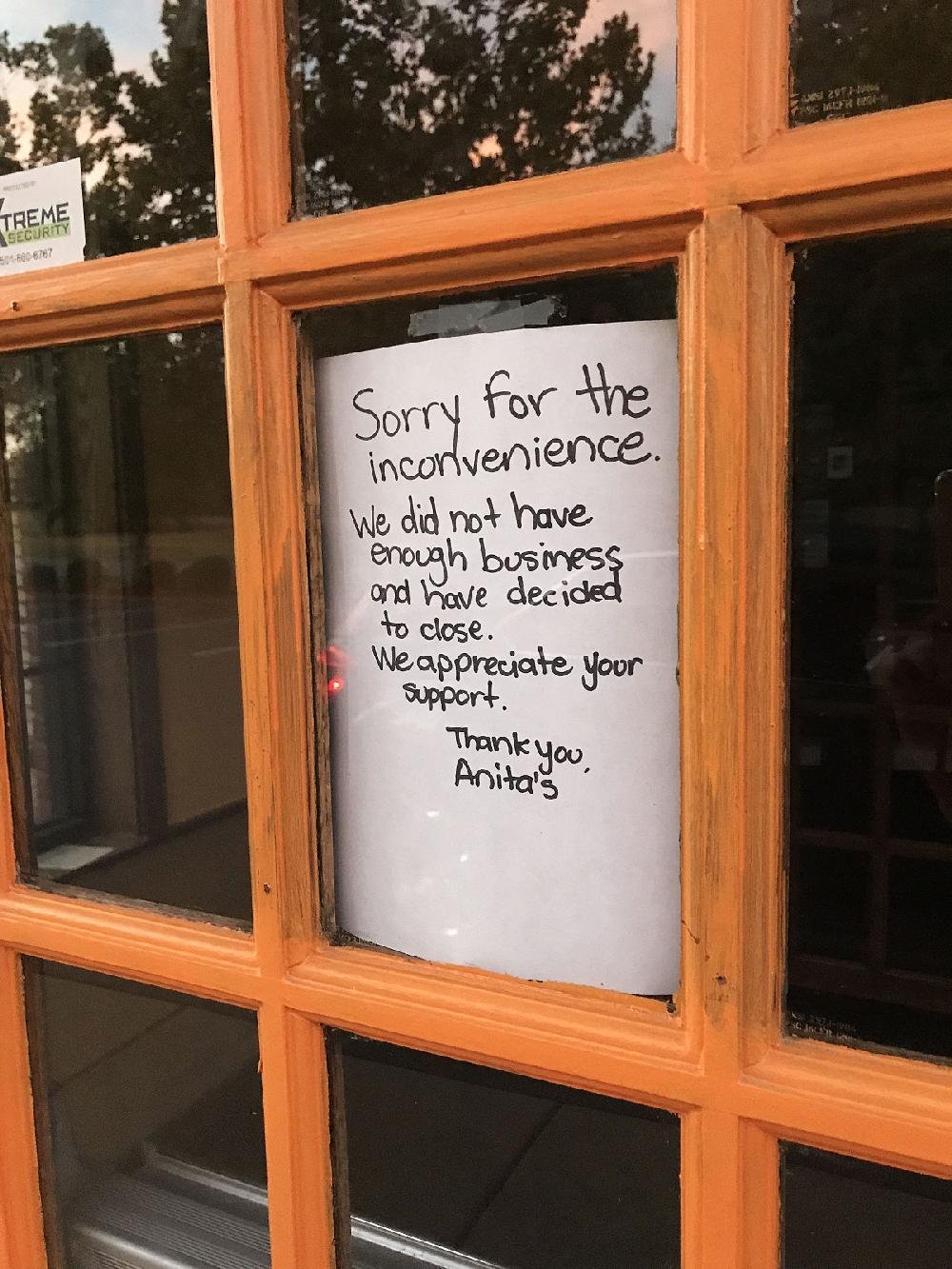 Anita's Cantina & Grill, 6 Mabelvale Plaza Drive, has closed; a sign on the door explains low customer turnout is the reason.
Anita's Cantina & Grill, 6 Mabelvale Plaza Drive, Little Rock, which opened in March, has closed. And, for a rarity, we do know the reason why: A handwritten note on the door explains that "we did not have enough business and have decided to close." The phone number, (501) 529-8190, according to the recording we reached, has been "changed, disconnected or is no longer in service."
Fresh Bowl N Roll Bar in the River Market Ottenheimer Market Hall, 400 President Clinton Ave., Little Rock, has now added to its poke bowls 18 sushi rolls -- 12 "regular," six specialty -- with the sushi chef on duty Monday, Wednesday, Friday and Saturday. It's open for lunch, 10 a.m.-2 p.m. Monday-Saturday. We still haven't been able to come up with a phone number.
Bruno's Little Italy, 301 Main St., is trimming back its weekday hours, to 5-9:30 p.m. Tuesday-Thursday, while continuing to remain open until 10 p.m. Friday-Saturday. The phone number is (501) 372-7866 (37-BRUNO).
Crab cakes are still on the new menu at Lakewood Lounge in North Little Rock.
Lakewood Lounge, 4801 North Hills Blvd., North Little Rock, has revised its menu; among other changes, it has started serving all-you-can-eat crab legs on Thursday nights. Hours are 11 a.m.-3 p.m. and 5-9 p.m. Tuesday-Thursday, 11 a.m.-9 p.m. Friday-Saturday. The phone number is (501) 758-4299.
Mark Abernathy says that, by popular demand, he's bringing back (on a limited basis) "Blue Mesa Grill Thursday" to Red Door, 3701 Old Cantrell Road, Little Rock, Oct. 11-Nov. 15. The special menu will feature Roast Chicken-Goat Cheese & Black Bean Nachos, the Grilled Shrimp & Brie Quesadilla, a Shrimp Burrito with Roasted Hatch Green Chili Sauce, Chili Dusted Angus Filet (six or eight ounces), Southwest Seafood Grill ("habanero-pineapple fire prawns, blistered diver scallops with chipotle cream and grilled salmon with tequila-cranberry glaze"). And, of course, Abernathy's pride and joy, "America's First" White Cheese Dip. Hours are 5-9 p.m. Monday, 8 a.m.-2 p.m. and 5-9 p.m. Tuesday-Saturday, 10 a.m.-2 p.m. Sunday. The phone number: (501) 666-8482.
We noted last week that the state Health Department had approved a plumbing permit for a Popeyes Louisiana Kitchen outlet at 19600 Cantrell Road, Little Rock, across from the Walmart. Now the most recent Little Rock Planning & Development Department list shows an application request for a $580,000 building permit. Target date to open is on or before Jan. 1.
Wednesday (after our deadline) was the grand opening of Yum Yum Hibachi Express, 302 S. Reynolds Road, Bryant, according to the restaurant's Facebook page (tinyurl.com/ydhnqzll), which added, "We are ready to serve from 11 a.m.-9:30 p.m.," although it doesn't specify just which days. The listed phone number is (501) 943-7330 but we're still waiting for an answer or a call back on messages we left.
...
Springdale-based business brokers Confidential Business Intermediaries won't identify them up front, but according to its latest newsletter, it is handling the sale of three Arkansas restaurants, which you may be able to recognize from online descriptions at cbiteam.com:
• "Unique Little Rock Restaurant on the Up Trend": "This restaurant has been in existence for 11 years and had struggled somewhat until the current owner bought the business in June 2014. Since that time, the business has increased in revenue volume by over 50 percent. ... [It] is now poised to grow even more due to previous promotion and additional commercial and institutional development soon to get underway in the immediate vicinity."
• Lucrative Central Arkansas Franchise Pizza Restaurant: "An established, trendy & well-known pizza franchise located in one of central Arkansas' prime locations! The business has been in existence for over 4 years and has an established annual revenue of over $1 million -- with a consistent 6 figure cash flow! Located in a high profile, affluent and high trafficked area currently experiencing residential and retail development, this business is primed for explosive growth & increased revenues under the right ownership. ... Excellent franchise support."
• "Historically Well-Known Iconic Northwest Arkansas Restaurant": "Located in one of Northwest Arkansas' fastest growing areas. Sale includes trademarked name and secret family recipes, creating opportunity to duplicate success. Majority of well-trained and dedicated staff will wish to stay after the sale. Owner ready to retire."
...
Oct. 31 is the deadline to nominate legendary Arkansas restaurants, proprietors and food-theme events for the third, 2019 class of the Arkansas Food Hall of Fame, via ArkFoodHOF.com.
The hall has five categories:
• Food Hall of Fame, recognizing long-standing restaurants that have become Arkansas attractions.
• Proprietor of the Year, honoring a chef, cook and/or restaurant owner who has made "significant achievements in the food industry."
• Food-Themed Event, honoring a community food-theme event or festival.
• Gone But Not Forgotten, "the collective culinary legacy of an influential restaurant that has ceased operations."
• People's Choice, the restaurant or food truck that gets the most popular votes.
A committee of historians, chefs, foodies and food writers picks the honorees and finalists and will announce the winners Feb. 25 at the Ron Robinson Theater in Little Rock's River Market.
...
Mama's Gyros Grill, 3309 E. Kiehl Ave, Sherwood, is donating a portion of its sales, 11 a.m.-7 p.m. Tuesday to Sherwood Citizens Police Academy Alumni, as part of "Mama's Gyros for Heroes." The group provides nonbudgeted essentials and morale boosters to the Sherwood Police Department. The restaurant phone number is (501) 833-0306.
Apparently, today is National Taco Day, and the Chuy's chain, with outlets in west Little Rock and North Little Rock, is celebrating with specials: Add a crispy beef taco to any order for $1, "upgrade your favorite Rita with $1 Patron Floaters, [and] enjoy $1 off Modelo beers." Show up dressed as a taco and "you'll score a free entree of your choice."
Italian fast-casual restaurant chain Fazoli's plans to open three new central Arkansas locations, in the Benton, Conway and Searcy areas, the first of which will open in 2019, according to a news release. Pasta Joint LLC, a Jonesboro-based company that also manages outlets of Dairy Queen, Smoothie King, Schlotzsky's, Perkins and Uncle Maddio's Pizza, will be the franchisee. The chain's website, fazolis.com, lists existing Arkansas outlets in Jonesboro and Paragould. A Little Rock Fazoli's, at 12318 Chenal Parkway, closed in December 2007. There were also, at one time, Fazoli's outlets in Conway and Hot Springs.
Has a restaurant opened -- or closed -- near you in the last week or so? Does your favorite eatery have a new menu? Is there a new chef in charge? Drop us a line. Call (501) 399-3667 or (501) 378-3513, or send a note to Restaurants, Weekend Section, Arkansas Democrat-Gazette, P.O. Box 2221, Little Rock, Ark. 72203. Send email to:
eharrison@arkansasonline.com
Weekend on 10/04/2018
Print Headline: RESTAURANTS: West End closing; Anita's Cantina shut; Fazoli's plans Arkansas locations
Sponsor Content