The small orange-and-white, single-engine, two-seat aircraft began arriving in Little Rock one by one shortly after noon Tuesday, among the earliest evacuees of Hurricane Michael.
More of the planes arrived later in pairs, breaking formation above Bill and Hillary Clinton National Airport/Adams Field and landing one behind the other.
By Tuesday evening, about 50 of the U.S. Navy turboprop trainers were to arrive at Clinton National from Naval Air Station Whiting Field on the Florida Gulf Coast, an area expected to bear the brunt of the coming storm.
"We expect to have a full house," Ron Mathieu, executive director of Arkansas' largest airport, said Tuesday.
At Little Rock Air Force Base in Jacksonville, several Air Force aircraft -- including 13 AC-130J gunships and nine MC-130H special operation aircraft from Florida, and 10 A-10 Thunderbolt II attack aircraft and two HC-130s from Georgia -- arrived in what was termed a "precautionary measure ahead of the projected landfall of Hurricane Michael."
Little Rock Air Force Base, home to the most C-130s in the world, is well-equipped to handle the influx, said 2nd Lt. Hunter L. Rininger, a base spokesman.
The C-130 gunships and special operations aircraft are assigned to the 1st Special Operations Wing of the U.S. Air Force and are based at Hurlbert Field in Florida.
"The combination of our location and infrastructure makes Little Rock AFB an ideal evacuation point for 1 SOW aircraft," Rininger said.
Evacuations during hurricane season are not unusual for the military's multimillion-dollar assets along the Gulf Coast and the military aviators stationed there.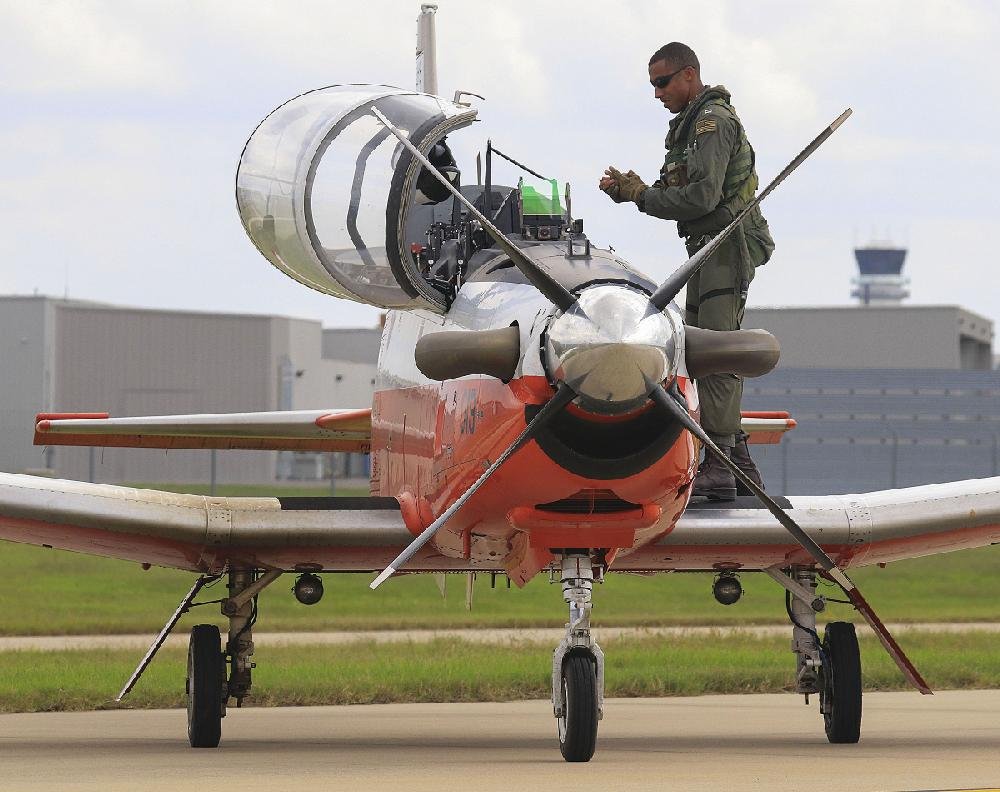 A pilot exits his T-6 Texan Navy trainer after landing Tuesday at Bill and Hillary Clinton National Airport/Adams Field. Dozens of the planes were flown in from north of Pensacola to escape Hurricane Michael.
The Navy trainer planes are T-6 Texan IIs and cost $7 million apiece. A standard C-130J, the latest model of C-130s, costs about $62 million. A gunship approaches $200 million.
"Team Little Rock has a long-standing relationship with the 1st Special Operations Wing and is prepared to support their airmen and assets at any time," Rininger said.
At Clinton National, planning for the Florida planes began Sunday as Charlie Jones, the airport's operations director, monitored the tropical depression off the Yucatan peninsula of Mexico that later developed into Hurricane Michael.
The biggest question for him was where to park the aircraft. Jones said his first thought was the east runway, which is closed for minor repairs. But because of the heavy influx of aircraft, Mathieu said it was decided to suspend construction and make all of the runways available.
The Navy trainer planes wound up on the west side of the airfield, parked side by side on Taxiway Poppa.
Meanwhile, a weather system in Texas disrupted air traffic to the west, resulting in nine flights being diverted unexpectedly Tuesday to Clinton National. Parking had to be found for those planes, too.
Then a UPS big Boeing 757 cargo aircraft that flies daily into Clinton National, unloads its cargo and flies out at 5 a.m. was grounded because of maintenance problems.
"This has been a heck of a day," Jones said. "It's been one thing right after another."
Throughout the day, Hurricane Michael strengthened, growing by evening to a Category 3 hurricane, with wind speeds of 120 mph. It is forecast to make landfall midday today.
In its path are military airfields scattered along the Gulf Coast, including Naval Air Station Whiting Field, home of the T-6s, and Hurlbert Field. The A-10s and two of the C-130s are from Moody Air Force Base in Georgia near the Florida border.
The 1st Special Operations Wing "has sent some of their aircraft here under similar circumstances as recently as last year during Hurricane Irma," Rininger said.
Clinton National hosted evacuated planes during Hurricanes Irma and Harvey last year.
The Jacksonville base and Little Rock airport are less than 400 miles from the Gulf Coast as the crow flies. That is an easy trip for a T-6, which has a range of 1,000 miles. With a 320-mph cruise speed, the Texan can make the flight in just over an hour.
Unlike commercial airline jets, even ones diverted to Clinton National, the military aircraft aren't charged landing fees, and Clinton National has a welcome sign out for them.
"We proactively reach out to those folks," Mathieu said. "We invite them to come in. The military doesn't pay anything."
Even without a hurricane, a Navy trainer is a common site at Clinton National, which is often used as a training-flight stop for refueling and for fliers to grab something to eat.
"It's a good cross-country stop for them," said Kip Simanek, general manager of TAC Air operations at Clinton National. "It's a tribute to the city's hospitality."
TAC Air is a general-aviation service center that usually caters to business jets and other private aircraft. The company, on the west side of the airport near the general-aviation runway, provides refueling services and a place for crews to rest.
"They always seem to have a good time here in Little Rock and enjoy the city," Simanek said of the training aviators. "They talk about it a lot. The people at the hotels they stay at always seem to enjoy their company while they're there. It seems like a good relationship."
Several military aviators were in the TAC Air facility Tuesday waiting for rental cars or shuttles to hotels. They declined to comment and referred questions to the public affairs office at Whiting Field, where no one could be reached Tuesday afternoon.
The TAC Air personnel had a busy afternoon on Taxiway Poppa helping park the trainer planes, refueling them and making arrangements for payment for the fuel.
"We do put in some overtime to take care of them because it's what I call an IROP, an irregular operation that happens away from what our normal business is," Simanek said. "But the guys and gals I have working for me enjoy providing the support. Everybody is happy to do it. It's kind of a morale booster."
The evacuees also provide an economic boost when they stay in Little Rock, which this time will likely be through Thursday or Friday.
"It's good for us, it's good for Little Rock because they're staying at the hotels, they're eating at the restaurants and everything else," Mathieu said.
Metro on 10/10/2018