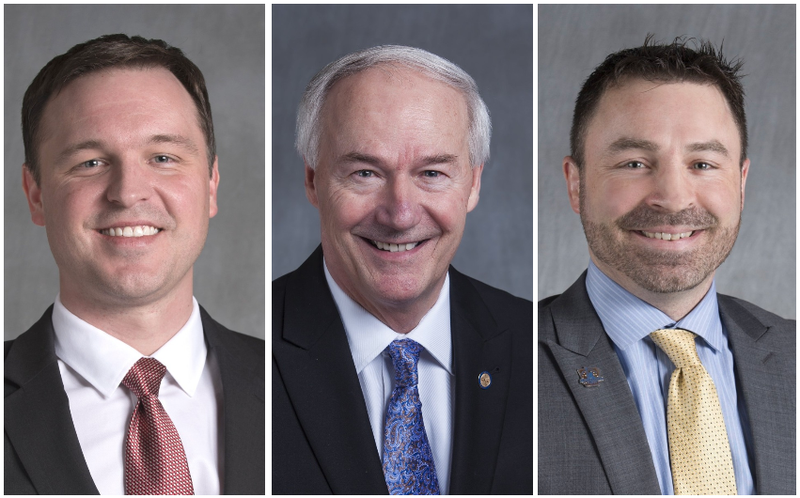 The three candidates running for governor from left: Jared Henderson, Gov. Asa Hutchinson and Mark West.
LITTLE ROCK — Arkansas' Republican governor defended the state's work requirement for its expansion of the Medicaid health insurance program for the poor as he debated his Democratic challenger Friday, saying the majority-GOP Legislature wouldn't support keeping the expanded coverage without the restriction in place.
Gov. Asa Hutchinson and Democratic nominee Jared Henderson sparred over the requirement, which was implemented earlier this year, as they faced off in a debate at the University of Central Arkansas. The debate also featured Libertarian nominee Mark West.
The state last month announced more than 4,300 people lost coverage for not fulfilling the work requirement, and that number is expected to grow further when the latest figures are released next week. Arkansas was the first state to implement a Medicaid work requirement after the Trump administration said it would allow states to require participants to work to keep coverage.
Hutchinson called the requirement a way to "balance compassion with responsibility."
"Without that work requirement, [Medicaid expansion] would not have the support of the Arkansas Legislature and the Arkansas public," Hutchinson said. "They would lose their insurance. The whole program would die. The work requirement is the right balance."
Henderson criticized the work requirement, saying the expanded health coverage is an "enabler" to people finding work and shouldn't be cut off.
"If we want to spend less on Medicaid, and I think all of us do, it's not by throwing people off or creating obstacles, it's by solving the underlying problem," Henderson said.
Arkansas' Medicaid expansion, which uses state and federal funds to purchase private insurance for low-income residents, has sharply divided Republicans in the Legislature since it was first approved in 2013. The Legislature narrowly approved keeping the program alive last year after Hutchinson said he'd seek the work requirement and other limits. Arkansas' work requirement, which doesn't apply to its traditional Medicaid program, is being challenged in federal court.
Henderson is mounting a bid to unseat Hutchinson, a former Homeland Security official who polling has shown remains popular in the state. Republicans control all of Arkansas' statewide partisan offices and a majority in both chambers of the Legislature.
Read Saturday's Arkansas Democrat-Gazette for full details.
Sponsor Content