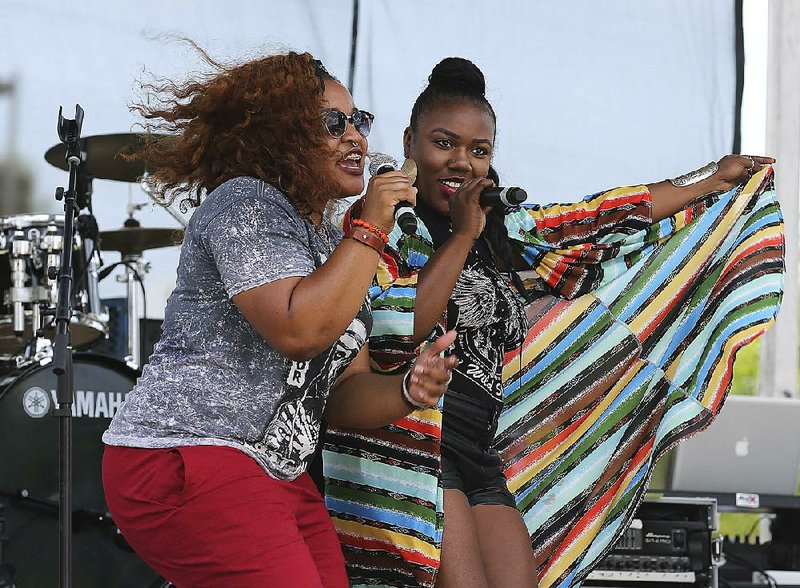 Little Rock's Dazz & Brie will perform at the The Official Funkadelic Afterparty on Thursday.
Scanning this week's Arkansas cultural landscape, there appears to be just one spot where a person can find heavy doses of '70s-'80s funk, classic rock, blue-collar country, blazing hot hip-hop and a downtown, family friendly festival.
That would be El Dorado during the 31st Annual MusicFest.
Acts like the legendary George Clinton and Parliament Funkadelic, Sammy Hagar and The Circle, Toby Keith, Morris Day and The Time, Lita Ford and others will hit the stage at the Murphy Arts District Amphitheater in downtown El Dorado.
The music lasts deep into the evening as Georgia rapper 2 Chainz performs a late-night show at Griffin Music Hall on Friday and trap rap champ Gucci Mane plays there late Saturday.
While there are admission charges for these concerts, the Fest part of MusicFest, which begins Friday on El Dorado's downtown Union Square, is free and will feature familiar festival goodies like -- deep breath -- food vendors (Funnel cakes! Tamales! Greek food! Corn dogs! More!); children's activities; performances by Flight Crew, the jump rope troupe from America's Got Talent; the Miss MusicFest Pageant, craft vendors, historic tours, free concerts on two stages, a zip line and a 70-foot tall Ferris wheel. And that's just scratching the surface.
The festival attractions are only a short stroll from the Murphy Arts District stages, where the national touring acts will perform.
"It's literally two blocks away," says Beth Brumley, executive director of Main Street El Dorado. "It's within walking distance. You can see it from the square."
There are several new attractions on the square this year, she says, along with the
return of the Medical Center of South Arkansas 5K and 10K footraces.
"It's been 10 years or more since we've done the 5 and 10Ks," she says. "We've also added a historic tour. There are 16 sites in our downtown alone that are on the historic register. We will highlight a few of those with tours on our city's trolley."
For more details of MusicFest events, see mainstreeteldorado.org.
This is the second year Main Street El Dorado has worked with the Murphy Arts District on the festival.
"It's been a good partnership," she says. "It's still the same festival, but the headliners have moved down to the amphitheater."
Bob Tarren, Murphy Arts District chief marketing officer, says: "We're hoping people will come down to experience a fun day in El Dorado. It's not just coming to see Sammy Hagar or George Clinton, but to enjoy all kinds of fun stuff for the family that's free around the square."
THURSDAY
The three-day musical spectacle gets underway at the amphitheater on Thursday with Sheila E., Morris Day and The Time and headliner George Clinton and Parliament Funkadelic bringing the jams from '80s-era Minneapolis and the P-Funk Mothership.
Drummer Sheila E. had already played with Marvin Gaye, Lionel Richie and others when she first met Prince in 1978. She recorded with him and his band during the sessions for Purple Rain and released her funk-pop classic debut, The Glamorous Life, in 1984. Her latest album is Iconic: Message 4 America, which features collaborations with Ringo Starr and Clinton.
The Prince connection continues with Morris Day and The Time. Day and Prince were high school buddies in Minneapolis and were in the band Grand Central. The Time was later formed as an outlet for Prince's songwriting, and flourished with the charismatic frontman Day. Their albums, loaded with party jams like "Jungle Love," "Wild and Loose" and "Get It Up," include '80s classics like the self-titled debut, What Time Is It? and Ice Cream Castle.
American music legend Clinton helped popularize funk with his groups Parliament and Funkadelic, which he eventually fused into one gloriously groovy band and released classics like Up for the Downstroke, Mothership Connection and tracks like "Flash Light" and "Aqua Boogie." His solo career includes the massive hit 1982 hit "Atomic Dog."
And just when you think the funk is finished, there's more. The Official Funkadelic Afterparty with Little Rock's Dazz & Brie will go down at Griffin Restaurant adjacent to the amphitheater.
FRIDAY
Classic rock takes over on Friday.
Guitar slinger Lita Ford, who was 16 she she became a founding member of the hard-rocking all-girl band The Runaways, will open the evening with songs from that band's catalog along with solo hits like "Kiss Me Deadly," "Close Your Eyes Forever," "Shot of Poison" and others. Her most recent album, Time Capsule, was released in 2016, the same year her autobiography, Living Like a Runaway, was published.
Bret Michaels, the bandana-sporting reality show star and frontman of '80s Sunset Strip pinups Poison is next. Michaels and Poison helped make hair metal popular in the late '80s on albums like Look What the Cat Dragged In and Open Up and Say ... Ahh! Among his solo work is Bret Michaels: Jammin' with Friends, which features appearances by, among others, Joe Perry of Aerosmith, members of Lynyrd Skynyrd and country queen Loretta Lynn(!).
Headliner The Circle is headed up by good-time rocker Hagar with Van Halen bassist Michael Anthony, drummer Jason Bonham and guitarist Vic Johnson (see accompanying story).
Is there a Griffin Restaurant post-show show on Friday, too?
Yup.
Josh Walker & the Tannehill Band from Louisiana will perform at the Official Red Rocker Afterparty.
At 11 p.m., Georgia rapper 2 Chainz performs at Griffin Music Hall. His latest EP, The Play Don't Care Who Makes It, features appearances by West coast rapper YG and Offset from The Migos. 2 Chainz can also be heard with Drake and Quavo on his new track "Bigger Than You."
SATURDAY
Four acts, ranging from bright-eyed newcomers to longtime favorites, hit the stage on Saturday for an evening of country music.
Singer-songwriter Jimmie Allen is touring in support of his debut LP Mercury Lane, which was released Friday. The record is a radio-friendly mix of country, pop and R&B that features the fist-pumping "Underdogs." The 32-year-old Allen, a native of Delaware, made his debut at the Grand Ole Opry this year.
By the time she was 11, Carly Pearce was on tour with a band and dropped out of high school at 16 to perform at Dollywood in Pigeon Forge, Tenn. Sounds like it wasn't a bad career move. Her 2017 debut album, Every Little Thing, is a sassy collection whose title cut has over 30 million streams on Spotify.
Platinum-selling Poyen native Justin Moore, whose fourth studio album Kinda Don't Care came out in 2016, hits the stage next with his high energy show.
This year marks the 25th anniversary of the release of "Should've Been a Cowboy," the debut single and No. 1 hit for headliner Toby Keith. It was the beginning of a prolific hit-making career for the singer-songwriter, who followed that up with 19 more No. 1s and 42 Top 10s. Bus Songs, a collection of humorous tracks written -- you guessed it -- in the informal atmosphere of his tour bus, is his most recent release and features a live version of "Weed With Willie."
Mary-Heather & the Sinners will play the Official Toby Keith Afterparty.
Saturday's late show at Griffin Hall features trap rap king Gucci Mane. His influential debut, Trap House, set the stage for a prolific career with over 70 mixtapes and collabs with the likes of Migos, Rae Sremmurd, Big Boi, Yo Gotti and many others. Evil Genius, his latest LP, drops later this month.
Saturday ticket holders will have access to bands playing during the day inside Griffin Restaurant, while the PJ's Coffee Main Stage and the Murphy USA Stage downtown are free and will feature music from local, regional and school bands.
31st Annual MusicFest
Thursday-Saturday, downtown El Dorado
Admission to MusicFest is free
Three-day passes for Murphy Arts District concerts are $130-$190 in advance and increase to $160-$220 on Thursday. Single day tickets are $50-$70 advance, $65-$80 day of show. Tickets available online at eldomad.com.
Admission to Friday night late show with 2 Chainz at Griffin Music Hall, 101 E. Locust St., $70-$85; Saturday's late show with Gucci Mane, $60-$75. These concerts are not included in the three-day passes.
Information: (870) 863-4547, eldomad.com
Style on 10/14/2018
Print Headline: Musical influences
Sponsor Content