Arkansas' largest city is preparing to phase out curbside glass recycling, joining most of the state's cities of 40,000 or more people in not offering the service.
Per a tentative contract revision with Waste Management, Little Rock, North Little Rock and Sherwood will no longer accept glass in curbside recycling carts starting April 1 through March 31, 2021, and the cities will roll out an education plan to encourage people to recycle only the right materials.
Little Rock and the Regional Recycling and Waste Reduction District have discussed the possibility of expanded glass recycling drop-offs and perhaps eventual glass curbside recycling through a separate pickup, district Executive Director Craig Douglass said.
The adjustment isn't unfamiliar to many Arkansas cities that don't accept glass in their curbside pickup because of the hazards it poses. The cities that do accept glass require it to be separated from most of the rest of the recycling materials.
If not separated at the curb, glass can cause numerous problems with the recycling process, according to recycling officials in Arkansas.
Glass can shatter and contaminate other recyclable materials, posing a safety risk to employees who hand-sort the materials. Workers at Recycle America in Little Rock sort the recycling as it travels down a conveyor belt and into machinery that turns the materials into bales.
Another problem is glass can't be broken down in Recycle America's machinery.
It's not much of a moneymaker, either. Recycle America pays several hundred dollars -- Manager Rusty Miller estimated from $600 to $700 or more -- per load for a truck to haul the glass that is separated by workers to Ripple Glass in Kansas City, Mo. Recycle America sends about one truck each month, and Miller said the expense and labor of handling glass is too much.
"Glass is a money loser for us," Miller said. "Way back in the day, about 15 years ago, it wasn't a money loser. We were able to break even."
That's when recycling was less user-friendly and Recycle America workers sorted glass by color to a different company, Miller said.
Recyclers across the country face financial challenges because of China's crackdown on the amount of contamination allowed in bales that are exported to the country. China has long been the leading recyclables buyer in the world, but its recent anti-pollution program cut the allowable contamination rate to 0.5 percent, and many recyclers consider that a near-impossible requirement to meet.
While some recycling has been shipped recently to other Asian countries that critics say are less prepared to handle the materials, much of the material is left to the United States, where a glut of supply and lack of demand has driven the value of the bales downward.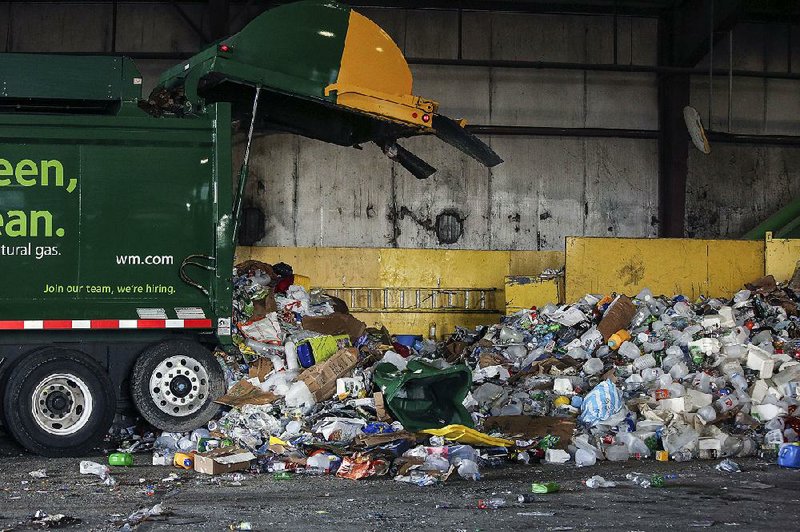 Recyclables are unloaded from a truck Wednesday at the Waste Management recycling facility in Little Rock. Little Rock, North Little Rock and Sherwood are phasing out curbside glass recycling.
THE BIGGER CITIES
Currently four of Arkansas' 10 cities of 40,000 or more residents offer curbside glass recycling: Little Rock, North Little Rock, Conway and Fayetteville.
Residents of the other six cities -- Fort Smith, Jonesboro, Springdale, Rogers, Bentonville and Pine Bluff -- can deposit glass in recycling drop-off centers, according to the cities' websites. After April 1, Little Rock and North Little Rock residents will still be able to take glass to Recycle America's facility in Little Rock's industrial park.
In Fayetteville, residents must place glass, plastics, aluminum and steel in one bin and paper and cardboard in another bin.
Conway residents are instructed to separate glass from the rest of their recyclables. The glass is picked up separately by a company that pays to repurpose it, said Whitney Reuschling, Conway's recycling coordinator.
Generally, the city is able to recycle its materials because it's found buyers for them, Reuschling said.
Conway accepts only No. 1 and No. 2 plastics, but it also accepts shredded paper and even expanded polystyrene, commonly known by the trademarked name Styrofoam, but not the kind used for coffee cups or packing peanuts.
"We're very fortunate that we still do accept Styrofoam," Reuschling said, noting that even a smaller city like Conway has experienced some of the troubles caused by China's recycling import restrictions.
Other cities have not found markets as financially workable.
Jonesboro formerly collected glass in its curbside "blue bags" as a part of Legacy Landfill's seven-city curbside recycling program in Craighead County. Like Regional Recycling, Legacy Landfill is a state solid waste district.
Jonesboro took over most of the responsibilities of the program starting July 1, purchased recycling carts and started using trucks that pick up the recycling as they go along, said Robert Hendrix, Legacy Landfill's executive director. Those trucks load materials by picking them up, dumping them in the truck and crushing them, he said. That shatters glass and causes hazards for workers trying to sort materials, he said.
"It's really a safety issue when you go to an automated system," Hendrix said.
It's one of the downsides to a system that is supposed to make things easier.
In Craighead County, the cities of Bay, Bono, Brookland, Caraway, Lake City and Monette still have curbside glass recycling with the "blue bag" program, which accepts glass, metal cans and No. 1 and No. 2 plastics.
Recycling glass will be revenue-neutral for the cities, Hendrix said, because they won't produce much glass. As a result, Ripple Glass will probably pick it up for free, he said.
Little Rock had collected glass separately before it entered into a 2012 contract with North Little Rock, Sherwood and Waste Management to go to a single-stream recycling method. Before, all recyclables were separated by material, and participation was low in the recycling program in general -- less than 40 percent. Recycle America had its workers separate glass by color and sent it to Strategic Materials in Oklahoma. It wasn't a money-loser back then, Miller said.
Under the single-stream method started in 2012, all recycling goes into one container, and participation rose to 75 percent to 80 percent.
The company has been down on glass recycling since initially agreeing to the 2012 contract. In March 2017, Pulaski County justices of the peace approved a contract with Waste Management to offer curbside pickup in the county's unincorporated area, and the company said glass could not be a part of it.
CONTAMINATION
While glass recycling faces its own challenges, recycling in general is staring down financial inviability.
Waste Management, one of the nation's largest recycling and waste companies, projects lower recycling revenue for 2018, according to a U.S. Securities and Exchange Commission 8-K filing from July. For the past two years, landfill revenue has increased as recycling revenue has declined, according to the company.
The company, like others, has been dumping what it says are recycling loads too contaminated to process into landfills. That contamination rate was 32 percent for Little Rock, North Little Rock and Sherwood this summer.
But Waste Management and other companies have cited China's restrictions on recycling imports as the main reason behind recycling's financial troubles.
The conflict with China over recycling predates any official action by President Donald Trump to tax Chinese goods, according to news reports. Several recycling officials told the Arkansas Democrat-Gazette they do not believe Chinese tariffs have had an impact on glass recycling or recycling generally.
China has long had ambitions to create its own circular recycling system, said George Wheatley, public sector service manager for Waste Management in Arkansas and other Southern states. A circular system is one that supplies Chinese manufacturers with necessary supplies without relying on imported recyclables to maintain production.
In 2013, China began auditing incoming recycling, years after the country approved import regulations related to it, according to Resource Recycling. In February 2017, China announced its National Sword program, which placed plastics and high-moisture paper products under increased scrutiny.
China placed more of an emphasis on the quantity of goods instead of quality and even arrested people accused of smuggling illegal scraps into the country. The country approved fewer recycling import permits. In July 2017, the country proposed contamination limits of 0.3 percent for imported recyclables and finalized a limit of 0.5 percent in November.
Trump's first official act on tariffs and China took place in August 2017, and the first tariff was announced in January.
That doesn't mean tariffs haven't had a further impact on recyclables. The country imposed a retaliatory tariff of 25 percent on aluminum, paper and plastic scrap.
Further complicating matters is that shipments of recyclables to other Asian countries have been followed by restrictions in those countries on imports, too, according to Resource Recycling.
Waste Management has been concerned with contamination of its recycling for years, because China has clamped down on what it accepts and as contamination slows down the process of actually processing the materials.
Plastic bags aren't currently accepted, so they are the main contaminant, officials have said. They still won't be accepted under the proposed contract revision with Waste Management. Adding glass to the mix of unaccepted items will require some adjustment, and officials plan to make that a part of an ongoing education campaign.
Little Rock City Director Kathy Webb posted on her official Facebook page that the city was looking into its glass recycling options and would try to educate residents on the upcoming changes.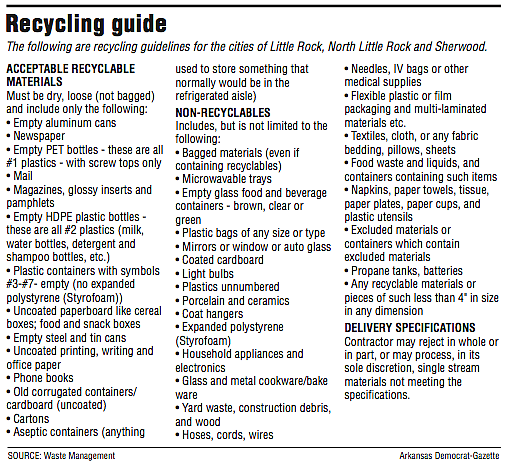 A Section on 10/15/2018