Warwick Sabin is the first to acknowledge that the items on his resume aren't necessarily in a linear or predictable order.
Among other things, Sabin went from being a White House intern to a literary magazine publisher to the founder of an innovation hub, along the way making his way back into politics to represent part of Little Rock in the state legislature.
"I look back and I'm kind of surprised at the path I ended up taking," he said in a recent interview at his campaign headquarters on Markham Street in downtown Little Rock. He's also surprised -- and grateful -- that a choice he made as a teenager eventually brought him to Little Rock, he said.
A large, mosaic-style painting donated by a group of female supporters hangs on one wall of the headquarters, depicting a bright and colorful version of Arkansas' capital city. It's the city where Sabin has spent most of his adult life, and now he sees it as "the opportunity to do the most good."
Sabin is one of five candidates making a bid to become the next mayor of Little Rock, the office Mark Stodola will have held for 12 years come January.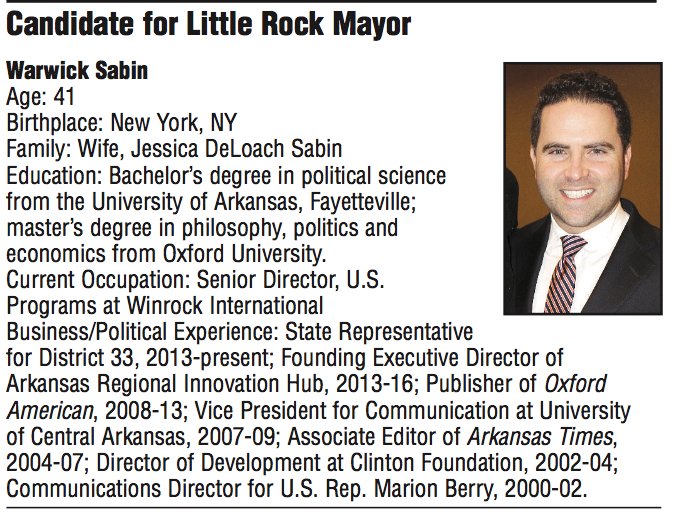 He was born in New York City and grew up in East Hampton, N.Y. His first exposure to politics was Boys State, a summer leadership program for high schoolers where he met then-President Bill Clinton.
When applying to college, he was shooting for Ivy League schools. But then a mailer from the University of Arkansas, Fayetteville -- where he knew Clinton once taught classes -- offering a free visit and a chance to be chosen for the school's prestigious Sturgis Fellowship caught his eye.
Sabin said Fayetteville just felt right. It didn't hurt that Diane Blair, a longtime UA professor and friend of Bill and Hillary Rodham Clinton, had offered to be his adviser. Still, choosing Arkansas over Yale University left the people he grew up with surprised.
"Everybody was, including my mother," he said.
He has two other siblings who also opted for the South -- his older sister lives in Dallas, and his younger brother, Rainer Sabin, is a sports reporter in Alabama. Rainer Sabin said a lot of people in their town "thought he was kind of crazy" to go to Arkansas.
"He just really fell in love with the state and really liked being there," said Rainer Sabin, who is also a UA graduate.
Sabin said he was drawn to the accessibility of Arkansas politics -- the "opportunity to participate as much as you wanted to." He wanted to be a journalist and remembers covering former Gov. Jim Guy Tucker's visit to Fayetteville on an assignment for the UA student newspaper.
He served as UA's student body president his senior year. That was the same year John White became chancellor, and Sabin said he "kept kind of getting in his way." Sabin worked on efforts to save a historical building on campus, keep the Razorback Transit system free, secure the University of Arkansas System's recognition of the Martin Luther King Jr. holiday and save the University of Arkansas Press from extinction.
Sabin's advocacy for the university's publishing arm led him to collaborate with Bobby Roberts, now retired director of the Central Arkansas Library System and a one-time aide to Gov. Bill Clinton. Roberts recalled his surprise at getting a call out of the blue from "a kid, basically" about something other undergraduates might not realize was important.
Roberts said he appreciated Sabin's efforts to preserve Arkansas history, as well as his later work in the state legislature to make certain public-private ventures possible. That helped with the creation of the Ron Robinson Theater, Roberts said.
"He's a smart person. He works to understand issues, gets out and talks to people," Roberts said. "I think he's the right person for where Little Rock is right now."
Sabin earned a graduate degree from Oxford University while working as a speechwriter for the U.S. ambassador in London at the time. In June of 2000, a job as a press secretary for former U.S. Rep. Marion Berry, a Democrat from Arkansas' 1st Congressional District, brought him back to the states and back to Arkansas.
In central Arkansas, he's worked for the Clinton Foundation as one of the organization's first three employees, the Arkansas Times as associate editor and as a spokesman at the University of Central Arkansas.
Rainer Sabin described his older brother as the "man about town" who somehow found time to drive from Little Rock to Fayetteville once when he got sick, despite working on a campaign at the time.
Sabin said he was asked to help fix the financial situation at the Oxford American magazine in 2008, the year the literary publication's debt peaked. In that role, he organized events featuring food, music and art to promote the publication in other Southern cities. He's especially proud of South on Main, the Oxford American-affiliated restaurant and performance venue that he "obsessed over every little detail" to create.
Sabin's wife, Jessica DeLoach Sabin, is the political director for The NewDEAL, an organization that encourages innovation among state and local elected officials. She also ran his campaign when he made his first run for the state legislature in 2012, but she said what she remembers most is watching him navigate the legislature as part of the minority party.
"If you really wanted to get anything done, you had to see beyond party lines," she said.
In 2013, Sabin left the magazine to direct the Arkansas Regional Innovation Hub, a nonprofit that provides space and technology resources to local entrepreneurs. The hub became a part of Winrock International, an organization that aims to increase economic opportunity for disadvantaged populations, in 2016, and Sabin became that nonprofit's senior director of U.S. programs.
C.J. Duvall, an ordained minister and a founding member of the Little Rock Technology Park Authority board, said he enjoyed exchanging insights with Sabin while Duvall was working on getting the tech park started.
"He's as cerebral as he is down to earth," Duvall said.
Sabin said he thinks most innovation across the country is happening at the local level. That's a big part of why he's chosen to run for mayor rather than seek a fourth term as a state representative or another office at the state or national level.
Little Rock's mayoral race also includes lawyer and business consultant Baker Kurrus, marijuana decriminalization advocate Glen Schwarz, banker and associate pastor Frank Scott Jr., and writer and activist Vincent Tolliver. The election is Nov. 6, and early voting begins Monday. Little Rock's mayor serves a four-year term and receives an annual salary of $160,000.
In his campaign, Sabin has emphasized the need for new energy and new ideas in city leadership. He said Little Rock has all the elements of a perfect city, but is now at a juncture to choose between stagnant growth or something new.
"I think everyone feels like we've got a lot of potential," he said.
Metro on 10/17/2018